Training, education, and experimentation are integral to anyone's learning process, in any activity. Binary options are no different. To succeed it is essential to do things well and for that to happen we need to learn. Today I'm writing about the binary options training that I will make available to my readers.
Since I started this blog I have been contacted by many people who are interested in trading but don't know how to.
It is true that some people use binary options as a game for fun. I know some traders who don't mind losing, like anyone who bets on sports or online games just for fun.
But there are actually many people who are interested in trying out binary options to make money. To enjoy an extra income that will allow them to improve their quality of life.
Check our new Binary Options Online Training and get YOUR FREE entrance. Talk with with us to know how.

Check our teacher PROFILE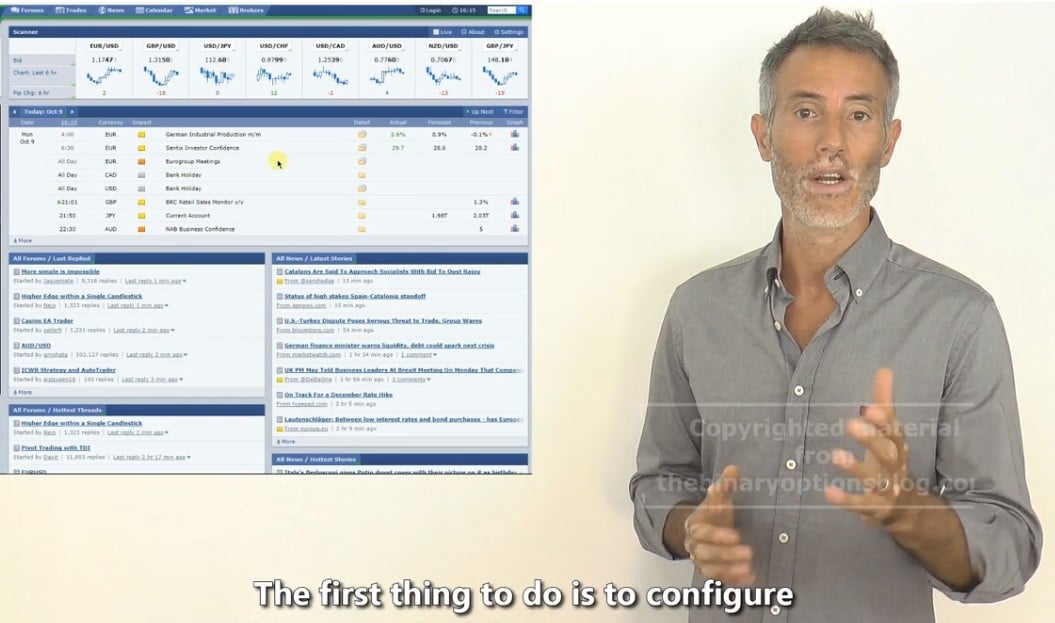 Binary Options Training – Learn and Earn for Free!
Is this possible with binary options? Yes, it is! If you learn, if know some basic rules, train, experiment, and persist in expanding your knowledge until you get results. Without help, you will probably lose money. And if you give up too soon, you will never have positive results. But this is true of everything in life, right?
The majority of people who tried binary options lost money. I, myself, tell my story of how I lost money. Of those who lost money, 80% did so due to lack of knowledge of how to make a profit, the remaining 20% lost money because they traded with an unregulated broker.
What is the Ideal Binary Options Training?
There are two types of Binary Options Training offered for beginners in binary options:
1 – Self-Training
It is usually given by the brokers themselves or binary options sites. The majority of the Binary Options Training is through videos, e-books, and guides, like the ones the Brokers offer. The advantage of this type of learning is that we can read and watch when we want, when we have time. But in reality, reading e-books and watching videos, although it is important, it is not enough for someone to begin trading with the knowledge they need to succeed.
Imagine your current profession. If you had been given some e-books and videos to learn, would you be able to be a good professional?
And in school, if I didn't have a teacher, but only the books to read, would you have acquired all the knowledge you acquired without the help of your teacher? You wouldn't, would you?
It's the same with binary options, training materials are a good resource, but aren't enough by themselves.
2 – Training with Experts
Although Self-Training is a precious help, only with a personalized class, with a teacher who will help, explain, give examples and answer questions, will you be prepared to trade and have positive results!
Then, time and experience will make you a better and better trader. However, training is a very important foundation, and a good foundation is a personalized class with someone who is experienced and has proven results.
There are several personalized Binary Options Training classes, most of which are given on Skype or Hangouts to groups of students. Although they are good options, sometimes it is difficult to have all our questions answered because the trainers have to help all the students in the class and are unable to answer all the questions from all the attendees.
The ideal classes are private. This way the student has the teacher just for him. This way the student can work at his own pace and have all his questions answered.
The problem is that these Binary Options Training Classes are typically very expensive sometimes costing hundreds of dollars/euros.
In order to help those who want to trade binary options with the knowledge necessary to evolve and make money, I decided to develop personalized Binary Options Training specifically for beginners in binary options.
The best thing is that the class can be completely free. The reason is very simple. I am sponsored by some brokers who pay me for the Binary Options Training classes if the student opens an account through the affiliate links on my blog. Because the objective is to learn and then trade, you will have to open an account at a brokerage firm. Opening an account through my links, you get the training for free. The student wins because he has free training and the broker also wins because he has a new customer. I win because I have students and people pay me to do something that I love doing: teach.
For more information about the Binary Options Training Classes and how to receive the free training read the article: Binary Options Trading Classes. To register correctly and not miss this offer talk with our support.
We use IQ Option platform to trade on our classes.