Guide on how to start investing in Binary Options
A complete beginner's guide to Binary Options. Read the 5 tips on how to start investing in Binary Options.
Whoever starts in this market has many doubts, which is normal.
Which platform should you trade with and what is the best broker?
What are the ways to deposit and what are the best and safest?
In this article, we will address some important issues and give you important tips to help you start investing in Binary Options.
Advice and Tips for Binary Options Beginners:
Try it out initially with a free training account. The best brokers offer a demo account to train.
The pressure between training on a training account and trading on a real account with money is different. Learn to control your emotions to manage this pressure.
Try out several Binary Options platforms to see the one you like best and the one that best suits your style.
Try taking a beginner course, as you will learn all the techniques needed to trade, including the Trading Triangle and Emotional Control in Binary Options.
When depositing, do not deposit money that you need in your daily life. If this money is needed you will have more pressure to win. And the greater the pressure, the more mistakes are made.
Keep in mind that each bet placed ideally should be between 1% to 2% of the total value of your bankroll, at an early stage.
Many beginners in Binary Options, with the greed to win big and quickly place values ​​of 5% or 10% of their bankroll on each Bet. But after losing some operations, there is no room to recover and the pressure of the loss increases even more.
Rules and Tips to start investing in Binary Options:
Binary Options are a financial instrument, so you have to be of legal age to be able to have an account and trade.
In order to place binary bets, you will need a broker. Choose one that is regulated.
When depositing, be careful with the deposit method you choose. Check the fees applied to withdrawals. Use a card or bank account in your name. If you use a method that is not owned by you, you will have problems later when withdrawing.
When you want to withdraw funds from your account at the broker, you will need to have your account verified. The account is verified with an identification document and proof of address. Make sure you have these two documents, otherwise you will not be able to withdraw your profits.
Accounts at Binary Options brokers cannot be accessed by anyone other than the owners and cannot be traded by third parties. Only you can trade in your account.
Can I start investing in Binary Options in India, Nigeria, South Africa or other countries?
According to most of the official markets and commissions websites from most countries, there is no information on Binary Options, but in the information at the end of the article is as follows:
Binary options are based on negotiations on price changes for certain assets, such as stocks, foreign currencies, and commodities. These characteristics are included in the definition of a derivative contract, therefore, in the legal concept of security, as provided for in item VIII, of art. 2, of Law 6,385 / 76.
The Securities and Exchange Board of India, has this information on Binary Options
The South Africa Reserve Bank, does not mention anything about Binary Options.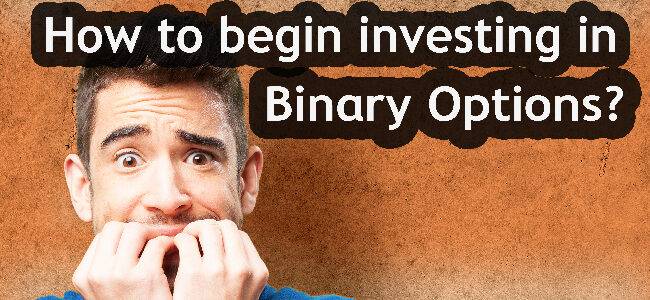 In other words, although India, Nigéria, South África, Indonesia and other countries does not have a specific regulation for Binary Options, it places this type of investment together with other contracts, such as CFDs, Forex, or others, and therefore it is permitted to trade Binary Options in those countries.
How to Start Investing in Binary Options in 5 Steps?
You must choose a Binary Options platform and open an account.

There are several brokers to choose from, ideally, you should choose one that is regulated and has the possibility of having a free training account without having to deposit anything initially to be able to train and test your platform.

est more than one before deciding to see which one you like best and which has the platform that best suits your tastes.

In this link, we have the main brokers in the Binary Options Market.


Learn to trade, first trained on the platforms and watching the videos and material that the brokers offer, and then to improve your knowledge take a Binary Options course.

Some of the good courses are sponsored by brokers, so you can take a paid course for free. Inquire with our support on how to obtain a course for free.

Although it is easy to understand the type of investment, it is essential to have good knowledge to increase the consistency of earnings, as it is not so simple to obtain profits in a consistent and lasting way.


Even if you deposit early, it is important to train and learn well before you start trading with your real money.

However, it is normal for the initial results in the training account to be better than in the real account, not least because when you operate with real money, you are afraid of losing, which does not happen in the other.

That is why the course is also important, as it teaches you how to control the psychological and emotional aspects, operating with money.


When using a new strategy, test the training account first. Don't forget that no strategy always works.

If your strategy doesn't work, ask yourself if the market conditions are good for it, or if you are following the strategy rules as they taught you.


Be careful of greed. Many people at the beginning watch videos of people who earn a lot of money quickly.

Many of these videos are fake or were filmed only on good days to make it sound like you earn a lot of money every day when it isn't.

So don't try to earn a lot in the beginning, but learn by winning a little.

Many go after big profits, risking a lot without having experience or knowledge, and end up breaking stalls after stalls.
I hope this article has been helpful and will help you to know how to start investing in Binary Options correctly.
If you liked the article be sure to share and follow our blog, do not forget that we offer tools like Binary Options Online Training, several Strategies to trade, and Signals for all Binary Options Brokers.
We also provide fast and premium support to all our students and referrals. We even offer a program (refer a friend program) when you can invite friends and not only and make commissions from their own trading and profits.
So, if you are thinking in joining the fantastic world of investments, come we us, and learn from us.
If you have any questions or suggestions just get in contact with us, by email or WhatsApp, and check what we can do to help you start investing in Binary Options and to become a successful trader, like many others we have helped in the last years.
If you enjoyed the post: Start Investing in Binary Options, please share it.
Posts Suggested to YOU