Olymp Trade 2019: Is Olymp Trade a SCAM? And why 95% of traders lose Money?
Olymp Trade 2019. What is it? How they work? Will It Be a SCAM? And why do many lose money? Meet Olymp Trade and our Review to help you to prevent losing money.
What is Olymp Trade?
Olymp Trade is a European-based trading company. Allows you to trade in Binary Options, Crypto-currencies, Forex, etc. It has an excellent trading platform and offers good conditions and profits.
How does Olymp Trade work?
First, you must create an account at Olymp Trade. It's easy and free. Then choose the products you want to trade. Ideally, use one of the courses out there to stay prepared. Practice first in the demo account.
Have you tried Olymp Trade but had no success?

Or you just don't like its App or Platform?

Try the Best Platform in the World:
Is Olymp Trade reliable?
Yes, it is a regulated company with millions of customers around the world. It is one of the leading online trading platforms, with strong customer growth and international awards.
How to use the Olymp Trade platform?
There are several ways to use it. You can download the application for mobile, you can download the application for the computer or simply negotiate in the web browser. The platform is very simple and intuitive.
How to make money with Olymp Trade?
Learn to use with a course. Then practice on the demo account until you get consistent results. Then you need to work seriously and with discipline and will have positive results.
What are the best strategies for Olymp Trade?
There is no perfect strategy that never fails. There are several (see an example) that well used, allows you to obtain good profits. You must always learn your strategy correctly and respect the rules when using any strategy.
Read the full and up-to-date Olymp Trade review below. Know your advantages and disadvantages.
Olymp Trade is a trading platform that was founded in 2014, but only became well known in 2016. It is one of the Online Trading companies of the new generation, in the wave that followed the example of success set by IQ Option.
It has its own simple and intuitive platform. Deposits start at $10 and trade at $1. Only classic (Call/Put) trades are available.
Those who are familiar with IQ Option may be thinking this is a copy of it. It does have several similarities, but it has one big difference that I will discuss further on.
Although Olymp Trade is a recent trading platform, it already won an award in 2016: "Best options platform" from IAIR AWARDS.
Olymp Trade is regulated by FinaCom (International Financial Commission). You can view the license by following this LINK.
In September 2018, Olymp Trade was certified as a quality trading platform by an independent service Verify My Trade: VIEW LINK
Olymp Trade uses the quotes of the leading investment banks and proposes a weighted average price on the platform.
Why do 95% of people lose money by operating?
Because people think they just need some luck and know-how to look at a chart. Nothing more wrong.
It requires discipline, emotional control, and rules, in addition to the technical expertise of market analysis.
So always think about learning to make a profit. If you can, take a course. See here the courses with the best results. BINARY OPTION COURSES
Olymp Trade Registration and Login
It is very easy to register with Olymp Trade.
You can register in a desktop and trade directly on the browser: LINK FOR DESKTOP
Or you can register directly in a Mobile device and download the APP and trade directly on your mobile phone: LINK FOR ANDROID | LINK FOR IOS
Olymp Trade Registration Process:
 Your email
A password
Choose the preferred currency to trade
Click to register.
This is what you need to open a free demo account.
Olymp Trade Login:
email
the password you have assigned to register a free account.
Olymp Trade Platform
The Olymp Trade platform is certified by the International Financial Commission (FinaCom) as a member of category A.
The Financial Commission grants traders protection for their account up to $ 20,000 if a dispute between a trader and OlympTrade is settled in favor of the trader (under conditions established by FinaCom).
The Olymp Trade platform is very simple and intuitive. Because it was designed for those who are learning to trade, or for those who prefer a light, simple, and clear platform.
The platform was developed by the company itself. I would say that of the existing platforms on the market, the one that most resembles Olymp Trade is IQ Option.
This is also a similarity that is a compliment because the IQ Option platform is one of the best on the market.
Watch the Olymp Trade video
Trading is done on the web platform. There is also a platform for mobile devices, smartphones, and tablets using Android and iOS apps.
One can trade with the Olymp Trade OPTIONS accounts and Olymp Trade FOREX on the platform. These accounts are separate and have different interfaces.
An Olymp Trade OPTIONS account is used to make two types of trading with options: based on trading time (from 1 minute to several hours) and expiry time (from 1 minute).
OlympTrade offers the type of Call / Put operations that is the classic and most used operation in Binary Options. This makes the platform and operations simple and light for customers. Therefore, I consider it to be a company essentially thought for new traders or for those who seek simplicity, as it has only the main trade types and the most traded assets.
An Olymp Trade FOREX account is used to open positions (expecting price to rise) or sale (expecting price to fall) from the current price, with unlimited duration of trading.
There is no spread (the difference between buying and selling prices) but there is a fee that you have to pay when executing trades or keeping them until the next day.
Like the IQ Option platform, it is complete in terms of indicators and setups that we can configure on the platform, and thus one of the best on the market.
Olymp Trade OFFER:

Opening an account and depositing at Olymp Trade using the Button below entitles you to various training programmes and other tools. The training programmes include up to 6 strategies including the use of our Trading Signals, all tools that are exclusively ours. The 5 different training programmes vary depending on the value of the deposit. After registering at Olymp Trade, contact our team to confirm your registration at Olymp Trade. DO NOT DEPOSIT before confirming.
– What is an affiliate?An affiliate is someone who opened the account at the OlympTrade using a link from an affiliate site like ours. When you open the account through us, Olymp Trade shares a small part of the profits from trades.

For the client (you), it makes no difference whether you register through us or directly with the platform. The account is the same; the profits are the same, and the rules are the same. And you don't pay anything to us nor to Olymp Trade.

It only has advantages: our support, our training programs, strategies, signals for free or at lower prices, etc.

– Why are the offers exclusively for affiliates?

Because it was a lot of work to develop the resources, because there are costs associated with the site, the training programs and all the tools that we offer, and because since you don't pay anything to be an affiliate, it's not too much to ask. And above all, because it is fair, if you don't work for free, it is also fair that we receive something for our work. Even more, because you don't pay; OlympTrade does.
Olymp Trade Platform: Special Features:
Your time
Trading on the weekend
Closing open orders
Pending orders
Check below each this one of these features.
Your Time:
It offers "YOUR TIME" options, that is, you choose your time, for example, 2, or 3, or 4 minutes, or whatever time you prefer. Very few companies offer the possibility of choosing the expiration time that you prefer.
When we open a 1-minute trade, it lasts exactly 60 seconds, while in IQ Option, for example, it ends at the end of the 1-minute candle. In practice, coming into a trade while the candle is running, we can never get exactly 1 minute, whereas here we can. And in 1-minute strategies, every second count.
However, Olymp Trade also offers the same expiration system as IQ Option offers, at the end of the candle. Therefore, if you prefer for your trade to end at the end of the candle and not 1, or 2, or 10 minutes from now, you can choose Time instead of Classic.
Expiration times at Olymp Trade range from 1 minute to 23 hours.
Trading on the weekend:
Another advantage that Olymp Trade offers is the possibility to trade during the weekend. For example, you can trade cryptocurrencies every day including weekends.
Closing Open Orders:
Imagine that the trade you opened is losing and the market continues to move in the opposite direction you intended. You can close your trade before the time ends. This way you do not lose 100% of your bet, but rather a smaller percentage of your bet.
Pending Orders:
You can leave orders pending, waiting for a price to reach a certain value, or for example when the news is announced, leave a transaction-ready for that moment.
Download several very useful and completely Free Files HERE
Olymp Trade Learning Tools
Olymp Trade has several learning tools, such as multiple videos and ebooks. To access the learning tools, you just have to open a Demo account at the Olymp Trade.
OlympTrade offers a free Demo account of $10,000 to practice without having to make an initial deposit. The demo account can be used without limitations and if you lose you can reload as many times as you want. This is relatively rare among regulated companies, and even rarer because there is no need to make a deposit to have the demo account.
However, Olymp Trade, like all the others, does not really have a training program that teaches you everything a beginner needs to know to achieve positive results in the long run. To obtain this necessary knowledge the ideal is to participate in a training program.
We have Free training programs for OlympTrade and for other companies.
To participate in the training programmes you need to be our affiliate (see an explanation of an affiliate above). SEE TRAINING PROGRAMMES.
Accounts and Bonuses at Olymp Trade
Demo Account
Real Account
VIP Account
Olymp Trade Demo Account
The demo account is a free demonstrative account in with $10,00o
The training account is a good tool to try and test the platform without risking losing real money.
The demo account should not be used as a basis for gains in a real account since there are differences between this account and a real account.
The account is 10,000 USD virtual and can be recharged.
The demo account is always active and we can always train on it, even after depositing into the real account.
No deposit is required to use the demo account.
Olymp Trade Real Account
Minimum deposit is 10$
Minimum Trade is 1$
Several methods to deposit
Fast Deposit
Withdraws are fast and usually by the same method used in the deposit.
Bonus deposit up to 50%
As long as the trader uses the bonuses consciously, the bonus can be a help when we start trading. The bonuses cannot be withdrawn, they simply give the trader more leeway when trading.
Olymp Trade VIP account
The VIP account is a real account where the client has deposited a minimum of 2.000$.
1. Higher percentage profit in operations (90%)
2. Upper ceilings in negotiations and withdrawals.
3. Vip Support
4. Faster withdrawals.
6. Better Bonus
Olymp Trade also offers a VIP account. To qualify for a VIP account you have to make a single deposit of 2,000 USD or EUR. Being a VIP has some advantages such as higher profits in each asset, faster withdrawals, a personnel analyst, etc.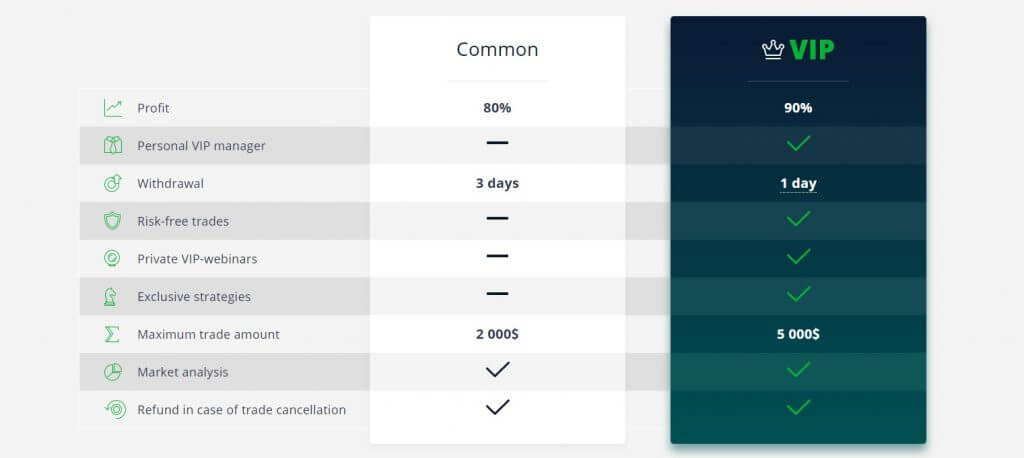 OlympTrade Deposits and Withdrawals
The methods for depositing at OlympTrade are varied, from the most common, such as
Bank transfer
Visa
MasterCard
Electronic Payments such as Skrill and Neteller, Qiwi, WebMoney, etc
In a few minutes, the money arrives at the account. (with Ticket takes 24 to 48 hours).
The withdrawals must be made by the same method that the deposit was made. Both deposits and withdrawals are fast. Depending on the account type and withdrawal methods, the withdrawal time is usually around 5 business days. The account must be verified with the necessary documentation for the withdrawal to be processed.
The minimum amount of withdrawal is $ 10 and Olymp Trade does not charge withdrawal fees, even if you make more than one per month. This is an unusual situation. Most companies charge fees or limit withdrawals.
Olymp Trade Complaints
Of course, there are some complaints, like all the big companies in the world that have complaints.
There are always dissatisfied customers, by one or another situation, some with reason, others without.
What I find out from the affiliates I have is that most of the complaints to OlympTrade are right.
Many of the claims against OlympTrade have to do with people losing their money.
But here too, what I see is people going to negotiate without knowledge, without courses, without enough practice.
Of course, it is normal to lose money under these conditions.
The demo account is different from the real account and it is not because they had some demo account results that are ready to be traders.
There are the emotional part and everything else that influences and without a specific course to operate at OlympTrade the person is not prepared to make money on a consistent basis.
Advantages and Disadvantages of Olymp Trade
OlympTrade is a trading platform like IQ Option, and therefore it is different from the more common companies.
Olymp Trade Advantages:
Minimum deposit of $10.
The minimum trade of only $1. For those who are just beginning trading options, trading with low values is an advantage.
Tournaments with cash prizes.
Free $10,000 demo account.
Platform with the ability to choose the trader's own expiration time instead of the expiration times that normally exist.
Withdrawals without fees.
Signals for OlympTrade. The best options signals.
Support in more than 12 languages.
Olymp Trade Disadvantages:
Less variety of assets.
Limited options contracts to trade. Only classic Call/Put trades are available.
At certain times we can have payouts of 80% while at other times 40% in the same asset.
They do not have training (videos and webinars) in all the languages.
The regulations are not as strong as others who use CySEC, for example.
Conclusion Olymp Trade
OlympTrade is a good choice for anyone who wants to begin trading.
It has a good platform
Low deposits from 10$
Trades from $1
Zero fees on withdrawals
Free Demo Account
Bonus deposits
https://www.olymptrade.com
Established - 2015
Headquarters - Seychelles
Regulating Entity
FinaCom - Licence
Customer Service Channels
Live Chat, Telephone and Email

Platform
Olymp Trade - Proprietary platform
Trading Channels
Web, Mobile (APP available for Android and IOS - Smartphone and Tablet)
Deposits
Visa, MasterCard, Skrill, Bank Transfer, E-Wallets
Withdrawals
Visa, MasterCard, Skrill, Bank Transfer, E-Wallets
Asset Totals
Forex - 35 | Stocks - 13 | Indexes - 11 | Commodities - 6 | Total 65
Option Types
High/Low Turbo (60, 120 and 180 seconds) and Binary and YOUR TIME
Open Account
References on OlympTrade and the market
– Options (WIKIPEDIA, 2019)
– Options (Investopedia – Cory Mitchell, 2017)
– Olymp Trade at Ranking Alexa (Alexa.com, 2019)
– Olymp Trade (The South African, 2017)
– Twitter Account ( Twitter, 2019)
– Facebook ( Facebook Official Account, 2019)