Is Pocket Option a Safe Binary and Forex broker or is it a Fraud?
In this review, you will know nearly everything about this online trading company.
At the end of the article, you will be able to tell if it is worth it to open an account and put your money in it, there is too much to discuss. Stick around!
Pocket Option complete review
| | |
| --- | --- |
| Pocket Option | Open a Free Account with up to 100% Bónus Deposit |
| Regulated | Yes, IFMRRC |
| Founded | 2017 |
| Customer support | Email, Webchat, Telephone +1 (800) 982-1251 |
| Platform | Pocket Option's platform for binaries (Windows, Web, iOS, Android) | Metaquotes MT5 Platform for Forex |
| Min. Trade / Deposit | 1 USD / 5 USD |
| Account types | 6 Account types with 7 levels |
| Deposit Methods | Visa / Mastercard, AdvCash, Payeer, Jeton Wallet, Webmoney, Perfect Money, (each country may also offer local deposit methods) |
| Withdrawal Methods | Visa / Mastercard, AdvCash, Payeer, Jeton Wallet, Webmoney, Perfect Money, USD Tether, Litecoin |
| Expiration Times | Between 30 seconds and 4 hours |
| Option Types | Binary Options Up / Down (Quick Trading), Digital Options Up / Down, and Touch. Forex at MT5 |
| Account Currency | USD (Some countries may also have accounts in their local currency) |
| Trading Types | Mobile, Tablet, Desktop, Web (Browser) |
| General Score | 94/100 |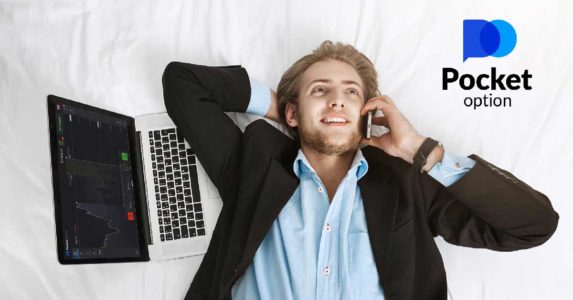 Not being one of the best-known brokers, or with more clients, even because it is younger than brokers like IQ Option or Olymp Trade, it has some unique things and for this reason, we decided to investigate and test to get to know this broker more thoroughly.
This Pocket Option review will help you decide whether you want to be a customer or not.
One thing I have to say, we have a lot to talk about because the broker has many things that are unique in the market and worth knowing.
When I heard about the broker, I thought it was just another one, but as I checked the platform, I discovered a whole new world.
Suddenly it felt like it was in the Candy Crush game, so many things that exist in offers, crystals (gems), achievements, bonuses, etc.
After a while, I concluded that the platform is a mix of financial trading and gaming platform (in a good way, as many things help traders to win and motivate themselves to trade).
Pocket Option Registration
To be able to enter the Pocket Option platform, you just have to register, which is super fast and free.
You need an email and a password, and accept the rules of operation.
As the platform offers a free training account, you can test it without commitment or risk, using the balance offered by Pocket Option, to enter and try it without any problem.
Registration can be done using the form below.
Or in case you want to trade directly on your mobile phone, you can check the MOBILE LINK (iOS and ANDROID)
Pocket Option Login
Many people who register later forget the data they entered in the registration form and are unable to log in and log in to Pocket Option.
Login is done using the same email and password you used when registering.
You must write the password you used to be able to login again.
However, if you have forgotten your password, you can always request a new password on the Pocket Option Login page.
Since we're talking about passwords, and knowing that this is an investment platform, here are some tips for a more secure Pocket Option Login:
Tips for Login to Pocket Option
Use a strong, unique password that you have never used in other applications before.
Be careful when accessing the platform on public and free wifi networks.
Avoid using Bluetooth because it is a way for other devices to access your cell phone and have access to your passwords.
Have all your updates up to date, whether your cell phone's operating system or your applications' updates.
Use an anti-virus to make sure that your data is not being accessed by strangers.
When downloading the app, use the official apps from the Google Play and Apple Store stores as below.
Company and Regulation
I have noticed something different from this broker concerning all the other Binary Options brokers that I know.
The fact that it accepts clients from almost every country, some of them there is few or no brokers operating such as the United States of America, Europe or Russia was something that caught my attention from the beginning.
And while I was investigating, I realized that the reason for this was something different from what happens with all the other brokers.
Usually, the broker belongs to a company that has a specific regulation, in the case of Pocket Option, it is different.
Pocket Option is owned or operated by two different companies, each with different regulations.
The main company appears to be Gembell Limited which is located at the Trust Company Complex, Ajeltake Road, Ajeltake Island, Majuro, Republic of the Marshall Islands MH 96960, and registered under number 86967.
Gembell Limited is regulated by CROFR (Center for Regulation of Relations in Financial Markets) under license number TSRF RU 0395 AA Vv0141.
The other company is PO TRADE LTD registered in C / O LC02 503, Choc Bay, Castries, Saint Lucia with registration number 2019-00207.
All Pocket Option activity is provided by Gembell Limited Services & PO TRADE LTD & PO TRADE LIMITED, that is, it is provided by both.
This was the broker's ingenious solution that allows it to operate in all countries where virtually no other broker can operate.
Types of trading
Check this post to know more about the types of trading that the platform offers. Best time to trade Pocket Option
Pocket Option Login:
To enter and make the Login to the Pocket Option platform, you just need to use the email and the password you used on the registration form.
So, don't forget the email and password you used.
In case you don't remember, in order to be able to make the Pocket Option Login, you can ask to redefine your password.
Account Types
Demo Account
The simplest and fastest way to test the Pocket Option platform is to open a free demo account. You don't even need to register with them to use this training account.
You access the website and click on the Demo Account button to get $ 10,000 in virtual funds that you can use to trade.
Just click on the CONTINUE TRADING button in the DEMO ACCOUNT, as you can see in the image below.
Even if you are an experienced investor, it is a good option to try the Demo Account before investing your real money.
After all, if you decide that you don't like the platform for any reason, it is much easier to abandon your training account, than to withdraw all your funds and close a real account.
Also, if you are new to binary options trading, the demo account will provide you with sufficient experience to understand whether you want to continue trading on this type of instrument.
The demo account is always free and can be recharged whenever necessary.
Even if you later open a real account (you only need to deposit and confirm the account) you will always have access to the training account.
To change between the Real account and the Demo account, click on the top of the platform next to your profile and choose the type of account you want to trade at the moment.
In the image below you can see how you can change between accounts on the platform.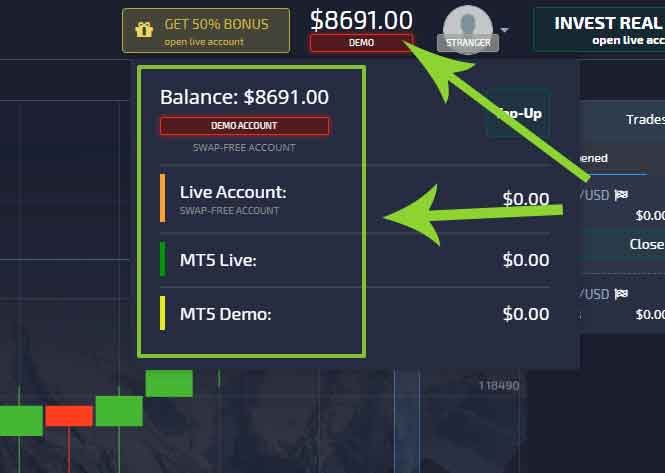 Real Account
To open a real account, all you have to do is make a deposit.
By clicking on Deposit Now, you will be redirected to the deposits page.
The minimum deposit on Pocket Option is $ 50.
Since the broker offers accounts in dollars only, the amount to be deposited, regardless of the currency, must be equivalent to a minimum of 50 US dollars.
In case you want to deposit in another currency, such as Euro, Indian Rupee, etc., you deposit your original currency and the platform will convert this amount to Dollar, without charging any type of fee, just making an exchange in the time.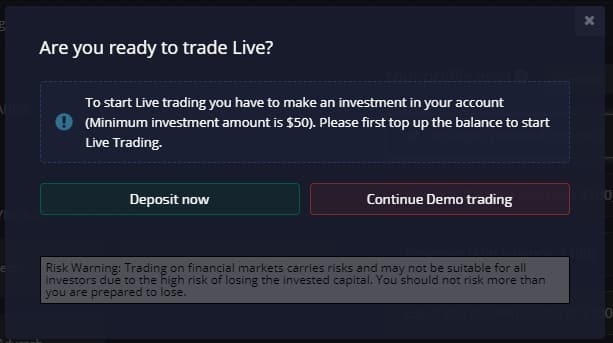 This page has 3 different pieces of information that you should look at:
• Choosing how you will deposit to your real account.
• Existing bonuses to be able to deposit.
50% DEPOSIT BONUS
100% DEPOSIT BONUS
• Your profile level depending on the amount deposited.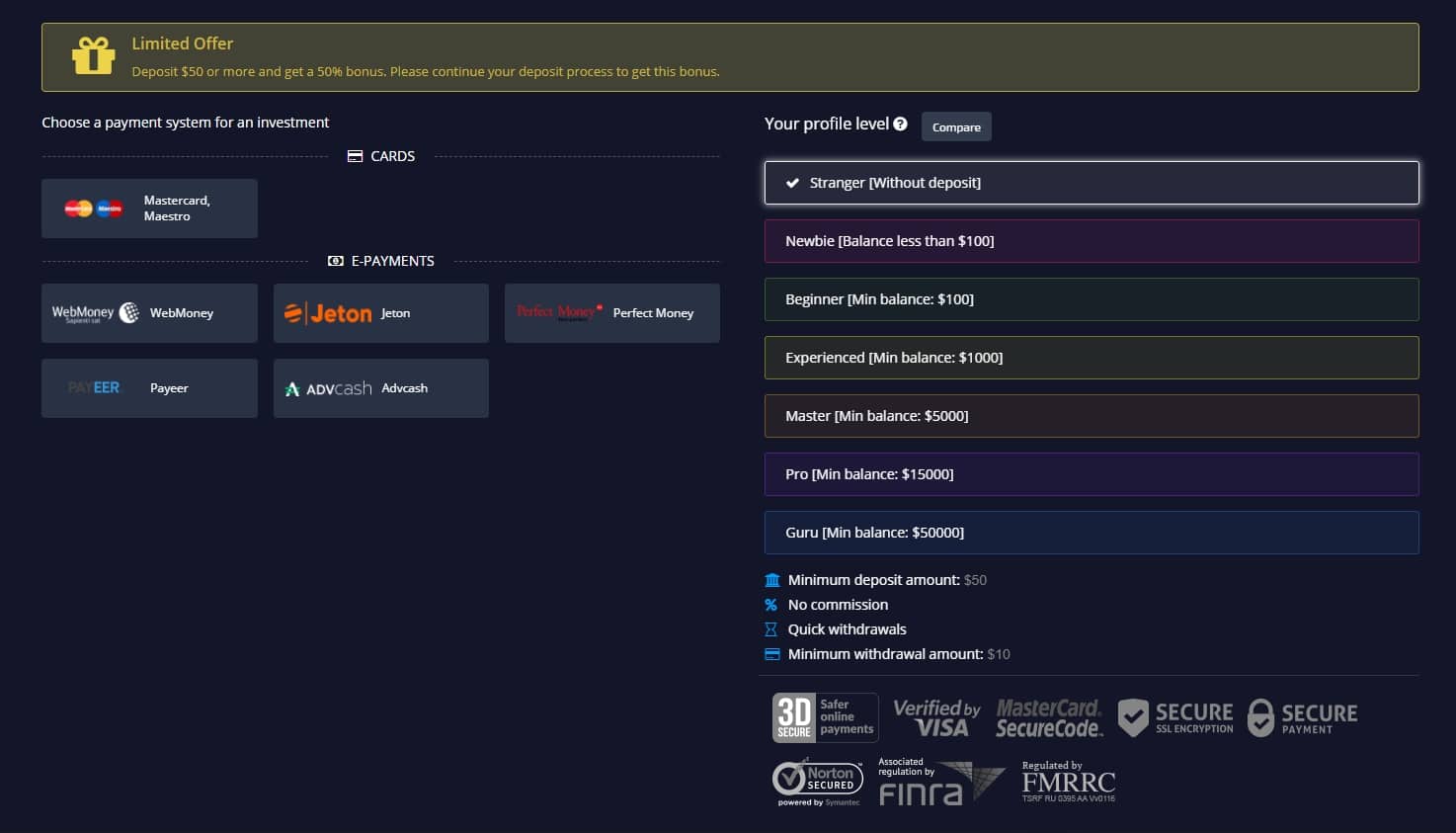 Choose the deposit method
Later on, we will talk about deposit methods at Pocket Option. They are varied, although it is not a strength of the broker, as others offer more options.
As you can see in the image above, the first thing to do is choose the deposit method, using VISA and Mastercard credit cards or electronic wallets as options.
Click on the desired method and you will be redirected to the next menu, where you will choose the deposit amount and the offers you are entitled to.
Special Offer or Deposit Bonus
If you are registering with the links above that entitles you from 50% to 100% deposit bonus, you will receive 50% to 100% of the deposited amount up to a maximum of US $ 5,000.
It is important to inform you that the deposit bonus can be withdrawn if the trader makes a certain trading volume.
In the case of the example in the image below, for a deposit of $ 100 (or equivalent in your currency), you would have to move a total of $ 2,500 in trades (counting lost transactions and winning transactions) to withdraw the value of this bonus.
That is, you would have to negotiate a total volume of 25x the amount of the deposit bonus.
In addition to the Deposit Bonus, the broker also offers other advantages, which vary with your profile.
See the image below.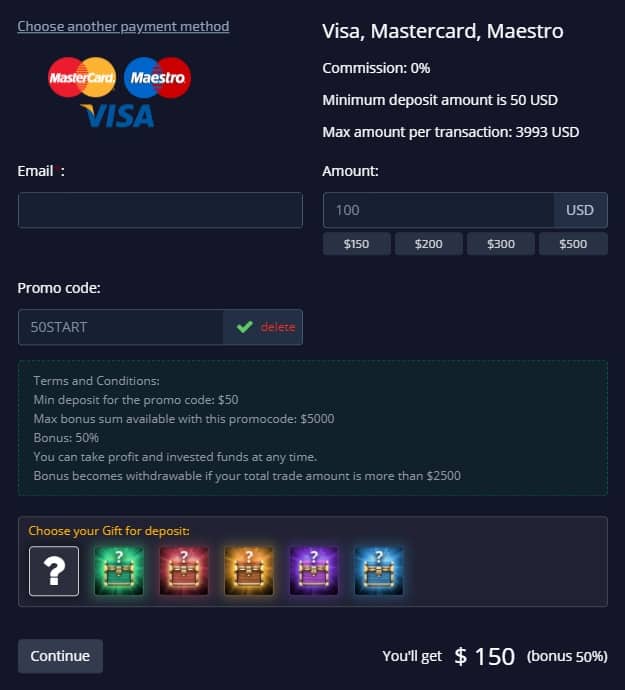 Profile Level
The profile level is another of the unique features of Pocket Option.
Some brokers have, for example, a VIP account where, depending on the account value or deposit amount, the trader has access to some advantages.
Here the broker took this function much further.
There is a total of 7 profile levels, each with many advantages and characteristics, which to explain everything would require an extensive article, dedicated only to inform what each level has and what are the differences between them.
The profile levels are:
1. Stranger
2. Newbie
3. Beginner
4. Experienced
5. Master
6. Pro
7. Guru
As you can see in the image below, what distinguishes each of the 7 profiles is the value of the account balance, that is, it does not count what was deposited, but the value of the account, so even those who deposit only 50 dollars, you can reach Guru if you earn earnings and your account balance increases.
This rule is excellent because the trader can move up the profile and thus obtain other advantages, not only because he has money to deposit, but because he had positive results that allowed him to move up the tier.

On the other hand, when the trader loses or makes a withdrawal, and the balance changes, the value of the profile here will also be automatically updated according to the new account balance.
Advantages of the levels:
There are many advantages to levels. Of course, as you level up, the benefits will also increase.
Just to mention some of the exclusive advantages that Pocket Option offers to its traders, see the list below:
• Increase in the payment of profits up to + 8%
• Refund of lost transactions up to $ 1100
• Increase in the speed of withdrawals
• Personal account manager
• Special tournaments
• Gifts
• Social Trading
• Increase in the number of open operations
• Increase in the number of assets to trade
• Increase of indicators available on the platform
• Gemstone Lottery
• Experience points
• Boosters
These are just some of the advantages that can be obtained by going up the profile.
In addition to higher profits or trading tools, there are offers, such as gems, experience points, and boosters, which offer points that can be exchanged for cash or other advantages such as special bonuses, or redemption of lost transactions.
In general, the platform always has something to offer the trader, as long as he trades.
The system is designed so that the trader is always interested in operating on the platform, always offering a world of advantages.
This is why at the beginning of this review I said the Broker looked like a mix between a financial platform and a game.
Trading Instruments
Pocket Option offers 3 trading instruments.
Money-or-nothing Binary Options:
It is the simplest system and used by all Binary Options brokers. It consists of betting on increasing or decreasing the value of the active. Here it does not matter what the final value is, but only if it is above or below the value when placing the operation.
If you make a mistake, you lose the stake. If you can find a strategy that allows you to get more than 60% of certain bets, you will have profits, provided you trade with assets that offer profits above 65%.
One-touch Binary Options:
This option is available on Trading Digital. It is the option where we choose the Strike Price, which is the value where we want the price to arrive within the active expiration time for the operation.
It is a type of trading that offers higher profits, but has more risk, as it forces not only to get it right in the direction of the price but also for it to reach the value, we determined in Strike Price.
For this reason, profits in these operations can go above 200%, while in the previous model, it is around 80% to 90% at the most.
Forex and CFDs:
The trading of this trading instrument is exclusive to the MT5 platform. To learn more about it, read our review on FOREX.
Platform
From what you have already read about the Pocket Option platform, you are left with the idea of ​​how complete it is and what it has to offer.
Speaking only of the negotiation aspect, the platform is simple and intuitive.
However, with all the features I mentioned above, it ends up having a lot of information and a lot of buttons, which for a less experienced trader can even become somewhat confusing at an early stage.
In the most important feature that is trading itself, the platform works well.
In addition to being very quick to react, the essential buttons for trading are in the right place and organized correctly.
Not personally being my favorite platform (even because I am more used to IQ Option) it is true that it is a pretty cool platform.
After some time with it, it becomes practical and simple to use.
I want to mention 3 areas of the platform that you should know to correctly configure the trading platform:
Chart Types
At the top of the trading platform, you will find 3 buttons (see image below).
It is in these 3 buttons that you configure the appearance of the platform and the trading tools and indicators.
Going from left to right we find the Chart Types button.
This button allows you to choose whether to use lines, candles, or another type of visualization of asset price movements.
The form I normally use, and that most traders use, are Candles, or Japanese Candles (Japanese Candles).
In addition to this option, there are also the options of Area, Lines, Bars, and Heiken Ashi.
In this button, you must also choose the Time Frame.
The Time Frame is the duration of the candles or bars (if you have chosen one of these viewing options).
Each candle or bar will have a specific duration that can be chosen from 5 seconds (S5) to 1 day (D1).
The correct choice of Time Frame depending on the type of trade and strategy you will use is very important, because if you choose the wrong or inappropriate time frame for your strategy, it will not work.
To learn more about strategies, be sure to read our article where we explain the Best Strategies for Binary Options. This button also has the option to change the colors of the candles and to enable or disable the timer.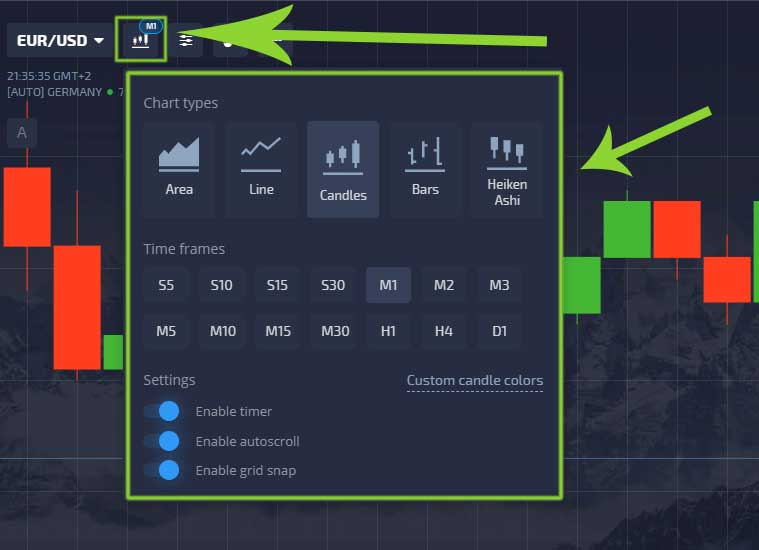 Indicators
The second button is the indicator button.
Here you will find all the main technical indicators that serve to design and use trading strategies.
Do not forget that here on the Blog you have access to a course that will teach you how to trade and use strategies with technical indicators.

To know the course, click on the link below: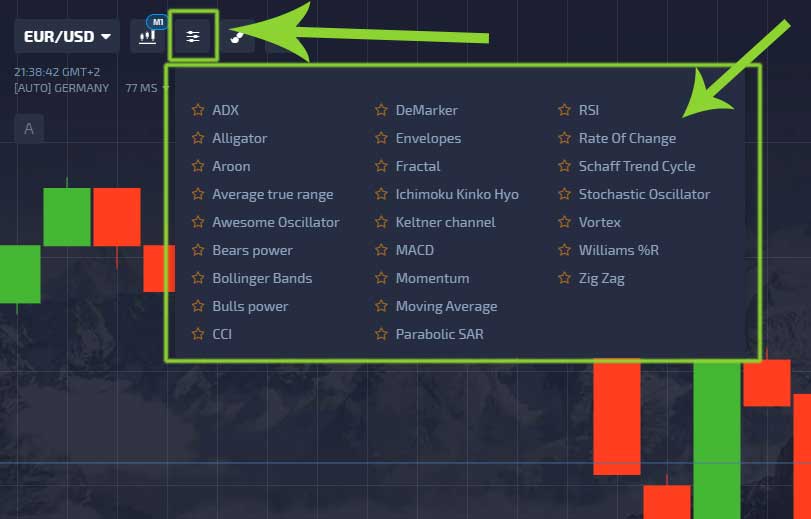 In addition to the technical indicators, there is also a third button where you will find several useful graphical tools.
Graphics Tools
These tools allow you to draw several lines, such as supports and resistances.
You also have the option of designing channels or using the Fibonacci sequence that allows you to place the Fibonacci retraction, which is also widely used by professional traders.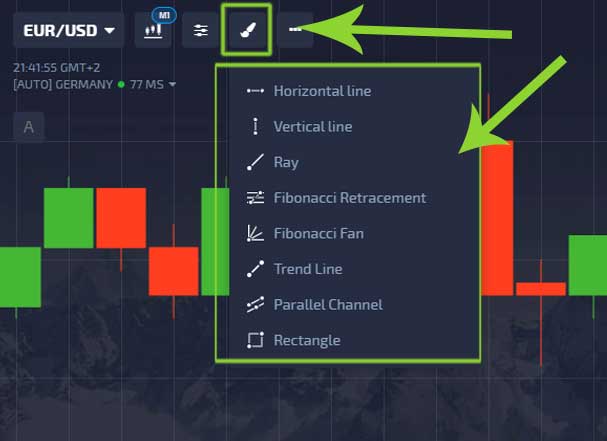 On the right, there is also the option of Social Trading, Market Surveillance, and the Zoom function of the platform.
Another of the characteristics of this platform is that even with the Up and Down buttons (Call and Put) you can change the layout, placing one to the left and one to the right, or simply next to each other.

Profits
In terms of profits, the broker pays up to 96% in normal fixed-price Binary Options contracts, which ends up being similar to the best brokers in the market.
Like the other platforms, the percentage of profit is variable.
This variation depends on the time and the traded asset.
Your profile also influences, because the higher your profile, the higher the percentage of profit you are entitled to (up to 8% more in the highest profile).
But on average, profits on each Binary Options transaction range from 60% to 90%.
However, you can earn up to 218% if you use Strike Price in Trading Digital as explained previously.
Pocket Option Bonuses and Promotions
When depositing you can obtain a Deposit Bonus.
The normal value of this deposit is 50% of the deposited amount, up to a maximum of $ 5,000.
Not only will you have access to several bonuses, but you will also be able to receive prizes according to your negotiations where you can exchange for other bonuses or prizes.
Another advantage that Pocket Option offers, concerning other brokers is that the Bonus offered can be withdrawn.
To do this, you will need to make a trading volume between 25 to 100 times the value of the Bonus.
In most brokers that offer bonuses, these cannot be withdrawn, or the volume required is 40 times, in this range, we recommend that you check the conditions of the bonus offered before accepting.
If you want to receive a 50% Bonus click on the BUTTON below.
It is also important to note that you can cancel the Bonus at any time.
You should also know that if you have a Bonus and make a withdrawal before completing the 25x volume, the broker will automatically withdraw the Bonus.
But the advantage is that you can always make withdrawals, while some brokers prevent you from withdrawing while you have active bonuses.
Learning Tools
Within the Pocket Option platform, you have access to a lot of learning material.
Whether written material or tutorial videos, you will find a lot of information.
However, not all material is accessible to all traders (it depends on your profile level).
Nor is it written in many languages, so if you are not fluent in English you will not be able to use much of the learning material offered by the broker.
However, you can always learn by taking the Binary Options course below, it's free.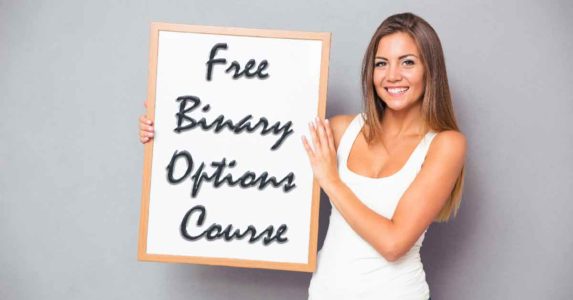 Binary Options Training
No one can get Good results without Learning!
Pocket Option Trading Apps
Pocket Option offers several trading applications.
You can either trade directly in the browser or download the application for your computer, phone, or tablet.
Although the main Pocket Option platform is on the Web, that is via the browser, they also offer versions for mobile, tablet, and PC.
• Web application – This is the application that runs directly in your browser, so you don't need to download anything. Ideal for computers. With this application, you can trade Binary Options, on the broker's platform or Forex on MT5 that can run within this application.
• Windows application – This application works on Windows and must be downloaded. It is the same as the Web application about Binary Options. MT5 must be downloaded separately.
• Mobile and Tablet Application – There are Trading Apps for Android and iOS that can be downloaded free of charge from the respective Google and Apple stores.
• Application for MT5 – MT5 being a platform apart from the broker, has its applications. It can be downloaded to computers, iOS, Android, macOS, or Linux. Within the normal PocketOption platform, there are links to download these applications. To do this, choose the MT5 account and on the right side, there is a column with a button: Platforms.
There you will find the link to download the MT5 platform.
• Other Pocket Option apps – In addition to the trading apps, the broker also offers 3 other apps all available for Android and iOS. Signals application, Strategies application, and Analysis application.
Pocket Options mobile apps are owned by ITTrende OOO.
Click on the banner below to see the Mobile and Tablet Apps.
Pocket Option mobile apps have the same features as the online platform, so you'll be able to trade with the same tools whether it's on your computer, phone, or tablet.
The iOS app only requires iOS 11.0 or later, so you can also use it on an iPad or iPod touch.
If you have Android, you will need to have Android 4.4 or later.
Pocket Option offers several trading options, so whatever your own, the broker has the option of your choice.
Deposits and Withdrawals
Deposits and withdrawals are as simple as the Pocket Option interface. After registering on the site, checking your payment type, and providing valid identification, you can start with a minimum deposit of $ 50 or more.
To fund your account, you can use a variety of payment types, from credit cards to cryptocurrency. Pocket Option accepts almost all major forms of payment, including:
• VISA
• MasterCard
• Conductor
•Debit card
• Bitcoin
• Litecoin
• Ethereum
• Bitcoin Cash
• Jeton
• Perfect Money
• Payeer
• Advcash
• ZCash
• Skrill
• Neteller
Some of the deposit options described above are not active for your country, as others may be active only to your country.
The minimum withdrawal is only $ 10.
Unlike some brokers, they also do not charge a commission or fee for these transactions. What you get is exactly what you get.
The only fee that can be charged exchanges. This fee is not the Pocket Option that charges but the electronic wallet or the bank where you receive the money.
Deposits are fast, depending on the method you use, it may take just a few minutes.
In the case of withdrawals, it is normal to take up to 3 working days, but in the case of traders with the highest profiles, the wait is shorter, with the withdrawal being made in about 1 day.
Special features
Pocket Option has several special features to enhance your trading experience. With an active live account, you have access to features such as:
Trading Social
Social Trading is one of Pocket Option's most useful features, especially for new traders.
It allows you to keep an eye on the trading habits of other investors and see which ones produce successful results.
Once you find the most qualified traders, you can copy your trades for better results, even with limited knowledge in trading.
Know more about the platform in the video below.
Tournaments
Pocket Option tournaments allow you to compete with other merchants for prizes.
In tournaments, you have the chance to win prizes and achievements. Prizes vary, but some can go up to $ 50,000 in a prize fund that will then be redeemed for various benefits, such as bonuses and even cash.
Depending on your profile, you will have access to some exclusive tournaments.
Achievements
You earn achievements for the trades you make and the tournaments you participate in and win.
There are several achievements, each linked to a certain type of condition.
These achievements are then translated into experience points or emeralds (precious stones) that are exchanged for tools and other commercial advantages.
You can get a payout percentage bonus, trading funds, and other benefits that allow you to improve your trading experience and increase your chances of making a profit.
OTC trading
Another feature that the Pocket Option platform offers is OTC trading.
Simply, OTC trading occurs when the official market is closed.
When a broker does not have this type of trading, it is completely closed at the weekend, as the official markets are closed.
OTC allows you to offer weekend operations.
To better understand this concept, read the article: OTC in Binary Options
Customer support
You will have no problem connecting to Pocket Option customer support as it is easy to find contact information on your website and the platform.
The broker provides customer service 24/7, and your phone number, email, and address are available on the contact page.
You can also find them on various social media platforms, including Instagram, Facebook, Twitter, and others.
The chat system available on the platform will probably be the fastest and easiest way to get support from Pocket Option.
If you have a general question, but don't have time to chat, fill out the contact form on their website and they will contact you later.
To contact them by phone, email, or physical address, use this information:
Phone: 1 (800) 982-1251
Email: support@pocketoption.com
Note that the broker has almost no complaints on online reputation websites.
Pros
When you think about trying out a new binary options broker, you want to ensure that they have enough resources to offer the best possible trading experience. What does Pocket Option have that sets it apart from the rest?
• Professional, fast and secure platform
• Trading in Binary Options with 2 different types of trading (Fast and Digital)
• Social trading, tournaments, and achievements
• OTC trading
• Up to 100% deposit bonus
• $ 1 minimum trades
• Demo account without registration commitment
• MT5 platform for Forex trading
• Accepts traders from the USA, Europe, and Russia (something very few does)
• Regulated and reliable
Cons
Despite all the advantages it offers and special features, Pocket Option has its problems. Let's see what can stop you from negotiating with them.
• Lack of some Deposit Methods you might prefer
• Difficult trading platform for beginners with everything it has to offer
• Not licensed by the Cyprus Securities and Exchange Commission (CySEC)
• Lack of training material in your own native language (maybe)
Conclusion Pocket Option
Pocket Option was able to take the type of platform that is used by the main brokers and increase the offer of services, making trading more fun.
However, everything it has gathered on its platform turns out to be something complicated to understand for an inexperienced trader.
Of course, the main thing that is trading itself, is fluid and simple to understand, as the trading interface is intuitive.
In general, it is a broker with unique characteristics, many of them interesting, and which are worth testing.
Whether you are a beginner or an expert, don't leave without testing the PocketOption platform.
I enjoyed using the platform and seeing all of the unique features it offers.

It turned out to be a breath of fresh air, since all other brokers are very similar. It offers different and fun features, which makes trading a lot more fun.
Pocket Option: FAQs
What is Pocket Option?
It is a Binary Options and Forex broker that appeared in 2017 and has grown, being already one of the main ones in the market. It offers 2 types of Binary Options transactions through its Mobile, Computer, and Tablet applications. It also offers Forex through the MT5 platform.
Is Pocket Option legal?
Yes, the broker accepts clients from almost all countries worldwide. It is one of the few brokers that even accepts clients from the USA, Europe, and Russia. PocketOption has an international regulation and is operated by 2 companies registered in several locations.
How does Pocket Option work?
To better understand how it works, read this broker analysis. To start, open a free account and take a course, like the one we have on offer on the website, so you will be ready to negotiate. Then deposit and start trading.
Why should I choose Pocket Option?
Because it has a good platform, with good payments and great features that make trading fun. It is also internationally regulated and offers 2 different types of financial instruments, on 2 different platforms.
Is Pocket Option reliable?
The company is regulated. There are very few complaints. It is present in countries where very few brokers are located, such as the United States of America, European countries, and Russia. Also, it has a license to use MT5's Forex and CFDs platform, which is the most expensive and the best Forex trading platform. For all the reasons given, PocketOption is reliable.
Suggested Posts for You