Please Subscribe with Paypal or Credit / Debit Card by clicking on the button below.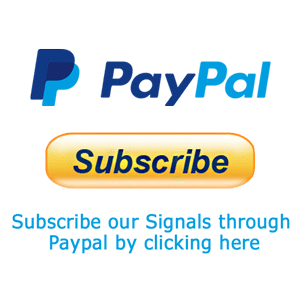 Subscription Rules:
1 – You can cancel at any time. Just Login on your Paypal account and cancel the payment. You won't pay anything else.
2 – You can pay via Paypal or Credit Card. Even using Credit Card, payment is made via Paypal application.
3 – The regular price is 9,99 USD per month.
4 – There are promotions where the VIP Signals and all the other Tools are 100% FREE. To know more comment below, or use the other support channels of the blog.
5 – In case you do not have Paypal nor Credit / Debit Card, we can accept Bitcoin payments.
What will I get with this Subscription?
a) You will get daily Binary Signals by Telegram. In average we sent up to 25 Signals per day.
b) You will get free and full access to our training that includes 6 strategies, and much more.
c) Exclusive promotions like: Deposit Bónus, Trading Robots, etc, etc.