BitcoinsFormula is a new Robot in the Binary Options market, but it also works with and trades in cryptocurrency assets such as Bitcoin and Litecoin. Nowadays everything that concerns Bitcoin and the cryptocurrencies in general always causes some curiosity motivated by the exponential growth that these types of assets have had in recent times.
It was not much of a surprise when a robot that uses cryptocurrencies appeared on the market. The robot uses cryptocurrencies not only as assets but, according to the robot itself, with a strategy used by a young multimillionaire who made his fortune trading Bitcoin.
BitcoinsFormula – What is it?
BitcoinsFormula is a robot that trades through Binary Options brokers.
It trades completely automatically in the account at the broker.
We can choose short-term or long-term trades. We can also choose the level of risk and the value of the trade.
There are several assets that can be traded by the robot, and cryptocurrencies are some of these assets. We can activate and deactivate the assets we want from the list that appears in the robot.
In the image below you can see the assets that can be traded with the robot BitcoinsFormula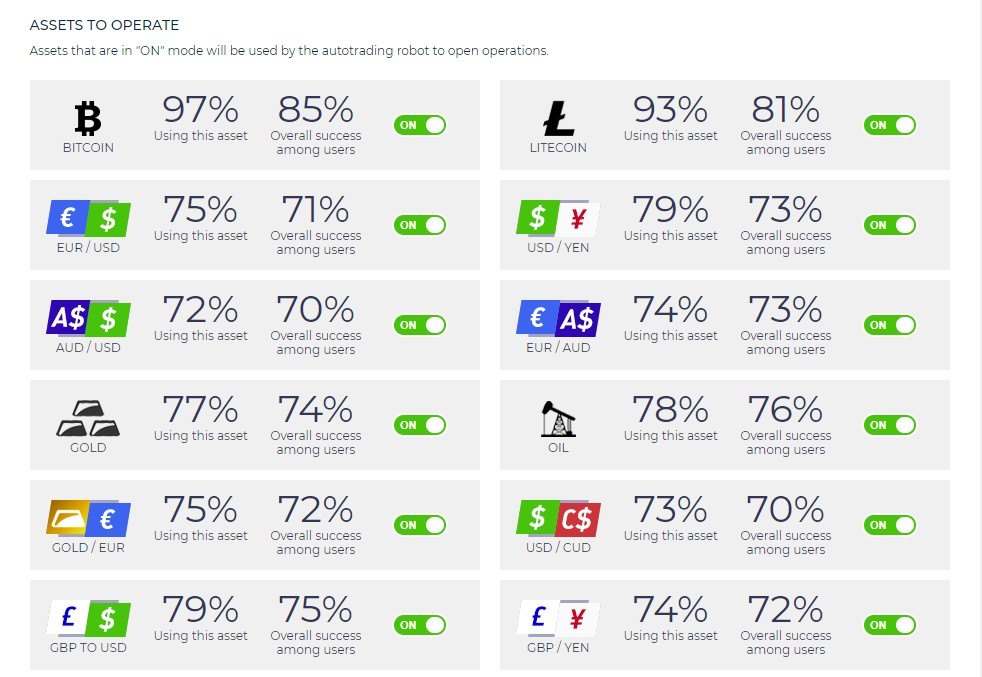 BitcoinsFormula – The History
Many of the robots that are available, tell false stories, talk about people who don't exist, invent names that don't exist.
The BitcoinsFormula tells a true story. In the introduction video, the story of the young American millionaire Erik Finman is absolutely true.
Whether or not the robot algorithm uses something that the young man uses in his money-making trades, I can not confirm.
But using a real and true story is already an advantage in terms of BitcoinsFormula's credibility.
Image of Erik Finman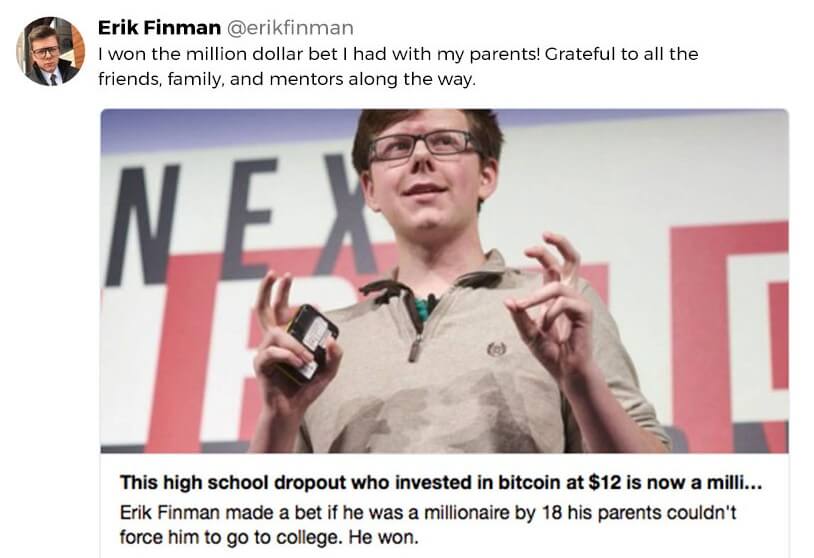 BitcoinsFormula – How to use it?
It's all very simple, register with only your personal data and you can immediately access the robot's platform.
Then, you can configure some things, such as the assets you want, type of trades (turbo or binary), risk level and value per trade.
Then you can choose if you want to deposit or use it in demonstration mode.
Although demo accounts are not a mirror of what happens in real accounts, being able to test something before depositing is always an advantage to get an idea of how it works.
In terms of deposits, the minimum amount to deposit in BitcoinsFormula is $250.
Once you have made a deposit, just set up the robot and let BitcoinsFormula work autonomously.
BitcoinsFormula Control Panel Image

BitcoinsFormula – Advantages
– Uses a real and true story which is something uncommon in many robots
– Support in Portuguese
– Demo account to test the robot
– Few settings to set up to get started using BitcoinsFormula, which makes it simpler to use
– Trade assets that are very fashionable like cryptocurrencies
BitcoinsFormula – Cautions
– Like all robots, Bitcoins Formula always has risks, because if you have days that can go very well, others can go very badly. Never let Bitcoins Formula run without your supervision unless you already have consistent and long-lasting results and a good balance in your account.
– Use the risk level between 10% and 40%, the system will open fewer positions, but it will open more secure positions.
– Do not think that the results of the demo account and the real account will be the same, the results are not the same with any robot or system. There are always differences between a real account and a demo account.
EXCLUSIVE BLOG PROMOTION
Open an account at BitcoinsFormula using the Button below, and the first two trades at $25 will be risk free.

This means that if you have losses on your first $50 I will pay you back. This way you can test some orders and verify for yourself the results from BitcoinsFormula, knowing that you will not risk losing. To receive the Exclusive Promotion, first clear your browser history, then click the Button bellow to open an account. Before you make a deposit confirm your registration through our chat or by commenting below.