You now have the possibility to try for free our 3 Forex Robots. Read all about them here and understand why it can be a good option if you don't have the time or will to learn about becoming an independent trader.
Forex Robots – Test Free our 3 FX Bots
One of the advantages of the FOREX market is the possibility of using Forex Robots, which makes it easier for those who do not have the time or do not have the skills to trade alone.
Other markets like Binary Options don't use Robots because it does not work (in some cases), or because their regulators don't allow it.
What are Forex Robots?
These are programs that run on the broker's platforms, whose function is to replace the tasks that would be ours (analysis, search, and placement of the trades).
They analyze the charts and the market, looking for the best opportunities to profit.
Then they put the trades and calculate the profits and losses, deciding the closing points of the open trades.
How Forex Robots Work?

The operation is simple, we just have to install them on our broker platform.
It has to be a broker that allows for forex Robots and that has an MT4 platform.
The installation takes 1 minute and in a few clicks, we have everything working.
Tips from our Professional Trader: 6 reasons to have 2 accounts

Do you know that you should work with more than 1 broker?

Check the 6 reasons why you should have account with at least 2 brokers:

Each platform has its differences. If you try different platforms you may find those more suitable to your trading style.
Each broker has his own payouts that keep changing during the day. If you want to open a trade and one offers 60% and the other 80%, you will choose the one with best payout, no?
Sometimes the brokers close some assets, if you have just one account and you want to trade on that asset and it is closed, you will LOSE that trade, no?
If there is an issue with your Broker's platform, or they are updating it you're not able to trade, unless you have another account with other broker.
Deposits and withdraws. Brokers keep changing the deposit and withdraw methods, imagine you need cash fast and your withdraw system is closed at that moment on your broker, what do you do?
Each platform has its owns indicators and trading tools, imagine you found a new stratey and it does not work on your broker because it uses an indicator that your broker does not offer.

Below you can find our main trader suggestions on brokers:
What requirements do you need to use Forex Robot?
a) We must have an account with a Forex broker that has MT4.
b) We must have a computer to install the MT4 platform and the Forex Robots.
c) We must have internet so that the platform in our computer communicates with the broker and so it's able to put the trades in the market.
What are the Advantages of Forex Robots?
There are several advantages to using these programs:
1 – They do all the work of analysis and placement of trades
2 – They work 24 hours a day, which means more opportunities for trade and therefore more profits
3 – They make no errors of analysis or calculation. They do what they were programmed to do without making mistakes.
4 – Emotional Control. One of the problems that human traders have is how to control their emotions. The fear of losing or the greed of winning causes many mistakes that often costs a lot of money. Forex Robots don't trade based on emotions.
Below check one of our Forex Robots in a real account. Check the balance and then see the profits on the 2nd image.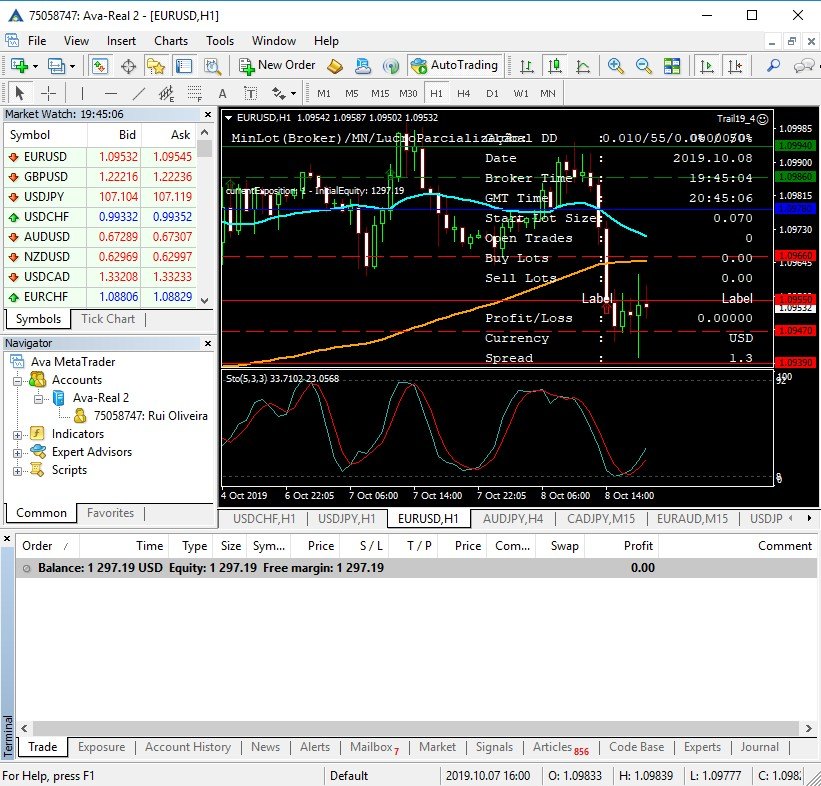 How can I get these Forex Robots?
We offer 3 forex Robots to download and use for testing.
You can test as often as you want until the end of the year.
They work on demo accounts of a set of brokers that we have selected.
You can use the 3 robots together in the same account or separated 1 per account.
You can test only 1 or 2 or 3, as you prefer.
Each of the 3 Forex Robots works differently, having at its origin in three different strategies and different ways of operating.
You pay nothing for testing the Robots.
If after testing you understand that you want to use 1, 2 or 3 Forex Robots in a real account, then you have several options:
a) You can open a real account at one of our partner brokers (using a special link) and have the robot for 6 months or 1 year for free.
b) You can use the Forex Robots in any other broker. You pay a monthly fee for its use. The monthly fee is $ 39.
c) You can use the Forex Robots in any other broker. You pay an annual license. The annual license fee is $ 299 (35% off the monthly cost).
Below you can see one of our Forex Robots in a real account. Profits with a 1k account in 1 week. October 2019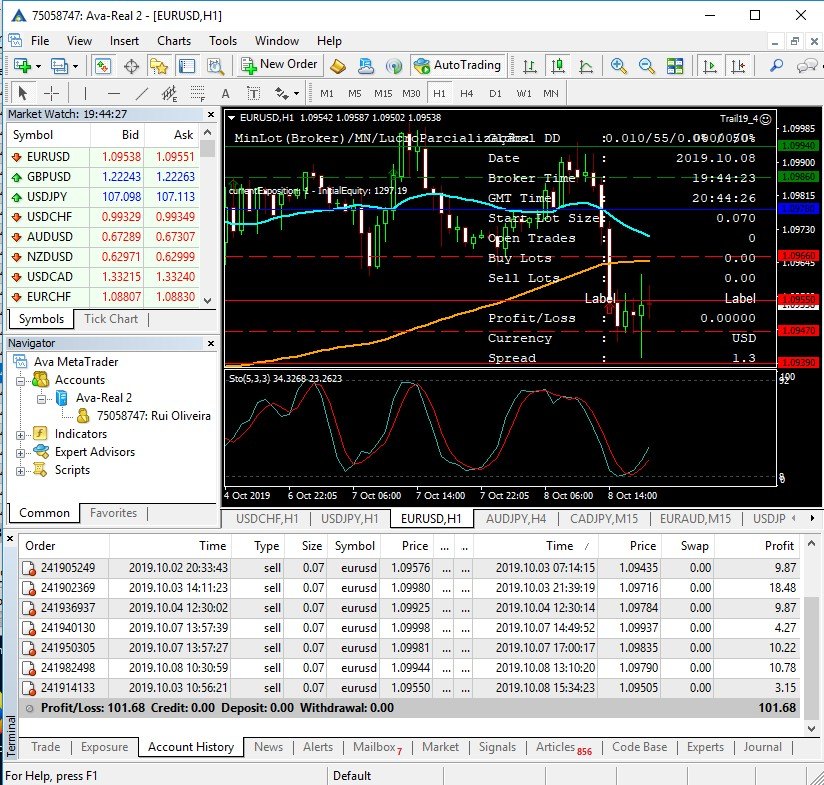 As you can see with the 2 images the profits in 1 week were almost 10%.
That is not what the robot normally makes in a week.
But it gives you an idea of what can he do.
What are the strategies of every Forex Robot?
RealRobot 1 Order Version – This Robot works on-trend. Opens 1 trade on each chart/asset and places 1 Stop Loss and 1 Take Profit on each trade.
RealRobot Grid Version – This Robot works on-trend. Opens one trade and several pending orders when the market reverses. It opens positions in sequence until recovery. Has a general Stop Loss and an individual or general Take Profit.
RealRobot Martingale Version – This robot works against the trend, it enters when an asset is already overbought or oversold in the trend, looking for a retracement. After opening the 1st trade, it calculates opening levels if the market goes in the opposite direction using the Martingale method to fast recovery. Uses a general Stop Loss and an individual Take Profit.
What are the steps to download and use the Forex Robots?
1 – You must have a demo account at any Forex Brokers that uses a MT4.
Robots only work in a demo account.
If you later want to use it in real mode then you can use one of the Brokers at the list (paying nothing for 6 or 12 months, if using a special link on the account opening) or any other broker (by paying the monthly fee or annuity).
List of partner brokers:
2 – Once you open the demo account, you must download the MT4 from the broker you have chosen and install the MT4 on your computer.
3 – Now you have to download the Forex Robots. Click the link below and download the Robots and all the files to your computer.
4 – After downloading you have to install the Forex Robots and the files for them to work in your account. See the video tutorial explaining what to do.
IMPORTANT: I made a new version, where the Include file does not need to be used. Just copy the Robot .ex4 files as I show in the video.
5 – Click on the Autotrading button on MT4 to activate the Robots and let them work. I remind you that you need an internet connection for them to work.
Any questions do not hesitate to talk to our support, either by our Chat, or leave a comment below.
I hope you enjoy the results. If yes do not hesitate in asking our team about how to access the robot in a real account.