XTB has been in business for almost 20 years, has a solid reputation and regulation, and an xStation 5 application that is top notch. Is it really all good, or is there something wrong?
| | |
| --- | --- |
| XTB | Open a Free Account |
| Regulated | Yes, FCA, CySEC, KNF, DFSA, amongst others |
| Founded | 2002 |
| Customer support | Phone, chat and email |
| Platform | xStation 5, MT4 |
| Min. Trade / Deposit | 5 usd / NA |
| Account types | Standard, Pro and Islamic |
| Deposit Methods | Visa, MasterCard, Bank transfers, Paypal, Skrill/Paysafe, Neteller |
| Withdrawal Methods | Visa, MasterCard, Bank transfers, Paypal, Skrill/Paysafe, Neteller |
| General Score | 96/100 |
XTB, Who Are They and How Do they Work?
X-Trade Brokers, globally known as XTB is one of the world's leading Forex and CFDs companies.
The company originated in Poland, and has grown tremendously since it began its services in 2002. It has offices in all major European capitals.
They are listed on the Polish stock exchange, which gives it a sturdiness that is hard to beat in the world.
With a solid set of various regulations, for example from the UK's Financial Conduct Authority (FCA) and the Cypriot CySEC, your investment is well protected.
Their xStation 5 software offers a simple and intuitive platform suitable for both novice and experienced traders.
The firm has won solid awards over the years, both for its platform and for its transparency towards clients.
It has the platform, apps, website, customer support and learning area in almost 20 different languages.
Several Solid Regulations
Throughout almost 2 decades of activity, XTB has been developing a transparent and truthful activity. The company keeps traders' deposit accounts separate from the company's private accounts. This segregation is a good sign, ruling out possible conflicts of interest. Regulations vary depending on your country or geographical area.
Over time it has earned trust seals from several reputable regulators, spread across the globe. Some of them are:
Financial Conduct Authority (FCA) of the United Kingdom, with license number 522157
Polish Financial Supervisory Authority (KNF), license number DDM-M-4021-57-1/2005
Cyprus Securities and Exchange Commission (CySEC) with license number 169/12 of 2020
International Financial Services Commission (IFSC) of Belize with license number IFSC/60/413/TS/19
For Dubai Financial Services Authority (DFSA), XTB holds a category 3 license
When a broker has any of these regulators it is already a good sign, having all of them is definitely a very solid point to consider.
In addition to this, there is a free insurance that the broker offers, in which its European clients are covered up to 1 million Euros, or the equivalent in British Pounds and Australian Dollars. This insurance is provided by Lloyd's of London, a leading insurance company. And I repeat that the insurance is free, and that all European customers already have access to it, without having to fill out anything. Unfortunately, not all geographies have access to this insurance.
These attitudes lead us to say that this is a solidly reputable broker, with excellent protections for your investment, and they are fully capable of conducting their business in a serious and legal manner.
Software xStation 5
The company has made use of cutting-edge technology to create its trading platform which it called Xstation 5. The result is a light, reliable, intuitive and extremely fast platform. What's more, you can use the platform in several languages.
With a professional look and tools, it ends up being very easy to operate for beginners also because the whole structure is clear. This is a powerful tool to be your main ally in your daily trading sessions.
It has a calendar with economic news. It also has a market analysis made by the broker. With it you will also have access to an audio commenting the market, a service that would easily be paid in other competing companies.
Although it has many options, the interface is still intuitive. If it is your first time, you may have some difficulty, but in a few hours, you are used to it due to the small learning curve.
You can rearrange the space and leave it the way you prefer, because you have lots of options to do so.
A vast section of learning material is available, which we will cover in detail below.
There are downloadable apps for your computer, tablet, smartphone and even smartwatch. The xStation Mobile version, which as the name implies, is the smartphone version.
You can add more than 6 drawing tools, it has more than 20 indicators, Fibonacci levels, etc., all easily customizable and with a professional look.
Very cool is the advanced trade calculator that instantly determines every aspect of your trade for you, something very useful, as you can see in the image below.
Besides the XStation 5, the company also offers access to the MT4 platform, for those who prefer it. Even though it has been on the market for many years, MT4 is still a worldwide reference, but it loses some agility and some extra functions that you will find in the xStation 5.
However, for the more purists, or for those who prefer it, it is good to know that you can count on MT4 and its bulletproof reliability.
Trading Academy, the Learning Section
There is a very in-depth learning section, arguably one of the largest and most comprehensive on the market. It contains courses from basic to intermediate to expert levels.
Much of the content doesn't even require registration, although there are of course courses for customers only.
The material is in several languages, a very important point.
There are also live webinars. Check the available schedule to find out the date of the next webinar. They are given by several renowned experts in the market.
No doubt that the company is concerned about your growth as a professional trader.
XTB Account Types and their Fees
The platform offers three account types, which may or may not be available in your region due to the various and different regulatory bodies. They are Standard, Pro and Islamic.
The Islamic account exists only for traders who follow Sharia law with appropriate conditions and very specific applicable laws, in respect of the principles of Islamic financial law.
Standard vs Pro- Similarities and Differences
Regarding the differences between the Standard or Pro account, you can choose to trade with all the costs associated with the spread, which is the Standard account, or on a commission basis which is the Pro.
One of the big differences you need to be aware of exists in the swap fees and spread level which ranges from 0.35 pips for the Standard and 0.28 for the Pro, with the Pro fees being charged as a $4 per lot commission.
As for similarities, both Standard and Pro allow you to trade the full range of instruments available and the minimum order is 0.01 per lot.
Don't forget that these conditions may change according to the geography you are in.
Demo Account
The demo account exists and is available to get to know the system better and have more security before making trades. It has a balance of $10,000 in virtual funds and allows trading for 4 weeks. In demo mode the user has more than 1500 CFD assets at his disposal.
If you open a real account, when you deposit, the demo account limit for 1 month disappears, leaving you with unlimited demo account access, topping up the dummy balance whenever you want.
But really, if the idea is really to get to know and try the service without depositing, you will only have the stated 4 weeks, which for some beginners may not be enough time to try the service. In this field, XTB has a different view from Binary Options brokers, where the demo account is available in an unlimited way from the first day.
How to sign up at XTB
Any top broker today needs a secure and fast registration process. This is what we found when doing the XTB registration.
When you go to the main page, click in the top right corner on open live or demo account. On the next page you should see a short form as you see below.
After the usual questions, you will have to fill in information that allows us to understand your level of experience (or lack thereof) in the market. This is mandatory under what is imposed on all FCA regulated broker firms. The purpose of this is not for XTB to know about your life, but to find out if you are financially fit to start in the market. It ends up being a protection for yourself. You will be asked about Annual income, Net worth, Source of income, Funding of the account, Planned annual investment, etc.
The last step is the verification of your identification. Proof of address and identification can be verified with any of the following:
– Passport
– Driver's license
– ID card
Customers can upload a copy of their proof of identification using their smartphone.
The copy must be legible and up-to-date.
Once completed, you can make a deposit via the button at the top of the website.
Deposits and Withdrawals
There are a generous amount of deposit and withdrawal methods.
Deposits
The traditional ways are all present: Visa and Mastercard credit card and bank transfer.
The well-known digital wallets in Neteller and Skrill and even Paypal are available.
You can also use other methods that are only available in your country, as the company takes into account some deposit methods that are country specific.
In addition, XTB accepts the following currencies: EUR, USD, GBP, and HUF.
XTB does not charge a deposit fee. However, you may see a fee that can go up to 2% if you use some wallets like Paypal or Skrill.
Withdrawals
It should first be noted that there is a $10 withdrawal fee, for payments under $200. Above this amount, there is no fee.
The withdrawal period can take up to 3 business days, but they are often faster.
Minimum amounts
There is no minimum amount to deposit. Instead, there is a minimum amount to open a position. The minimum will be in a micro lot (0.01) for $5. It means that you can open a real account, deposit $10 knowing that this will give you 2 positions to open in the first place.
Instruments to Trade
The instruments on offer are very, very wide! There are over 5000 to choose from and we have detailed them below:
Forex Currency Pairs: 57
Indices: 35
Commodities: 22
Stocks: 2974
CFD Stocks: 1916
ETF CFD: 135
ETFS: 274
Cryptocurrency: 5
Nothing to complain about the lack of assets, you have an endless amount. But maybe there could be more cryptocurrencies, as there are only 5 and some are not even influential currencies anymore, such as Ripple. For some traders this could be a negative point, as there are many traders who like their extreme volatility.
How Customer Support works?
With branches spread a bit all over the world, the support is defined by the company as "one of the best in the world", given by highly trained specialists.
Support is given by phone, chat and email 24 hours Monday through Friday, but this varies by country. For example, for some countries there is a local number, which makes it much easier. Others, where it's not possible, you can have the Skype alternative.
There is a bot always interacting with you on the official page, asking questions, but it can happen that you really need something and then there is no one real on the other side of the screen.
This happened to us. We spoke to support within business hours and got a notification that there was no agent available at the moment. Then this allows us to send an email with our issue, it was done, but it took several hours before we got a response.
Support improves after the account is opened, as a personal contact person will be responsible, who will introduce you to the world of XTB. The support service did not start out as being outstanding, but then it got better.
XTB and the Famous
Regardless of how much money may be involved, not everyone lends their face or name to the brokers of the financial world.
However, the 'special one', the coach José Mourinho, with an enviable track record is one of the company's ambassadors. And this goes far beyond an advertisement.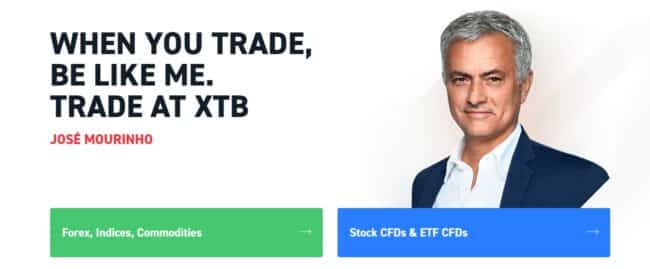 In the learning content, there is an entire section that teaches you how to set yourself up for success, through a course given by José Mourinho.
Already in the past, the multifaceted and famous actor Mads Mikkelsen made a very cool commercial for XTB, which you can see below.
Since it is not always usual to have famous people with an privileged resume like the two mentioned above in marketing campaigns by companies in this sector, XTB stands out from the competition there too.
Advantages and Disadvantages of the Platform
XTB is among one of the top companies in the industry with the following pros and cons:
Pros:
Almost 20 years in the market
Some of the most solid regulations available (FCA, KNF, CySEC, IFSC, etc.)
More than 350,000 customers worldwide
Numerous awards won
Company listed on the Warsaw stock exchange
Large learning area full of good content
Offices in more than 13 countries, many of them in the main capitals of Europe.
Famous people like José Mourinho or Mads Mikkelsen 'borrow' their faces to the company
Against:
Few cryptocurrency assets
Demo account for 1 month only
Capital protection insurance not available in all countries
$10 cost for withdrawals under $200
Conclusion XTB
After what you have read, it is hard not to recommend XTB, isn't it?
This is one of the market leaders, with a lot of experience and a good reputation, with solid regulation all over the world.
They have a wide portfolio of instruments, where only cryptocurrency traders can be dissatisfied by the reduced offer. Their fees are attractive, but watch out for the Pro account which could be a bit more competitive.
They also have their own platform, Xstation 5, which is one of the best on the market.
If what you are looking for is investing in Forex and CFDs, XTB is one of the best options that fulfills all the requirements. If you are a beginner, you will have a good support with all learning materials available in almost 20 languages.