The IQ Option iOS was out of the market for a while, but now it's back. Let's see what's new for those who want to use their Iphone or Ipad to trade.
IQ Option and its Success
IQ Option is one of the most respected investment platforms in this business. It has been on the market since 2013, and quickly reached the number 1 spot, in registered customers, and never looked back. With its simple, intuitive and professional interface the mobile apps have been a big part of the broker's success.
Some traders choose to trade directly in the browser, others download the applications to their personal computer. But many people really prefer to trade on the go, and the broker has good IQ Option Android and IQ Option iOS apps.
But, in mid-2019, for reasons related to the rigorous regulations the company complies with, the IQ Option iOS app was taken down. Much to the disappointment of Apple brand users, it was no longer possible to trade on IQ Option in the Iphone and Ipad environment.
IQ Option Fought to Bring Back its iOS App
Naturally, the company, wanting to defend the interests of its customers who wish to trade on the "apple" branded mobile devices again, never gave up. It kept up a 'fight', so that IQ Option iOS would be available again.
And this finally came to pass, much to the delight of its customers.
How to download from the App Store
It's very simple. If you are reading this on your iOS device, click here to download the app.
If you aren't, go to your APP store, search for "IQ Option" and choose the option as you see below. It's easy to identify that it's the right app by looking at the IQ Option logo that you probably already know.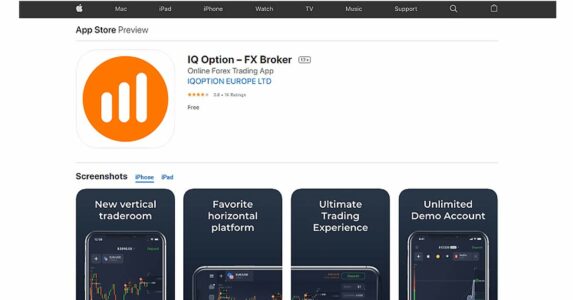 Does the app have Binary Options?
We remind you that mobile apps, whether Android or iOS do not have the binary options instrument, which is one of the most sought after by traders. This is due to the limitation of the very demanding regulation that IQ Option has.
Not to forget that the company's regulation belongs to CySEC, which is considered the best regulator, but also the most demanding for this type of market.
But it is possible to get around this. If you have an iOS device and really want to trade in binary options, you can simply use the PWA version.
PWA (Progressive Web Application) is an evolution that mixes a website and a mobile app. The existence of PWA is becoming more usual and many companies offer such solutions because it allows you to run on all cell phones, requires no installation and no updates.
Read what Wikipedia says about PWA.
On the other hand, if you have an Android and want to trade in binary options, you can download another app in the google play store, called IQ Option X. It is an official app from the company, but it may not be available in all countries.
IQ Option iOS App
IQ Option iOS has everything you want in a mobile app. It is light enough, yet fast and intuitive. It will please both beginners and more advanced traders. On the technical tools side, it has a giant panoply of indicators to use.
In addition to trading, the app allows you to:
deposit
withdraw
contact support
watch tutorials
create alerts
get the news for market analysis
The graphic quality of the IQ Option iOS app remains outstanding, even on older and smaller cell phone screens. You can choose whether to operate with the screen oriented in portrait or landscape mode.
It is very easy to make the choice and it is another level of customization that is not always possible in other brokers.
Otherwise, and as has been the habit with the company's apps, the possibility to customize and put the platform to your liking is great. It has good amount of assets (over 200) which gives you lots of options to trade, among them:
Forex
Commodities
Stock
Cryptocurrencies
IQ Option iOS Conclusion:
Many users were surely pleased that the app has returned to the Apple store. It is good to see that the company has not abandoned its customers and the app is up and running again, so you can trade on your iPhone or iPad wherever it suits you best.
The best thing is that the regulation that IQ Option has before CySEC has not been affected and your investment remains protected. The fact that the app is back does not mean that IQ Option has made any compromises or there is any easing up by CySEC's solid regulation.
The app remains as we remember it, very functional and intuitive. With many assets, graphing tools and customization it will be your best weapon on a trading day. It is not heavy and runs well on any smartphone, even something a bit older. Your trading experience will be smooth, and without delays. If you have never tried it, try it now and you will like it.