ExpertOption is one of the most popular brokers. Is the platform really good or do you have better options in 2021? Learn all about it here!
| | |
| --- | --- |
| ExpertOption | Open a Free Account with 100% Deposit Bonus |
| Regulated | Yes, SVGFSA |
| Founded | 2014 |
| Customer support | Email, Webchat, Telephone (+44 20 3868 3160) |
| Platform | ExpertOption's platform for binaries (Windows, Web, iOS, Android) |
| Min. Trade / Deposit | 1USD / 10 USD |
| Account types | 6 account types plus demo account |
| Deposit Methods | Visa, MasterCard, Bank transfers, UnionPay, Skrill, Neteller, OrangePay and Cryptocurrency |
| Withdrawal Methods | Visa, MasterCard, Bank transfers, UnionPay, Skrill, Neteller, OrangePay and Cryptocurrency |
| Expiration Times | 1 to 5 minutes |
| General Score | 92/100 |
How does ExpertOption Work?
Expert Option has been one of the fastest growing platforms in recent years. It started activity in 2014 and they are a popular option for those who want to trade in digital options and Turbo options.
In 2020 it topped the top 3 most downloaded financial apps worldwide on Google Play.
It has solid deposit and withdrawal methods and a very functional app. Its platform is simple and intuitive and was designed from scratch by the company.
The maximum profit goes up to 95%.
This helps explain the more than 70 million registered users, in more than 150 countries worldwide.
There are several account types at Expert Option and we will cover them later.
Check a video from the company:
The company is regulated and licensed by the SVGFSA, which is the Financial Services Authority of St. Vincent and the Grenadines. Likewise, the activities are controlled by the FMRRC, the Financial Market Relations Regulation Center of Russia.
In the broker's own words, transparency and support for its clients are the two most important values for the company.
Platform
ExpertOption, like most of the leading brokers of the moment, decided to create a platform from zero. Breaking away from the old and limited SpotOption-type platforms, the firm launched one that aims to meet clients' expectations.
The result is a fast, functional and accurately priced interface. You can place the platform in 15 different languages.
It has already won an award in 2017 "Best Trading Platform" during the China Trading Expo.
You can set and customize the platform to your liking, although there are not many options to do so.
You can set the chart in area, line, bar or candlestick.
Support for graphing tools is somewhat limited. You will have access to eight indicators.
It has other technical analysis tools such as trend lines.
The platform is suitable and useful for those who are starting out, there are not many options that will make you feel confused. But an experienced trader may miss some advanced tools.
Available Assets
Currently the list of assets is beyond the 100 assets. The list has been growing over the years.
The trader has at his disposal stocks, commodities, Forex currency pairs and Cryptocurrencies.
Among many others you will have instruments such as shares of Google, Facebook and Apple. Gold and Silver are the most common commodities and forex currency pairs like USD/EUR and GBP/USD are the most preferred. Of course, cryptos such as Bitcoin and Ethereum are also present.
It should be noted that it is possible to trade OTC assets at the weekend.
Trading Types
The company specializes in the turbo format, i.e. short expiration types of trades. The expiration times you will have access to are between 1 and 5 minutes. It means that you can use 1, 2, 3, 4 or 5 minutes, which is the ideal time to trade on binary options signals.
Trading Social
One of the features that traders like the most is Social Trading. A feature that allows you to track and copy the market moves of the top traders. With this tool, you can maximize your earnings with little effort by copying the strategies of those who really know their way around the market.
How to join ExpertOption?
Signing up is very easy.
All you have to do is to access the main page. Click on the top corner where it says real account.
On the small form fill in your email and password. Click on "I accept the terms and conditions, privacy policy" and click on the open account button.
In the second step you have to check your email. Go to your email inbox, open the email the company sent you and confirm it.
Then you will automatically return to the ExpertOption website.
Preferably next you have to edit your profile in order to complete your information with address and date of birth, as you see in the picture.
ExpertOption Apps
Traders have the option to choose to trade by downloading the app for their computer, Windows or macOS, the app for Android and iOS smartphone or run the platform directly in the browser.
All apps are free to download and trade. You can download directly from the official website.
You will have over 100 assets to trade with real time quotes with no delay.
Different Account Types
Expert Option has 6 different account types, plus one which is the demo account. Below is a detail of each one.
Demo Account
We start with the demo account, which will certainly be the first account you will test. In this account, you can get the idea for how the broker's services work and is also good for trying out strategies or general training.
Traders have 10,000 of virtual funds, which can be topped up if needed. Access to this demo account is immediate, even without registration. From the main page you can immediately log in to this simulated account.
Micro Account
The Micro Account has a minimum deposit of 10 US dollars. The maximum amount you can trade is $10 and you can only have 10 simultaneous trades open. You have access to the educational content on the website. Note that this account did not exist for many years, the broker company only created it in the last few years. In the past, the minimum was 50$. This is the ideal account for those who want to start slowly and don't have prior knowledge.
Basic Account
The minimum amount to access is $50. With this account you get a maximum amount per trade of $25, but are still limited to 10 trades open at the same time. You have access to the learning content on the website.
Silver Account
The company indicates that this is the account that most traders are looking for. It requires a deposit amount of $500. It has all the advantages of the previous accounts, including access to daily market reviews and economic research to help you trade daily. You can now have 15 trades at the same time and a per-trade limit of $250.
Gold Account
Having a Gold Account entitles you to everything you have on the previous accounts, with the additional priority when it comes to withdrawal. Your amount of simultaneously opened trades rises to 30 and so does your profit per trade, earning you 2% more profit. It has a limit per trade of $1000. To have access to this account the minimum deposit is 2500$.
Platinum Account
When you reach this level you no longer have a limit on the number of trades you can make at the same time. You still have all the advantages of the previous accounts and get a 4% bonus on the amount of profit possible on each trade. The maximum amount per transaction is now 2000$.
No doubt that this account is geared towards a user with enough experience and capital, since the minimum amount for this level is $5000.
Exclusive Account
As the name implies, this account is by invitation only. Not everyone will have access to it. But if you do, you can count on all the advantages stated here in the other accounts, with the extras of receiving 6% extra profit per trade, having a maximum ceiling of 3000$ per trade. Finally, you will have a personal account manager at your disposal. All this for a truly exclusive experience.
Can I trust Expert Option?
When you are choosing a broker company to trade with, you have to understand that the choice should fall on some company with solid regulation.
In order for you and your investment to have peace of mind, the ideal is to trust a company that has passed the criteria of legitimate operability and transparency.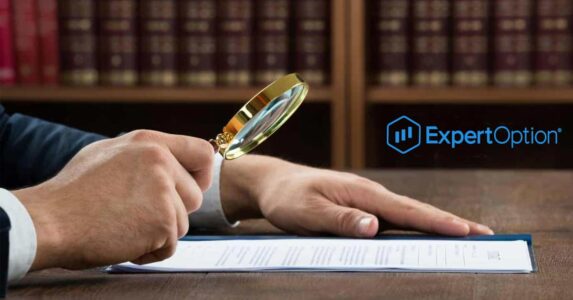 ExpertOption, with the full name ExpertOption Ltd is regulated by the St. Vincent and the Grenadines Financial Services Authority (SVGFSA). The firm is located in St. Vincent and the Grenadines at Suite 305, Griffith Corporate Center, with registration number 22863, and payments are processed by Vestede Limited, based in Gibraltar, with company number 116061.
Likewise, its activity is controlled by the Russian regulatory body that is the FMRRC, the Financial Market Relation Regulation Center.
Expert Option claims that its price quotes are real-time and provided by the world's largest data agencies.
For extra security for its customers, Expert Option is verified by Visa and Mastercard. The website uses SSL encryption so that data is as protected as possible.
The company does account segregation, that is, the company's own account is separate from the customers' deposit accounts. This is a good sign, as it shows the transparency that the company has in separating its own money, from the traders' money.
In this way, we can say that Expert Option is an authorized and regulated company to conduct its business online.
Promotions and Bonuses at Expert Option
The company accepts welcome bonuses up to 100%, but this will depend on the initial deposit amount and the account type. As you have seen in the previous paragraphs, there are several account types.
Also note that the bonuses may be different at the time you open the account.
We always advise traders to read carefully the terms and conditions of the bonuses they will receive. Many promotions usually have very strict conditions attached to them.
Some of the bonuses may require you to make x50 turnover.
This causes you to have your funds locked up until you make x50 volume, which may be too much for many traders.
Deposits and withdrawals
There are a solid number of ways in which you can make your deposits and withdrawals.
Some of the possibilities in which you can deposit are:
Visa,
MasterCard,
Bank transfers,
UnionPay,
Skrill,
Neteller,
OrangePay,
Perfect Money,
Cryptocurrencies like Bitcoin and others
Withdrawal is what you work for, we might even call it your salary. At ExpertOption, withdrawals are made quickly, being processed within 2 business days. Depending on the method and the account you have, payments can be processed instantly.
The minimum amount you can withdraw is $10. You must have a verified account in order for the withdrawal process to be approved.
The manner in which the withdrawal is made must be the same as the manner in which you deposited.
The company will not charge withdrawal fees.
Learning on the Expert Option Platform
Within ExpertOption there is an area dedicated to learning.
It is definitely best suited for those taking their first steps, but useful for all degrees of experience.
You can learn about the different strategies involved with trading currencies, binary options and more. Other important issues like trading psychology or the existence of a glossary with the relevant trading terms and their definitions are also present.
Available not only in articles, but in video tutorials, all content is available to help you make smarter trading decisions. Unfortunately, not everything is perfect, and it is only available in English. If your native language is different and you don't master English, that might be an obstacle.
Of note is a customer support service that is available in 24/7 mode. We contacted them and they really are very quick to respond and friendly.
The written support is given in 15 languages. However, voice support is given only in English and Hindi.
Advantages and Disadvantages
The platform has shown why it continues to grow in customer base and they have the following pluses and minuses:
Pros:
Minimum deposit of 10$.
Minimum trade of only 1$. This is an important feature for those starting out in Binary Options and have no experience
10,000$ demo account that you don't even have to sign up for
Multiple account types for a service tailored to your needs
Solid mobile applications
Written support and platform in several languages
Allows you to trade 24 hours a day, 7 days a week
Against:
Only 8 indicators and few chart analysis tools. Feels short on possibilities.
Expiry times are 5 minutes maximum
Educational material available only in English
Expert Option Conclusion
It's easy to understand the popularity of Expert Option.
They have a simple and intuitive platform, with low minimum deposit amounts. This surely attracts customers who prefer to start low, and without distractions.
There are features suitable for those just starting out like social trading and a learning section.
The existence of several account levels, depending on the amount you deposit, makes sure you get a service that suits your needs.
One cannot help but feel that some tools are lacking, starting with more technical indicators and more possibilities in expiration times. This may drive away some more experienced traders who are looking for more options to trade.
However, looking to the positive sides, it's a broker that you should try it out.