Whenever you check in the Tournaments section of the IQ Option platform, you'll see at least 3-4 tournaments going on. They have different prize funds, duration, and conditions. Still, they're all the same in terms of the tradable asset, which is options.  
In other words, IQ Option Tournaments are contests for traders where they can trade options with virtual money and walk away with a real cash prize.
How To Win Real Money Prizes With IQ Option Tournaments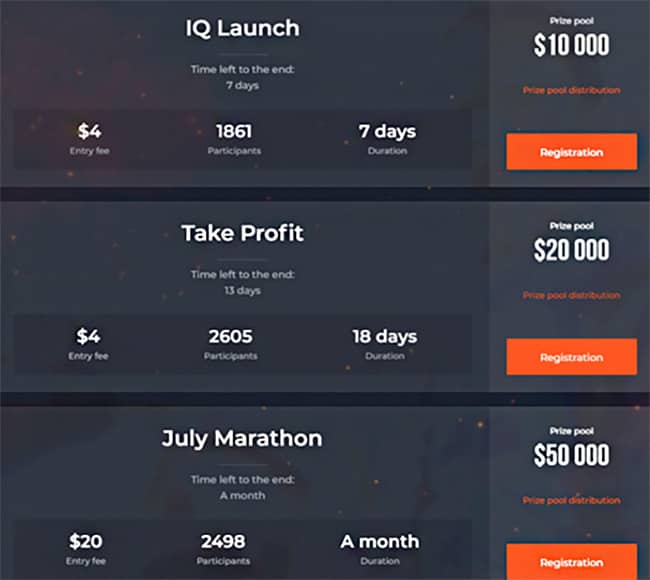 What can you get from these tournaments?
Hone your skills;
Earn extra money;
Practice opening risky deals without risking your own funds;
Compete with others and demonstrate your skill level.
Let's see how IQ Option tournaments work.
What are the IQ Option tournaments?
A tournament at IQ Option is a rally between the traders of the platform. They compete for the top positions on the Leaderboard by trading with special tournament accounts. A tournament may last from an hour up to a month.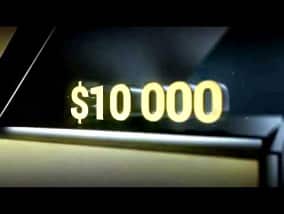 Everyone starts with equal conditions: the tournament account comes with a certain amount of virtual coins — from $100 to $10,000. With an equal amount of play money at hand, the participants trade their best to finish at the top of the Leaderboard in terms of profit. Usually, the prize fund is distributed among the first 9-30 people depending on the tournament value and number of participants.
Types of IQ Option Tournaments
Tournaments at IQ Option vary based on different parameters.
Entry fee
Bigger tournaments with large prize funds come at a little cost, usually from $2 to $20. Part of this entry fee is transferred to the prize pool. This type of tournaments are popular among pro traders — by paying a small fee, they get in a run for a much bigger stake.
For beginners, there are commitment-free tournaments with zero entry fee. The broker sponsors the competition, so you can just try your luck without risking your own funds. Your winnings, if any, would be real though and the money you win you will be able to withdraw as normal. 
If you have a new strategy and you want to test it, this is a good option, to test with the Free Tournaments.
Duration
There are short-term and long-term tournaments at IQ Option. Some competitions only last a few days; others can last up to a month.
This is something that you should look before register for a tournament.
Since you need to see if you have time to trade during the time the tournament goes.
Prize fund
The average prize fund is $10,000-50,000, but some bigger tournaments may go up to $200,000.

Note that the winner doesn't take it all — the prize fund is distributed among the leaders. So, even if you couldn't hit the 1st place, you can still get money prize even being #30.
Although the trading is happening with play money, the money in the prize fund is real, and the winnings are withdrawable.
Those who made it to the top of the Leaderboard will receive the winning to the Real account.
A couple of days after the tournament is over the prize, if you won any, will appear on your account balance and you will be able to withdraw that money once you want.
How to join the tournament
In order to be able to make your entrance in one of the IQ Option Tournaments, you will need to have an account.
For some tournaments a Demo Account is enough, but for others you need to have a real account, meaning you have to have real funds on the account.
In case you don't have yet an account with IQ Option, you can open a free Demo account using the banner below.

Once you have an account, then you can follow the steps below.
First off, check out the ongoing tournaments in the Tournaments section of the website or right from the platform.

Scroll down to see what tournaments are active right now or check the upcoming events. Each tournament has an explainer card with conditions, a timer with the countdown, and information about the prize fund distribution.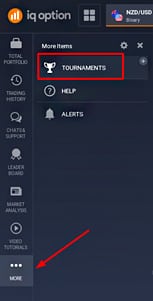 Select a tournament to your liking and press the Join button.
If that's a paid tournament, you'll be asked to pay the entrance fee at this point. In this case it is required that your account has enough funds to be able to take part on that tournament.
If you not will be invited to make a deposit to get funds to participate on that tournament.
After that, you'll be assigned a tournament account with play money. Now, you can start trading. Your progress, along with your opponents' progress, will be displayed in the Leaderboard in real-time.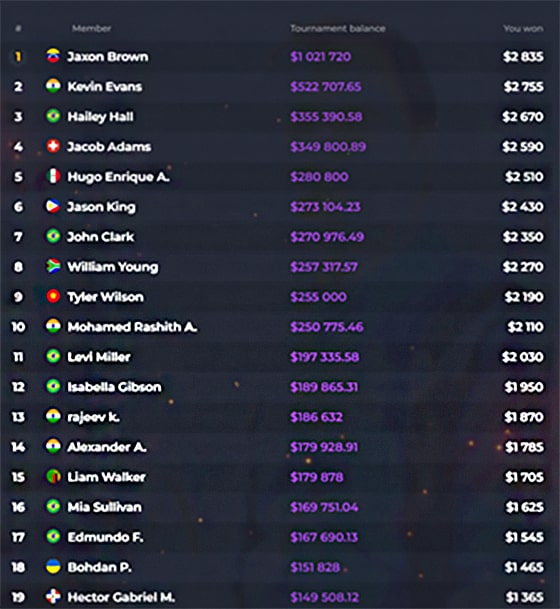 Advantages for beginners
Most people are used to believing that you can't join any competitions until you're mature and professional. The good news is, IQ Option tournaments are appropriate for new traders, too. Here's why:
Equal conditions for everyone. You won't lose to that other guy just because he has been on the platform longer than you and his account balance is initially bigger. Everyone starts with a virtual $10,000, fair game.

Rebuy option. Some tournaments allow the participants to rebuy virtual funds during the race. For example, if you made a decision that caused a loss and moved you down the Leaderboard, just hit the Rebuy button in the upper right corner and continue the race.

Low risk. Roughly speaking, the trading tournament is a way to pay $4 to win thousands. The result depends on your skills, but even if you lose, you lose nothing but this small entry fee. So, the maximum risk you are taking it to lose $4.

Free IQ Option tournaments available. If you don't want to risk your money, there are zero-cost championships. And even with these IQ Option Tournaments, you can win real money, without any entrance fee and without the need of making any deposits on your account.
Realistic objectives and high odds. When joining a big competition with hundreds of thousands of participants, one can be sceptical about the odds. With IQ Option tournaments, the winnings are divided between the best performers. In certain cases, even the #100 result can be a winning one.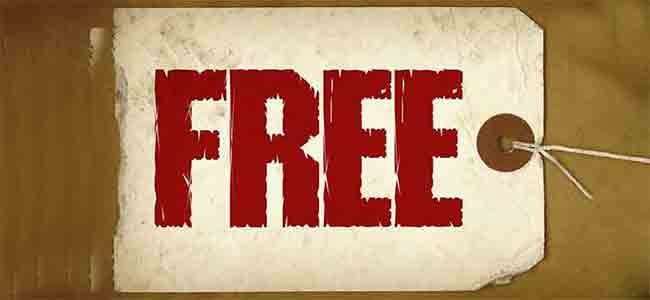 Download Free Material
We are offering free material to help you to trade Binary Options.
About IQ Option
IQ Option is operated by IQ Option Ltd and has been around for 7 years. It provides services for financial instruments like forex pairs, binary and digital options, cryptocurrencies, commodities, ETFs, indices, and stocks.
Newcomers can test-drive the platform with a Demo account with replenishable $10,000 without risking real funds.
The deposits starts at $10 and the trades start at $1.
For experienced traders, the broker features payouts of up to 95% for binary and 900% for digital options and beneficial conditions for other assets.
On top of that, they accept deposits and withdrawals via the most popular payment systems, such as Visa/Mastercard, Skrill, Webmoney, Neteller, Boleto, Loterica, Mercado Pago, AdvCash, and others.
Risk warning: don't put your money at stake if you don't know what you're doing. Both classic trading and tournaments involve risks, so do the homework and learn about trading first. IQ Option video tutorials are a good place to start.
Suggested Posts for You
If You enjoyed the post: how to Win Real Money Prizes with IQ Option Tournaments, please share.