In 2020, IQ Option presented the IQ Option FOREX Margin on its platform. If you have never heard of the margin trading concept before, there's no better time than the present — margin can drastically change your idea of Forex trading and associated profits.
IQ Option FOREX Margin Trading Explained
In this article, I'll tell you:
What's margin trading
Why Forex on margin is better than Forex without margin
How to calculate margin
How to trade Forex on Margin on the IQ Option platform
How the new Forex differs from the old one on the platform
What is margin trading?
Imagine you want to buy a car that costs $10,000, but you only have $5,000. You can borrow the remaining $5,000 from a bank and use the car as security for the credit. If you fail to pay off your debt, the bank will take your car to get its money back.
You can do the same thing on Forex, but instead of a bank loan, you get a loan from your broker — it's called leverage. 
For example, you have $10 to invest in a Forex deal and borrow $90 from your broker to invest $100. This is leverage at work.
Margin is the amount of trader's funds required to open a leveraged position. In short, it is a deposit on all your open trades meant to cover the risk you generate for the broker. Usually, it is a fraction of open trading positions expressed in percent.
So, margin trading allows you to trade with higher amounts and get potentially higher profits.
Risk warning: keep in mind that although your profit will be significantly magnified, your potential losses will be higher as well. So, if you are ready to take the risk for the sake of big earnings, let's see how to trade Forex on margin with IQ Option.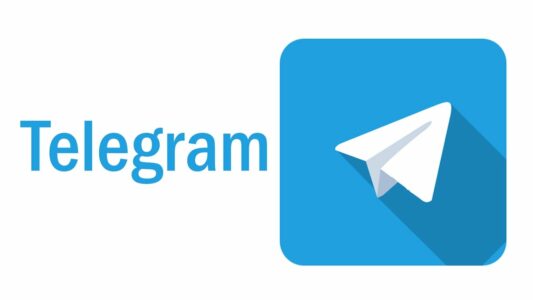 One of the most used ways these days to send Binary Options Signals is via Telegram Channels. Clicking on the image, you can find a link to one of the Channels that offer Signals. The signals are free.
Remember that you should analyze the signals received before placing them and that the responsibility for using the signals is yours, so you should always use the signals wisely.
How to calculate margin
On the IQ Option platform, your margin will be calculated automatically once you specify the investment amount. However, it's important to know how what comprises the margin value in the first place.
The margin is calculated according to the formula:
Margin = Lot size × Contract size / Leverage
For example, you want to buy 0.001 lots of the EUR/USD currency pair with a 1:500 leverage.
Lot size: 0.001 lot
Contract size: 100,000 units of the base currency
Leverage: 1:500
Margin = 0.001 × 100,000 / 500 = 0.2 EUR
Keep in mind that a small commission may apply if your account currency differs from the base currency.
If you want there are also tools to calculate the margin: Forex Margin Calculator
Margin trading on the IQ Option platform
So, margin allows users to trade Forex through lot sizes and bring their performance to a whole new level. Here're the trading conditions for IQ Option's new Forex:
| | |
| --- | --- |
| Lot trading | Trade size from 0.001 lot |
| Currency pairs | 35 |
| Leverage | Up to 1:500 |
| Spread | From 0.7 pip |
| Minimum margin requirement | From 0.2% |
| Take profit | Yes |
| Stop Loss | Yes |
| Swap | 0% |
How to open a margin position
This is what you need to do to open a margin position.
1 – Log in to your IQ Option account and choose a currency pair in the upper panel of the Traderoom.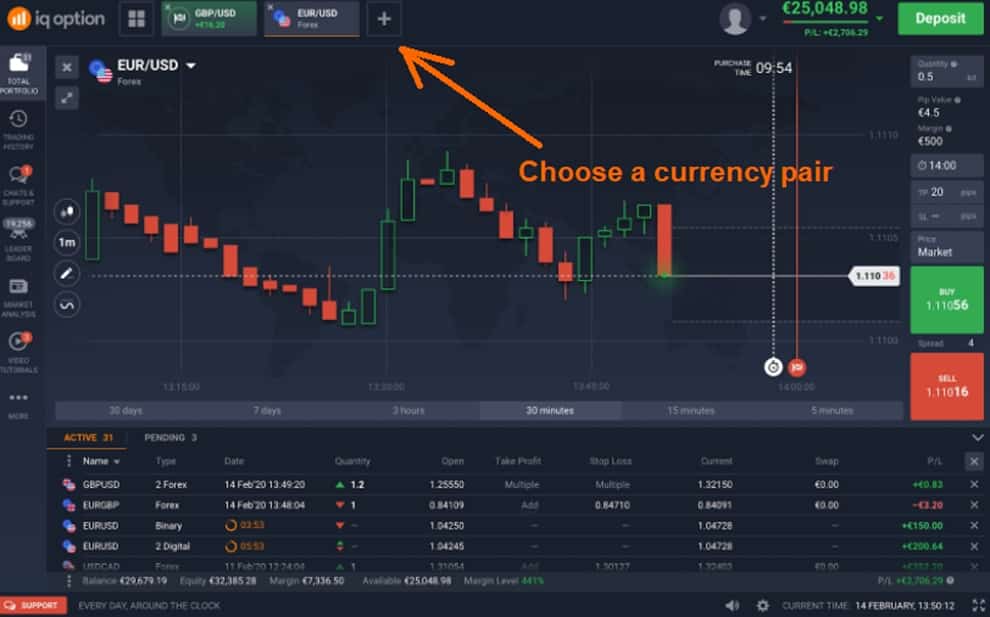 2 – Select the trade size in the Order Settings panel on the right. In margin trading, you invest in pips instead of entering a specific investment amount. The minimum trade size is called nano lot and equals 0.001 pip. Your pip value and margin will be calculated automatically, depending on the trade size.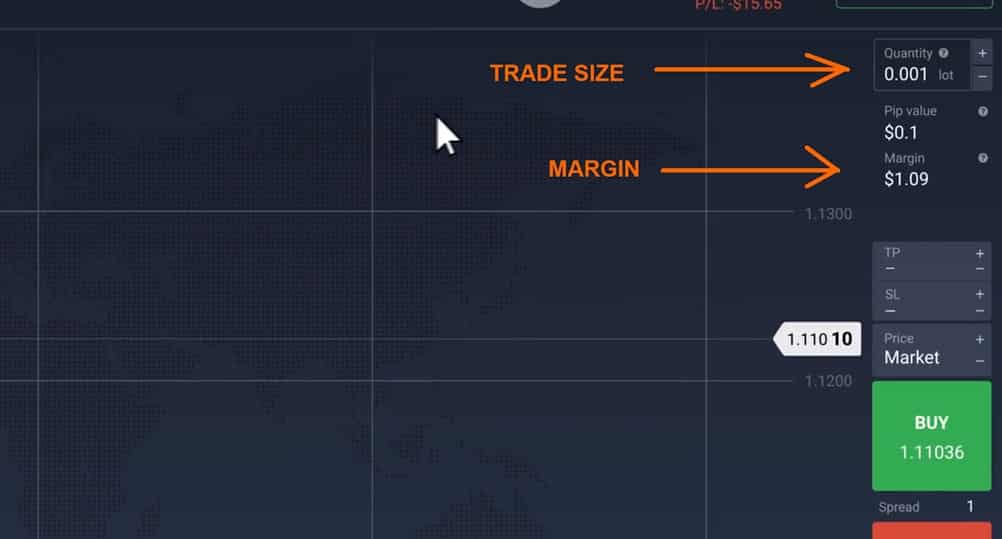 3 – Set Take Profit and Stop Loss levels. That will automatically close the trade in case your profit/loss reaches a specified level. TP and SL are also calculated in pips.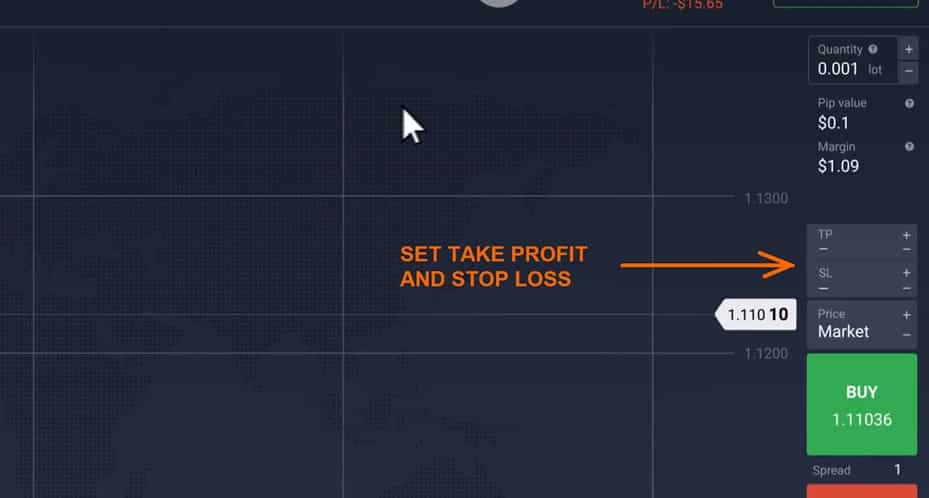 4 – Make your forecast about the asset price — up or down — and open a trade. Hover the mouse over the BUY and SELL buttons before opening the trade to see the details and double-check if everything's fine.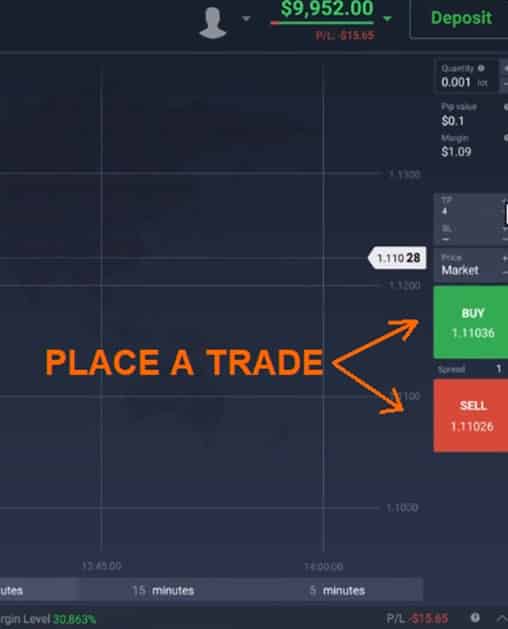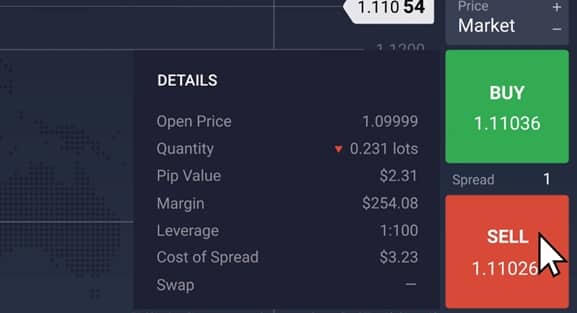 5 – Close the position. It will be closed automatically in case your trade hits the Take Profit or Stop Loss level, or in case your margin level goes below 50% (it's called margin call).
To close the trade manually, go to the Portfolio section of the User Panel on the right and press Close Position.
Advantages of IQ Option's New Forex
The IQ Option developers made a few substantial changes to the new Forex, making it easier to navigate and work with. Here are the major highlights:
1 – Lot trading
The major difference of the new Forex is the ability to trade in lots instead of simple monetary amounts, which is a more natural way of investing. On top of that, traders can specify the Take Profit and Stop Loss levels in pips instead of setting the auto close level in percentage.
Before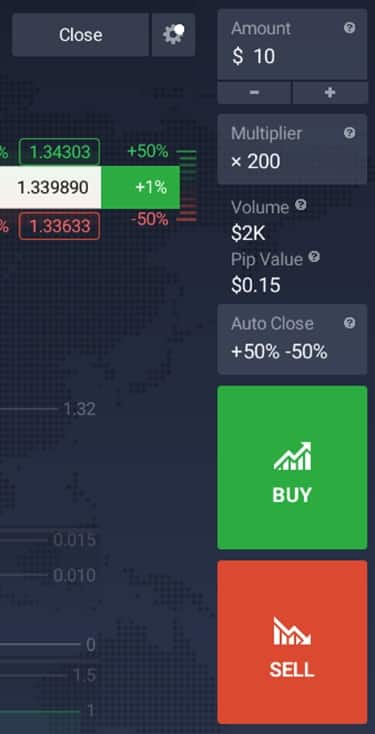 After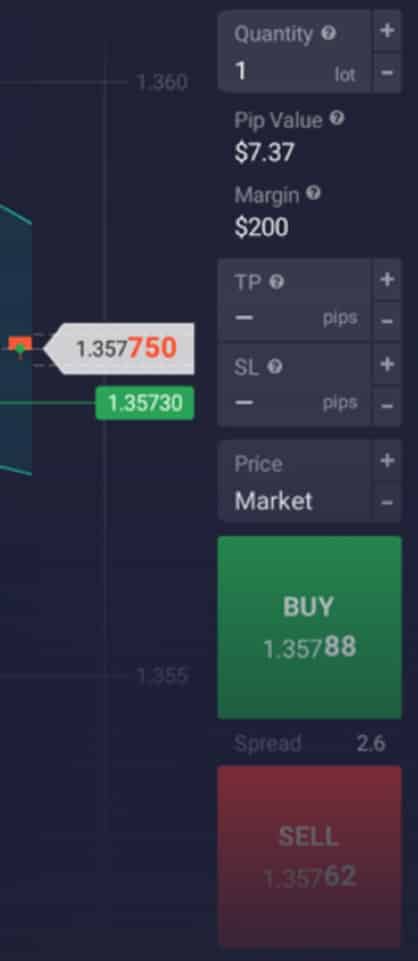 2 – Renewed trading portfolio
The new interface gives traders more details on their active and pending positions, making them easier to manage.
Before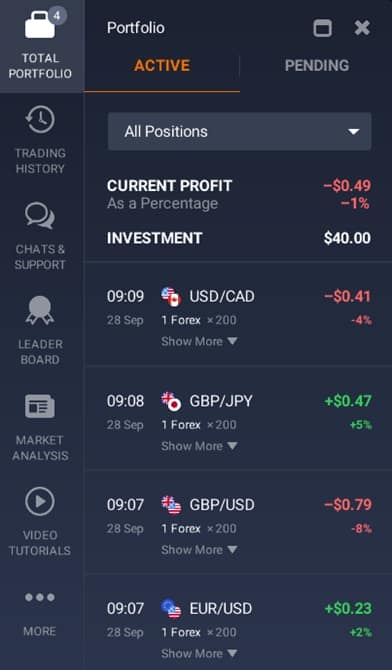 After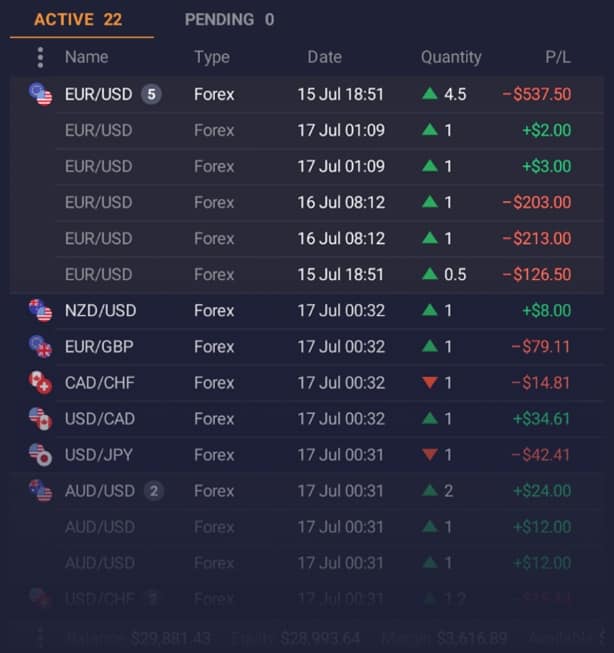 3 – New order details
You can check the order details before opening the trade. Just like with the old version, the new Forex will highlight all the important data.
Before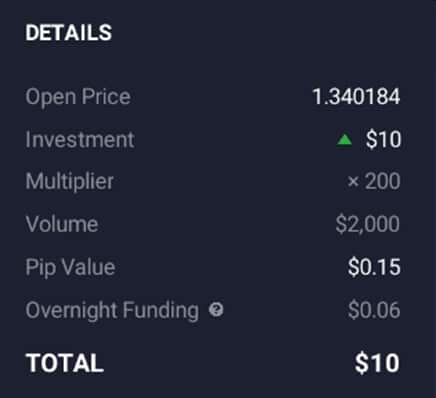 After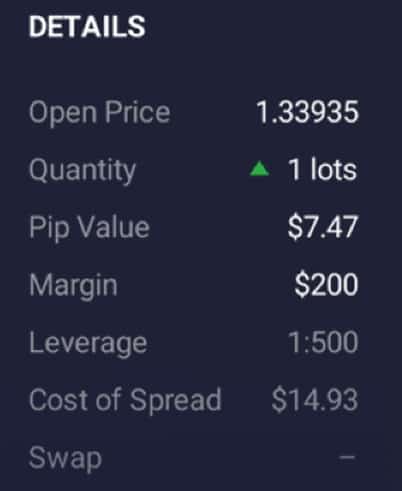 Final thoughts
With Forex on Margin, traders can control larger positions with margins. It allows them to start trading with small amounts yet making high profits. All in all, Forex on Margin is a great way to diversify your trading portfolio and enhance your profit potential.
You can test-drive IQ Option's new Forex right now on the Demo account and see if it works for you without taking risks.
Have a great IQ Option FOREX Margin Trading!
Suggested Posts for You