4XC, formerly known as 4XCube, is a platform focused on Forex and Stocks, with low value per deposit, ultra-fast STP real trading and based on MT4 and MT5 platforms.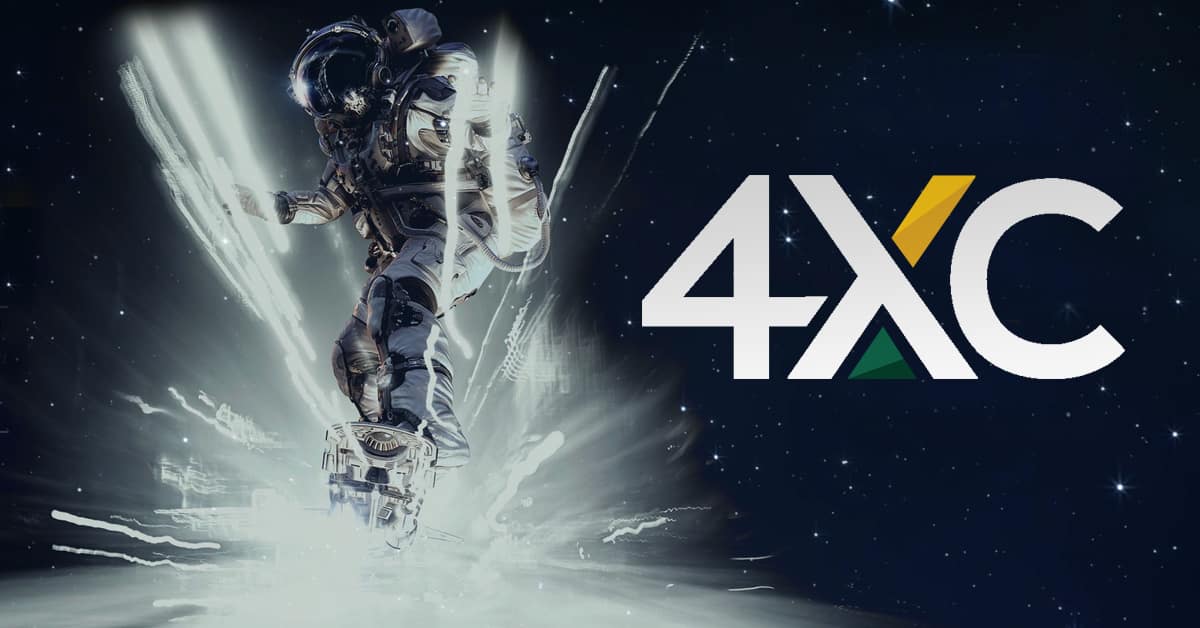 | | |
| --- | --- |
| 4XC | Open Free Account |
| Regulated | yes, The Financial Commission |
| Founded | 2018 |
| Customer support | WhatsApp, live Chat and Email |
| Platform | MT4 and MT5 |
| Min. Deposit | 10 USD |
| Account types | Standard, Pro, VIP, Cryptocurrency |
| Demo Account | Yes |
| Deposit Methods | Visa, MasterCard, Neteller, Skrill, Alipay, Fasapay, Wire transfer and other e-wallets |
| Withdrawal Methods | Visa, MasterCard, Neteller, Skrill, Alipay, Fasapay, Wire transfer and other e-wallets |
| Available languages | English, Russian, Spanish, Portuguese and Arabic |
| General Score | 93/100 |
Get to know 4XC
4XC is an Stocks and Forex broker that was created to be a platform that brings together strong technological innovation, with fast execution and ultra-low spreads.
Since it was previously called 4xCube, we have to look at this platform as one of the most experienced in the market, counting almost 20 years of experience in the financial markets. The change from 4xCube to the current 4XC in 2018 was purely a name update, as they have always been run by Geomatrix Limited, a company based in the Cook Islands and regulated by The Financial Supervision Commission.
The company has some important awards, as the image shows.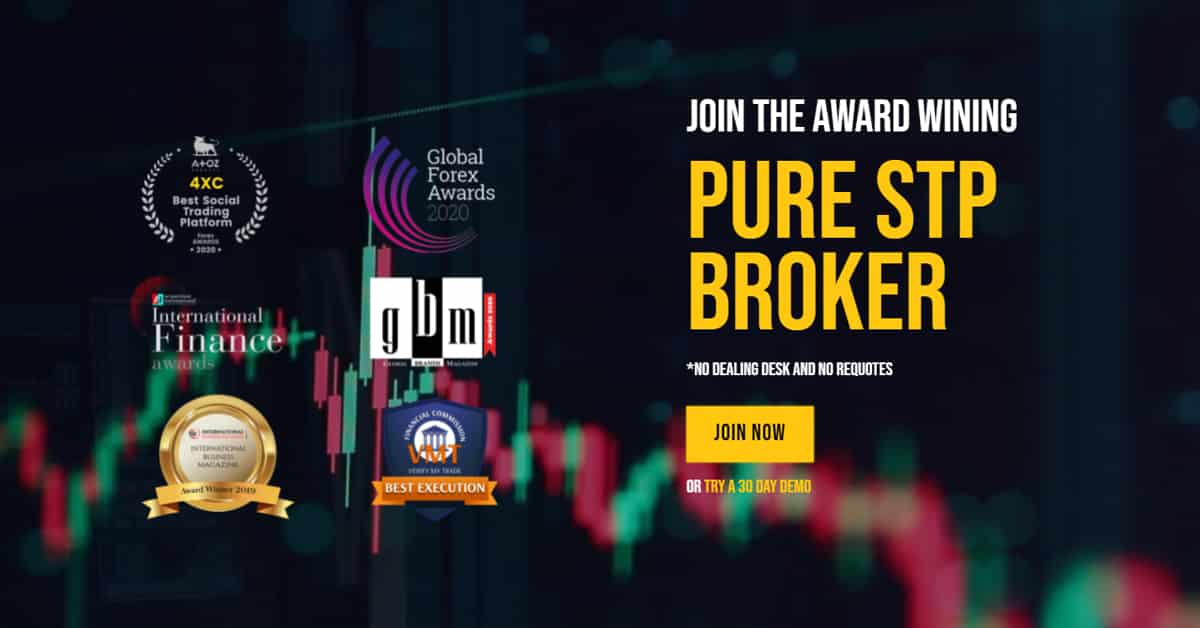 The model that the platform wants to bring to the market involves a low deposit cost to invite traders who want to try it out. But at the same time, they have immense potential to be the prime broker for more experienced traders, with many advanced tools. Keep reading, 4XC could be your trading partner.
Watch a short video introducing the platform.
Account Types, their Features and Costs
The company presents 3 account types with different conditions and requirements.
In all accounts you will have:
– leverage up to 1:500
– minimum lot size of 0.01
– scalping allowed
As the image below demonstrates, you can choose between Standard, Pro and VIP.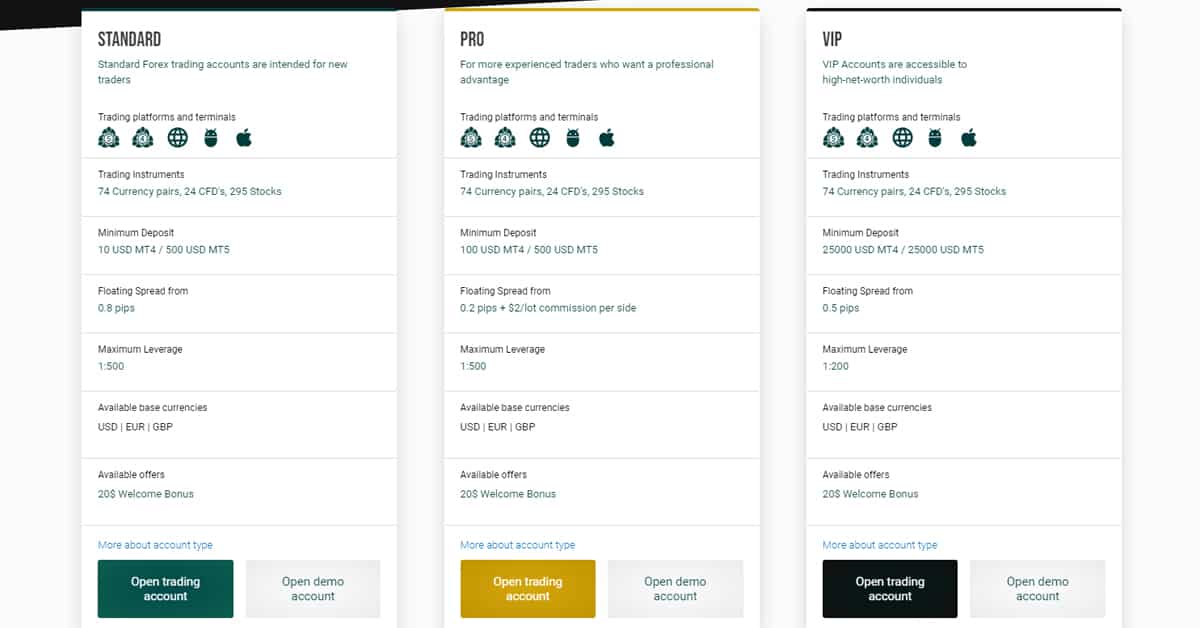 As you can see, the factor that separates which account and which platform (MT4 or MT5) you will have access to is your deposit amount.
The Standard account type is for beginner traders who want to experience live trading with minimal risk.
For this account, the minimum opening balance is $10 if you want to opt for MT4. The spread starts from 0.8 pips. Brokerage fees are issued for the floating spreads, as no commissions are charged.
The Pro account type is designed for intermediate level traders. In fact, the minimum amount to deposit is $100 or $500, and the spread starts from 0.2 pips, plus $2 lot commission per side.
Finally, the VIP account is for those professional traders who have access to lots of trading capital. The minimum account opening amount is $25,000, and the spread starts from 0.5 pips.
In addition, there are no commission fees on this account. Ultimately, account holders get a dedicated account manager and free deposits and withdrawals, as the company covers 100% of the payment service provider's expenses. This detail is important, since on the Standard and Pro account you will pay for deposits and withdrawals. The amount depends on the method.
I draw your attention to the fact that for a long time the broker did not offer welcome bonuses. However, occasionally they are now offered. As always, we urge you to read the conditions of such bonuses carefully.
Unlike other brokers that have a lot of complaints, 4XC does not use deceptive methods to find clients.
Cryptocurrency Account
There is another account, which I did not mentioned earlier, because it is an account made specifically for the crypto trader. Here too 4XC is noted to be paying attention to the market, launching an account type for those who follow Blockchain digital currencies.
Floating spreads start from 0.8 pips here. The base currencies available are mBTC/ mETH. You have no restrictions for the maximum number of open positions.
Here, the minimum volume is 0.02 lots and you will have standard market execution, which makes trading slightly slower.
The minimum deposit for this account is 10 USD.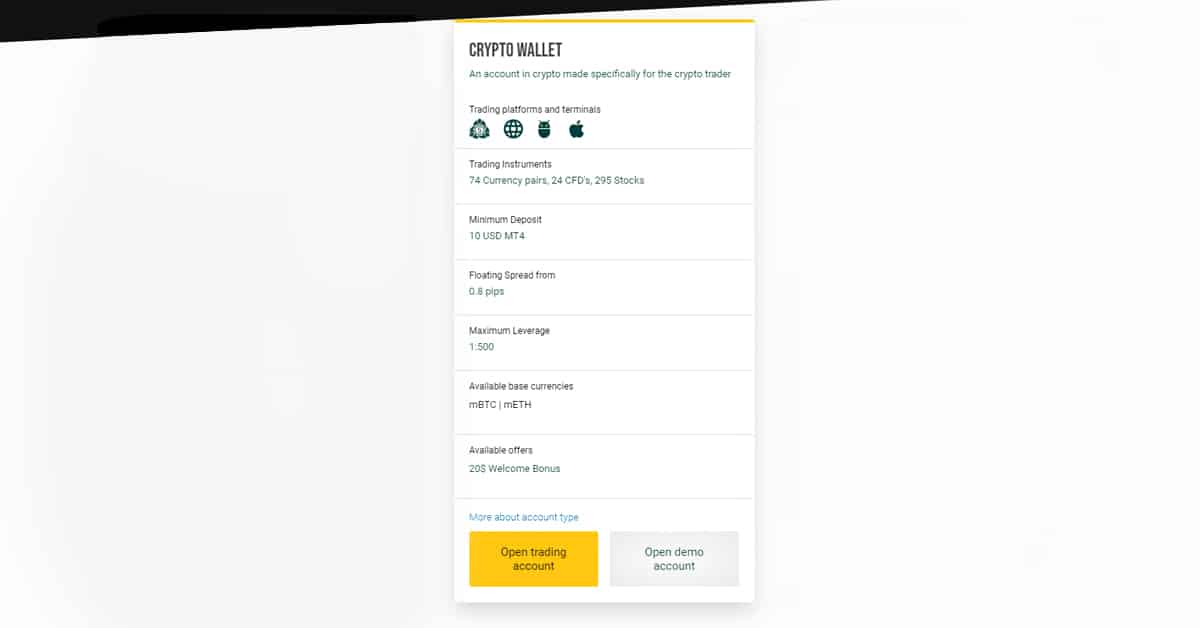 Demo Account for You to Test the Service
As always, you have a demo account at your disposal. It is with this account that you become familiar with all the service and platforms available. It is usually the gateway for customers, who try out the service for free.
In this account you will be entitled to $50,000 of dummy funds, and to about 30 currency pairs, which serve only to test the service.
Note that this trial period is only 30 days. Since many beginners may need to test for a longer period of time, this may be a less appealing aspect of 4XC. However, it is worth pointing out that the previous period for testing the demo was even shorter: only 14 days. Apparently, the broker decided to listen to its community and increased this testing period.
Ultra-fast Order Processing
The issue of low latency when processing your orders is of great relevance to the company. This is why they are an STP (Straight Through Processing) origin platform, which means that they connect directly to the market, without having to go through a trading desk. For many traders, this model is ideal for getting the lowest latency and having orders enter in real time and is one of the biggest advantages of this brokerage.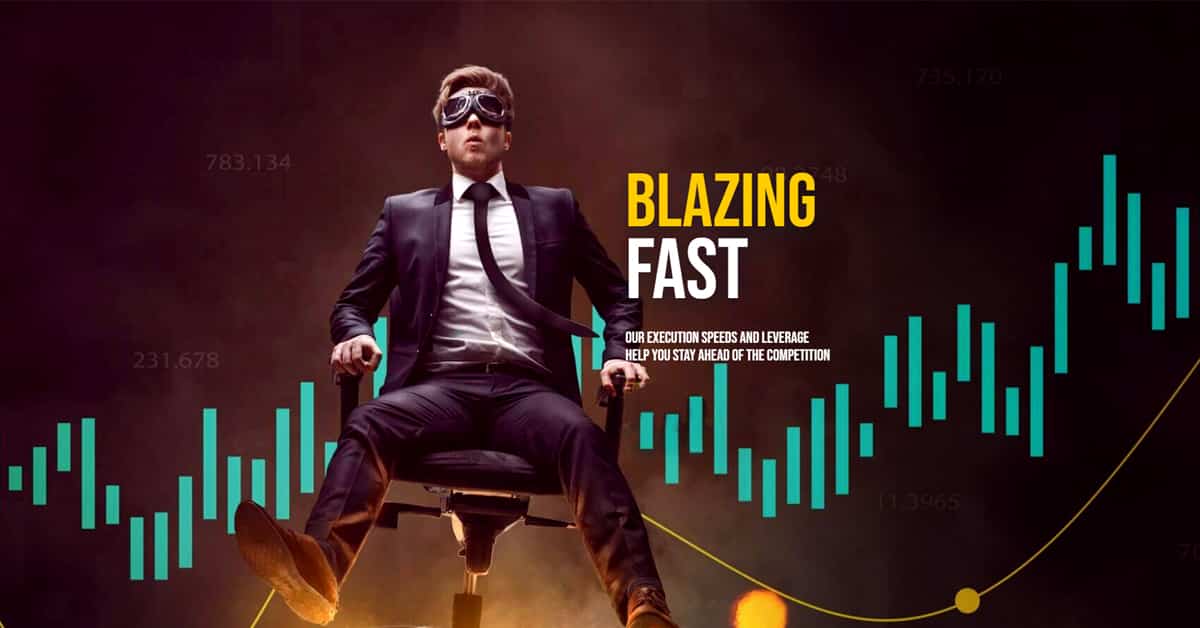 All your orders will enter without delay using a section of 21 providers that are banks or ECN's
To try to stay ahead of the competition when it comes to speed, 4XC has partnered with Equinix, one of the largest IT providers worldwide. With high performance data centers, accessing a cloud trading framework with its heart in London, the platform manages to be very fast, secure and very reliable.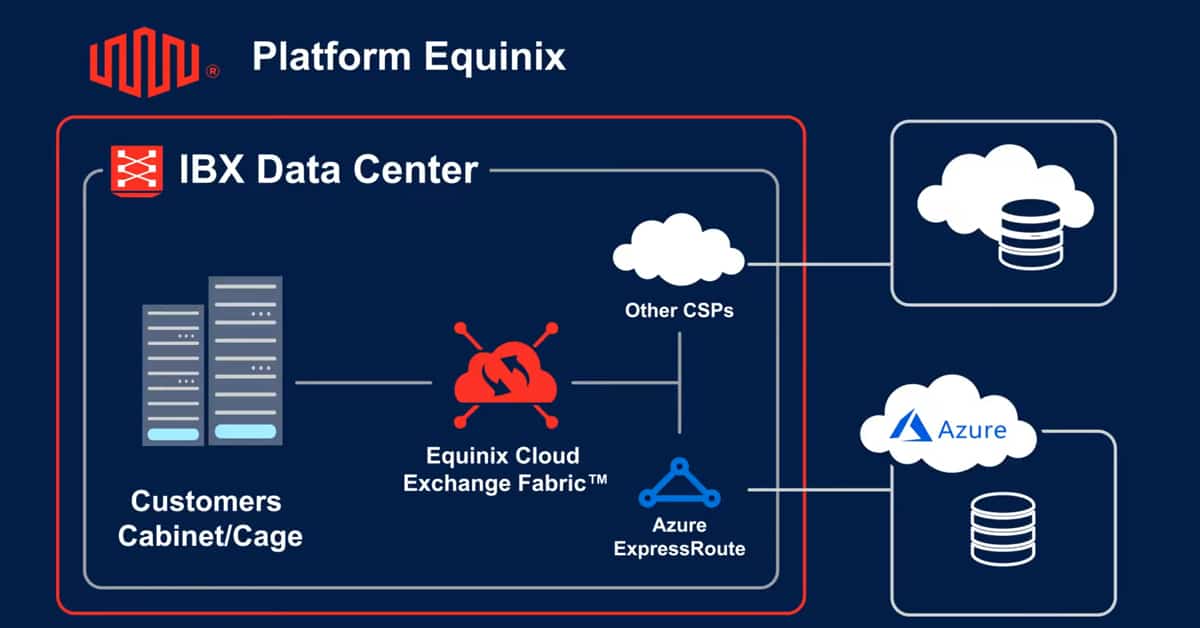 The company proudly states that the average time for a full execution of a trade is only 41 milliseconds, that is faster than you blink your eye.
Available Platforms
The platform has preferred to stay on solid ground by using the familiar and more-than-reliable MT4 and MT5 platforms.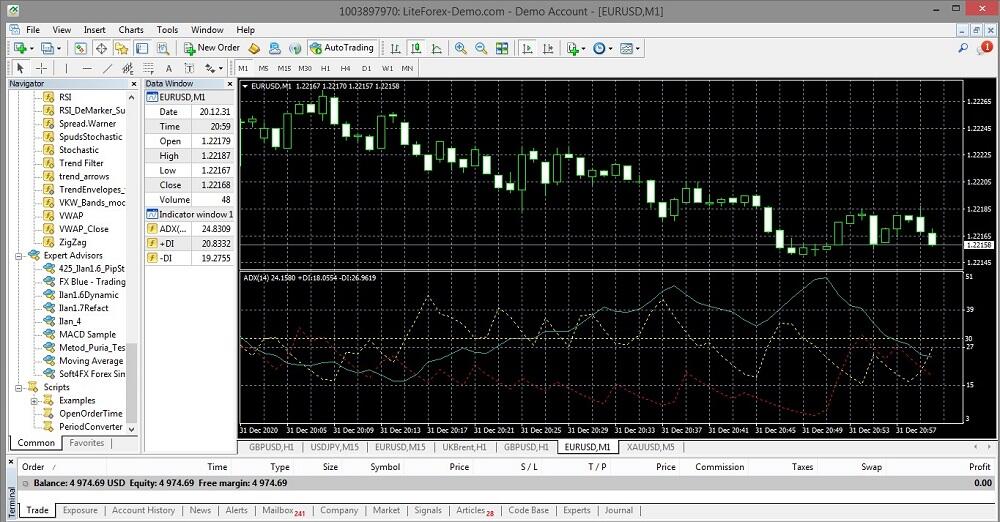 Unlike some other firms, it did not want to invest thousands in creating its own software and relies on a solution that the overwhelming majority of the world's traders are already familiar with. Both MT4 and MT5 are still among the top solutions, with a great set of tools to support you on a daily basis. There is a wide range of technical indicators, chart objects, and other tools that will facilitate your market analysis.
MT5 is perhaps better suited for a more advanced user, as it has some more innovative features that a beginner might not yet have the knowledge to take advantage of.
Since you have probably had contact with one of these MT4/MT5 platforms in the past, it makes it easy for you to jump right into the action when trading on 4XC, without having to get used to a new platform.
You can choose to download it to your computer or trade directly in the webtrader that runs in your browser.
It will also be possible to trade through the Android apps, the minimum to run is an Android 5.0 device.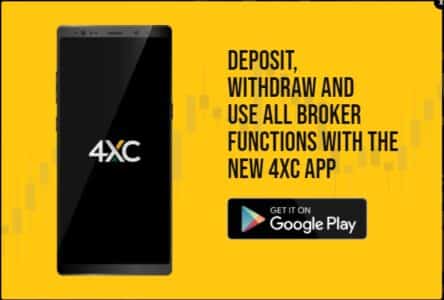 The lack of a mobile app for iOS is unfortunate. Naturally, you can overcome the situation easily. You can download the official MT4 or MT5 app from your Apple store and get in there.
4XC indicates that their mobile apps are complete and are not a reduced or 'lite' version of what they offer for desktop environment.
What Regulations does 4XC have?
They are regulated by The Financial Supervisory Commission (FSC) as of February 2019. You can see the active certificate here at the link above.
Because they have a demanding 'seal' issued by the FSC, audits are done on a regular basis. Some leading auditing firms such as Binder Dijker Otte (BDO) perform such services.
4XCube keeps client funds completely separate from company funds and are stored with trusted banks in special accounts. This policy of account segregation is already a must in any brokerage that is even remotely reliable and transparent.
The banks the brokerage works with are free from doubt in their transparency and reliability and can be checked by going to the deposits and withdrawals page within the official website.
The company claims that they use the SSL (Secure Sockets Layer) cryptographic protocol which provides secure connections for conducting transactions.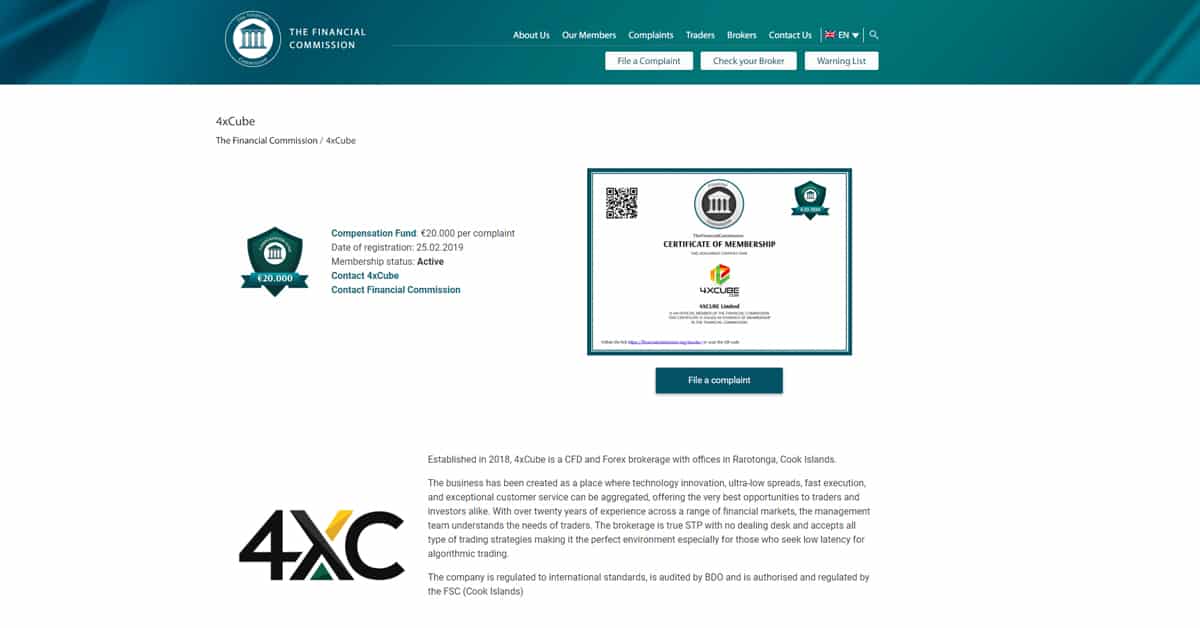 We can confirm that 4XC takes the security of clients' investments very seriously and has a solid regulation.
Possible Trading Instruments at 4XC
You have a choice of 70 forex currency pairs, be it majors, minors or even exotics. In addition, you have 11 Indexes, precious metals like gold and silver, and some cryptocurrencies. Not to mention a generous amount of almost 300 stocks from the world's largest companies.
Commissions and Spreads
The subject of commissions charged in many different ways is always something important for those who want to invest and make money in this world.
It is important to mention that spreads are competitive at 4XC. They start at 0.7 pips for EURUSD on the Standard account and can go as low as 0.2 on the Pro account.
Learning at 4XC
We think it is very good that the platforms increasingly adopt measures that allow the beginner to gain knowledge and delve deeper into this world. They develop and offer online courses that will cement their customers' knowledge.
4XC is no different and you will also find a very interesting section in the learn menu. Among others, you will find trading guides, varied tutorials and 3 levels of courses whether you are a beginner, advanced or expert.
In this menu you will also find other important tools such as the economic calendar or market analysis.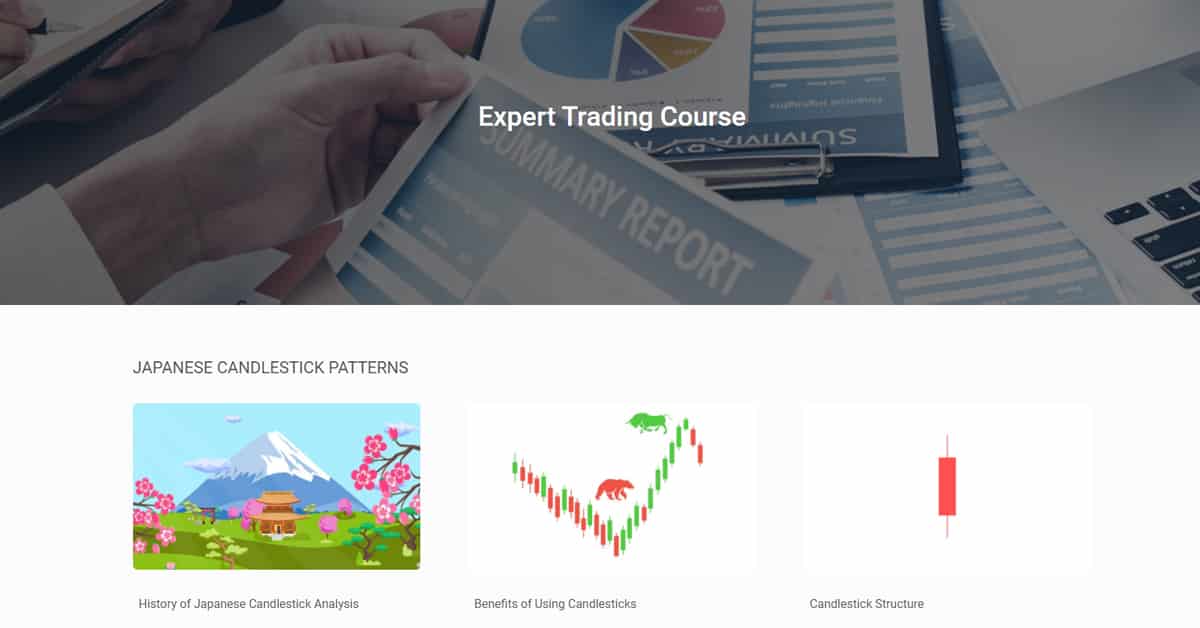 The good thing is that most of this content can be accessed by everyone, no registration is required.
Deposits and Withdrawals
The platform has a good number of ways in which you can deposit and withdraw your funds.
Another detail that may interest you is the possibility to fund your account with installment plans, which can go up to 10x without interest.
Besides the usual Visa and Mastercard credit cards and bank deposit, you can deposit with:
cryptocurrency
alipay
neteller/skrill
fasapay
Unionpay
Perfect Money
DuitNow
Please note that this list is not complete as there may be specific deposit methods in your country, such as MultiBanco in Portugal.
Customer Support
The company has set up a customer support system that goes through whatsapp that almost everyone has. Alternatively, you can use the classic email or via message directly in the support webchat on the official website.
We tested the customer support service and the response was very satisfactory, both in speed and clarity and friendliness. It should be noted that there is support in Portuguese, which is a plus. No doubt that one of 4XC's flagships is its speed, and support is not far behind.
3,2,1, the competition begins!
This competition is another important detail that exists in the company. Every month they launch a tournament that is free to participate in. It starts on the first day of the month and the results are counted on the last day. The highest volume prize will be awarded to the trader with the highest number of closed lots traded by 11:59:59 PM on the last day of the Contest.

Tesla is the prize that everybody wants!
Note that although free to enter, the tournament has several nice prizes, ranging from money to be credited to your account, to a Tesla model 3!
4XC AutoTrading and Signals
This is yet another feature that we don't always see. The firm allows and opens its arms to automatic Trading and Signals services, such as ZuluTrade, HokoCloud, MyFXBook AutoTrade and MetaTrader Trading Signals.
This so-called copy-trading and signals are a great advantage for those who don't have or don't want to have the time to learn or the time to trade.
There is no need to hide that the vast majority of daily trades around the world are executed by auto-trading, even if it is with the close eye of a human.
Advantages and Disadvantages of the Platform
A transparent company with a focus on tremendously fast trading with good spreads and the following pros and cons:
Pros:
low deposits
execution speed
Low spreads, very competitive
Although there is only one, the regulator is one of the most reliable
Crypto account is a new and interesting option
Against:
demo account only 30 days
you pay for deposits and withdrawals, except if you have a VIP account
lacks an official app for iOS
Conclusion 4XC
The 4XC broker is on the market to serve the customer who knows what he wants. That customer who is looking for a very fast, transparent platform with low spreads may look to 4XC as an ideal partner.
In addition, the platform fully releases the auto-trade system, which for many traders is a powerful tool.
If you are not yet familiar with the market, are looking for a demo account to train for a long time before launching into the real thing, and have a preference for trading in an iOS environment, it might be best to look for another alternative.
However, for those starting out, you will have an excellent learning content section at your disposal, which is available to everyone.
If you read it all to the end, you might also want to check out XTB.