What is Binomo?
Binomo is a European-based online trading company. It allows trading in Binary Options, which is one of the fastest-growing markets in the last 10 years. It has its own trading platform and offers good conditions and profits for its clients. Offers Free training account, fast deposits, and withdrawals with no costs.
Here's how we summarize Binomo
https://www.binomo.com
Established - 2015
Headquarters - St.Vincent and the Grenadines
Regulating Entity
TSRF- License A7081
FMRRC: License RU 0395 AA Vv0106
Customer Service Channels
Live Chat, Telephone and Email

Platform
Binomo - Proprietary platform
Trading Channels
Web, Mobile (APP available for Android and IOS - Smartphone and Tablet)
Account Types
Demo, Normal, Gold, VIP
Demo Account
10.000 USD, free, unlimited, and rechargeable
Minimum Deposit
10$
Minimum Trade
1$
Deposits
Visa, MasterCard, Skrill, Bank Transfer, E-Wallets
Withdrawals
Visa, MasterCard, Skrill, Bank Transfer, E-Wallets
Asset Totals
Forex - 32 | Stocks - 30 | Indices - 9 | Commodities - 9 | Total 80
Option Types
Binary and Turbo
Overal Score
94/100
OPEN ACCOUNT
OPEN FREE ACCOUNT AT OLYMP TRADE
How does Binomo work?
First, you need to create an account at Binomo. It is simple and free. Then choose the products you want to trade. Ideally, use one of the courses out there to stay prepared. Practice on the demo account until you're prepared to make a profit.
Is Binomo safe and reliable?
We can say that Binomo is safe because it is a regulated company with customers all over the world. It is a well-known online trading platform and has been in the market for some time now with a good international reputation. Many sites like this one have very positive reviews on Binomo's safety and reliability.
Tips from our Professional Trader: 6 reasons to have 2 accounts

Do you know that you should work with more than 1 broker?

Check the 6 reasons why you should have account with at least 2 brokers:

Each platform has its differences. If you try different platforms you may find those more suitable to your trading style.
Each broker has his own payouts that keep changing during the day. If you want to open a trade and one offers 60% and the other 80%, you will choose the one with best payout, no?
Sometimes the brokers close some assets, if you have just one account and you want to trade on that asset and it is closed, you will LOSE that trade, no?
If there is an issue with your Broker's platform, or they are updating it you're not able to trade, unless you have another account with other broker.
Deposits and withdraws. Brokers keep changing the deposit and withdraw methods, imagine you need cash fast and your withdraw system is closed at that moment on your broker, what do you do?
Each platform has its owns indicators and trading tools, imagine you found a new stratey and it does not work on your broker because it uses an indicator that your broker does not offer.

Below you can find our main trader suggestions on brokers:
How to use the Binomo platform?
It's very simple. Once you create a free account, you can trade directly on your browser, without having to download or install anything.
You only need an internet connection. In the platform, you must choose the asset, the amount you want to bet and indicate if the price goes up or down.
How do I open an account with Binomo?
It is very simple, fast and free to register and open an account with Binomo.
You need to follow these 5 steps:
Select your favorite currency (you can't change this later)
Insert your email
Choose a password
Click on: I accept terms
Go to your email account to confirm the registration
How to make money with Binomo?
You need to deposit on the Binomo trading App and then trade Binary Options product they offer.
Since they offer an App you can do it from your smartphone.
In order to make money, you will place bets and make an overall winning rate above 65% in order to make profits.
Learn and improve your skills with Binay Options Online Training. We offer free training to all our referrals.
Then you'll need to work seriously and with the discipline to achieve consistent profits.
What are the best strategies for Binomo?
There is no perfect strategy that never fails. There are several (see here several examples) that well used, allow to obtain good gains.
You must always learn your operation correctly and respect the rules when using any strategy.
Read the full and updated review of Binomo below. Know your advantages and disadvantages.
This broker came into existence in 2015. It is a broker very focused on traders that start in Binary Options because it offers low deposits, low trades and a platform that is very easy to understand.
The broker has its own platform, simple and intuitive. It offers deposits starting at $ 10 and operations starting at $ 1.
Binomo has a prize won in 2015 as the best broker of Binary Options for beginners and another in 2016 by the IAIR Awards.
The broker is owned by Tiburon Corporation Limited, located in Seychelles.
The financial operations are carried out by Stagord Resources LTD, located in Cyprus.
The Broker is regulated by Finacom.
Binomo Platform
The broker's platform was developed by the company itself.
It is a platform with a good design and that is pleasing to the user. It is designed to be quickly understood and used even by the most inexperienced.
Check the video about Binomo below
The negotiation is done directly on the web platform. There is also a platform for mobile devices, smartphones, and tablets through applications for Android and iOS.
Binomo offers only one type of operation: Call / Put, which is the most classic operation used in Binary Options. The reason is simple, to make the platform and trade Binary Options simple and light for users.
OFFER to BINOMO Referrals: Opening an account and depositing on the Binomo using our referral link entitles you to Free Binary Options Online Training + 1 Month Free Signals.

Contact our team to confirm your registration at Olymp Trade. DO NOT DEPOSIT before confirming.

Do You already HAVE AN ACCOUNT? Contact us!
Click on the image below to check Binomo App for iOS and Android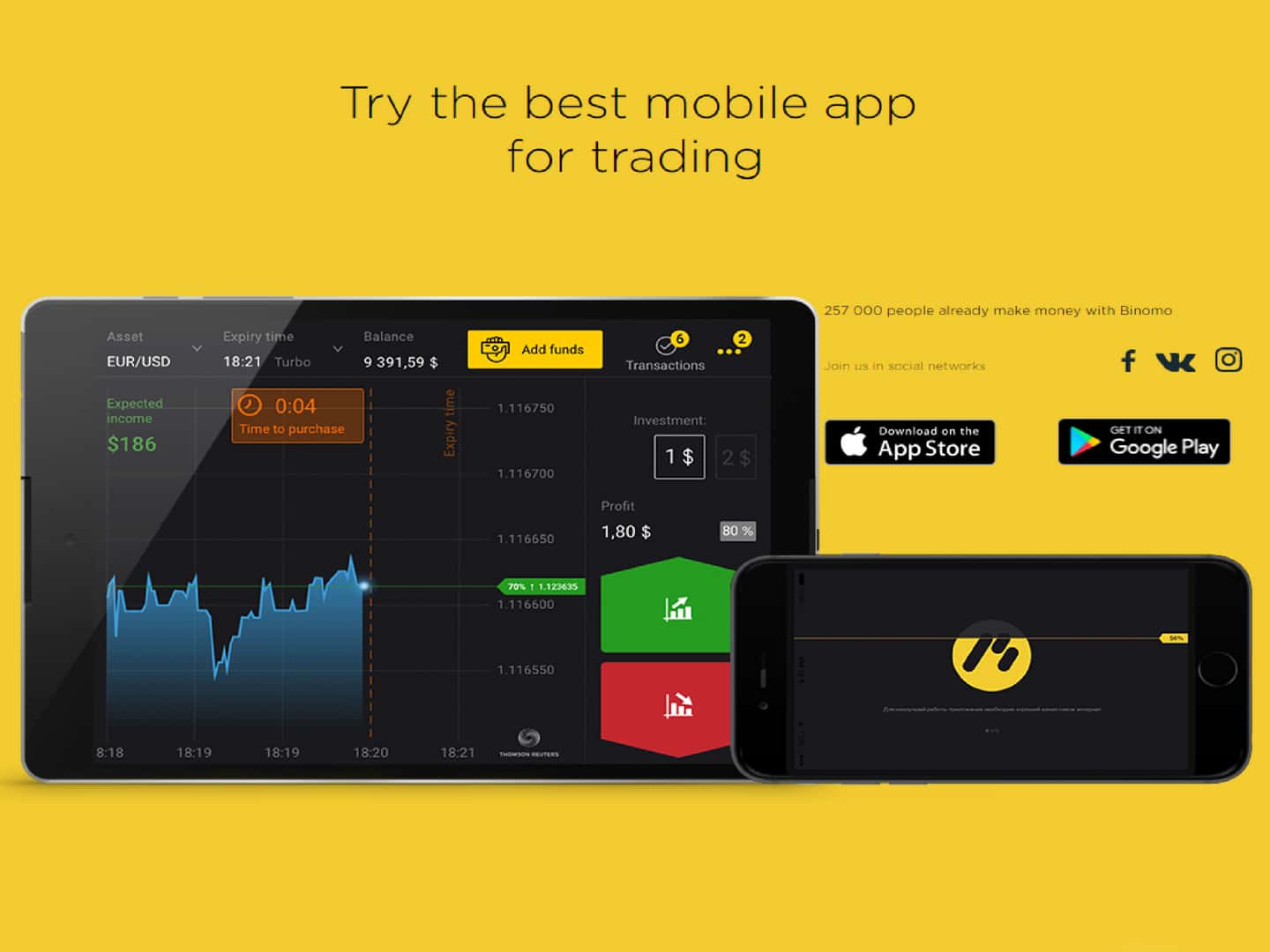 For users with Android or iOS, you can download for free the Binomo APP in the image above and negotiate directly on your Mobile or Tablet.
Binomo learning tools
Binomo has several learning tools, such as several videos and e-books in several languages. To access it simply open a demo account in the broker.
This broker offers a free Demo account to train for $ 10,000, without having to deposit initially. The demo account can be used without limitations and if you lose you can reload as many times as you wish.
However, the broker, like all others, does not really have a course that teaches everything a beginner needs to be prepared to get positive results in the long run. To obtain this necessary knowledge the ideal is to take a course.
We have courses for Binomo and other brokers. SEE THE COURSES.
Bonus and Bonus Account Types
The broker offers 4 types of accounts:
Demonstration Account
The demo account is a fictitious account, serves the purpose to train and to know the platform. We should not look at the results we get in demo accounts since trading in a demo is not equal to real.
The whole emotional part that exists in real is different from the one that exists in the demo. There is no fear of losing, so you will negotiate relaxed.
You can recharge your account with $ 1000 at any time. There's no limit to reloading the demo account.
Access the full Binomo platform functionality to study assets, tools and practice strategies.
Binomo Demo Account Features:
Free
Rechargeable
10.000 USD
Always available

Standard Account
This is the most used account for those who start trading in real. Deposits are from $ 10 and the minimum negotiation is $ 1.
It has access to the most used financial assets with a fixed profit of 85%.
You can participate in tournaments.
You can reload the account as often as you want. Withdraw takes up to 3 business days.
You have access to deposit bonuses.
Binomo Standard Account Features:
Deposits from 10$
Trading from 1$
Free Access to Tournaments
Deposit bonuses
Easy deposits
Withdraws in 3 days

Binomo Gold Account
The Gold account implies a minimum deposit of $ 500.
This account offers a greater number of assets to trade.
It also offers a higher percentage of profit when compared to the normal account.
The withdrawals are faster taking about 1 business day.
With the Gold account, you have access to a personal manager who helps you in the negotiation process. Analysis support in the form of strategies offered.
In case of getting a week with losses, you can recover up to 5% with Cashback.
Binomo Gold Account Features:
A minimum deposit of 500$
Higher profits
Access to a personal manager
Withdraws in 1 day
Cashbacks

VIP account
The VIP account implies a minimum deposit of 1000 dollars. Binomo VIP accounts receive up to 100% bonus.
This account offers an even greater number of assets to trade compared to GOLD.
The percentages of profits are even greater.
Withdraws takes about 4 hours.
Access to support via Skype.
In case you get a week with losses you can recover up to 10% with Cashback.
Binomo VIP Account Features:
A minimum deposit of 500$
Higher profits
Better deposit bonus
Access to support by Skype
Withdraws on the same day
Bigger Cashbacks

Deposits and Withdrawals at Binomo
The methods are varied, from the most common, such as:
Bank Transfer,
Visa
Mastercard
Electronic payments
Skrill
Neteller
Other e-wallets
In minutes the money goes into the account.
The withdrawals must be made by the same method that the deposit was made.
Both deposits and withdrawals are fast. Depending on the account type and withdrawal methods, the withdrawal time is usually around 5 business days.
The account must be verified with the necessary documentation for the survey to be processed.
The minimum withdrawal amount is $ 10 and they do not charge withdrawal fees.
This is an advantage as several brokers charge some fees on withdrawals.
Benefits and Disadvantages of Binomo
10 Reasons to choose Binomo:
A minimum deposit of 10 $.
Minimum operation of only 1 $. This is an important feature for those starting with Binary Options.
You can receive up to 9 free trades of up to $ 150.
Tournaments with cash prizes. Some are free, others paid, but all of them with prizes.
Free $ 10,000 Demo Account.
Withdrawals without fees.
Negotiations at the weekend.
Exclusive Courses.
Binary Options Signals The best signs of Binary Options.
Support in multiple languages.
4 reasons not to choose Binomo:
Less variety of assets.
Limitation on binary options trading contracts. Only use the classic Call / Put.
They do not have as strong regulation as others that use, for example, CySEC.
They do not operate in Europe.
Here's how we summarize Binomo
Binomo broker is a good choice for anyone who wants to start trading.
It offers a good and simple platform.
It offers low deposits, from 10$.
Offers negotiations starting at $ 1.
NO withdrawal fees.
Regulated.
Free Tournaments.
One of the advantages of Binomo when we compare with Olymp Trade, IQ Option or Binatex is that it has perhaps the most simple platform, not the best looking, but very simple to use.
Binomo: 10 Reasons why I Recommend or NOT. Broker or Scam?

Binomo 2019 - Updated and Real Review of Binomo. Are they honest or scam? How to start? Check our Free tips on how to deal with this online trading platform.

Price Currency: USD

Operating System: iOS, Android, Windows

Application Category: Finance