I will show you that, even though it is possible to trade in 60 seconds, it is necessary to be very careful, to be "cold-blooded", and to know how to adapt some of the existing strategies so that the results while trading Binary Options in 60 seconds are consistent.
Trade in 60 seconds
As I mentioned in the article on Strategy 60 Seconds, there are no 60-second strategies, it's just a way of trading in the Binary Options market, that in some Brokers it is called the Turbo Option, and that consists of trading with short expiration times. Besides that, it is the same as the other types of trading in this market.
Strategies to Trade in 60 Seconds:
I use two strategies in this type of negotiation, one technical and one fundamental.
1 – Trade in 60 Seconds Based on News — Fundamental based strategy. It is not necessary to have the technical knowledge, but only an economic calendar in order to follow the most important daily events for the financial markets.
It is imperative to be able to react quickly. For that, you must have a calendar that updates the news fast. In the image below there was an order placed at 13.32 that was lost because it was put too late.
The news came in at 1:30pm and I could only update the calendar at 1:32pm. The market had already reacted and I placed the order very late having lost for this reason.
To better understand this strategy read the article: Strategy for News.
2 – Trade in 60 Seconds with Supports and Resistances — This is a technical strategy I use in Forex. When well understood and applied, it is a very interesting strategy for fast or turbo trading.
In order to use it correctly you need the right indicator. I have an indicator that I have been using for several years and it has helped me a lot in using this strategy.
To better understand this strategy read the article: Support and Resistance Strategy.
If you are interested in learning these strategies and would like to have the indicator I use, please do not hesitate to contact me.
In the image below I show 17 negotiations that I did during about 24 hours. The total profit was 28%. Before you start to count on how to get rich ( 😀 ), please consider the following aspects:
The day went well, as the market was favorable to use my strategy. Not every day goes like this.
I used a small account and used a high risk, because in each transaction I put 10% of my account at risk, a situation that goes against Risk Management. This article is very important. You must read it and know how to put it into practice.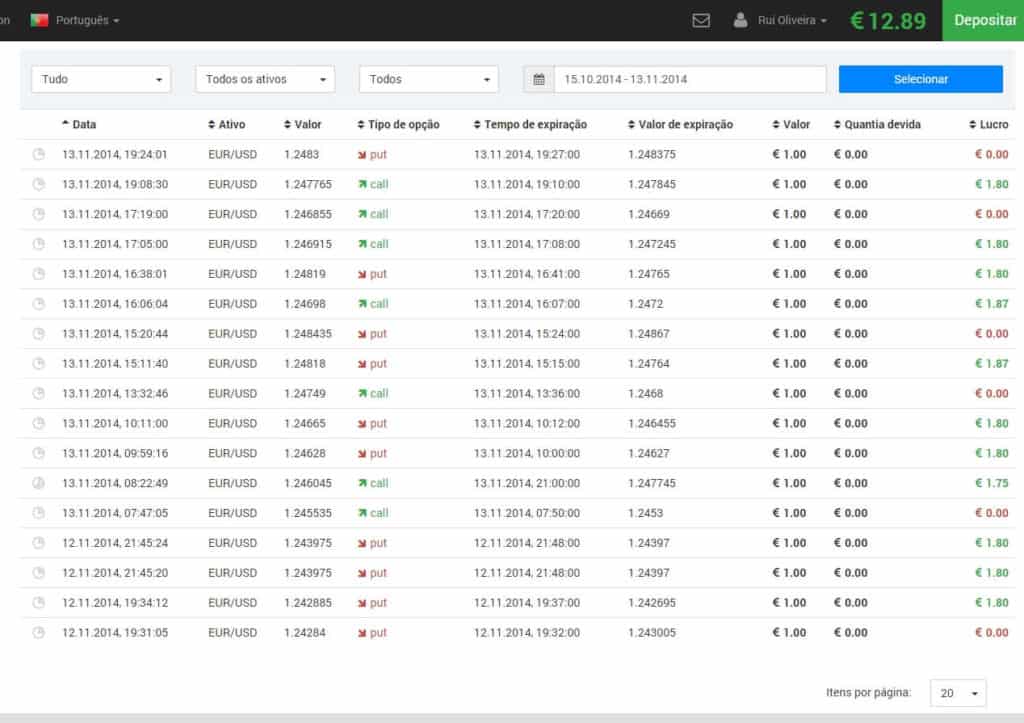 Image Explanation: Trading in 60 Seconds
The last trade of the day was a long one from the previous day, where I used a 4h strategy. It is a strategy that I use in Forex with an indicator that I created and that comes in when the asset is depleted one day forecasting a retracement the next day.
The trade that opened at 13:32 and closed at 13:36 was the one I explained that it was based on the news and was lost because it entered about 2 minutes later because the calendar I used did not update quickly.
The remaining 15 trades were done using the Support and Resistance strategy, with minor changes to adapt to very short expiry times like 60 seconds or two minutes. If you look at the image you will see that several of the operations lasted about 2 minutes and not the 60 seconds. This strategy got right 10 operations out of 15, which means that out of 3 trades I placed, 2 made a profit.
At the beginning of the trades, I had 10.00 and ended up with 12.89 which translates into a profit of 28.9% in 24 hours. As I explained, there's no point in thinking that every day you will make this profit, because not every day the market is favorable. You also have to realize that you need training and experience to be able to use all strategies correctly.
The image below has the negotiations done on November 14th. The accumulated profit is already at 50%.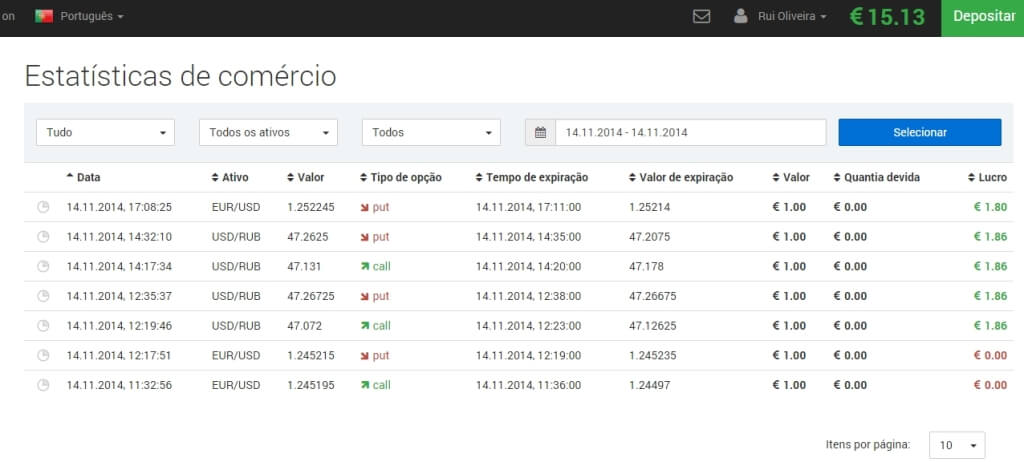 In the image below you can see the results of November 17th. Almost a week later the accumulated profits are over 80%.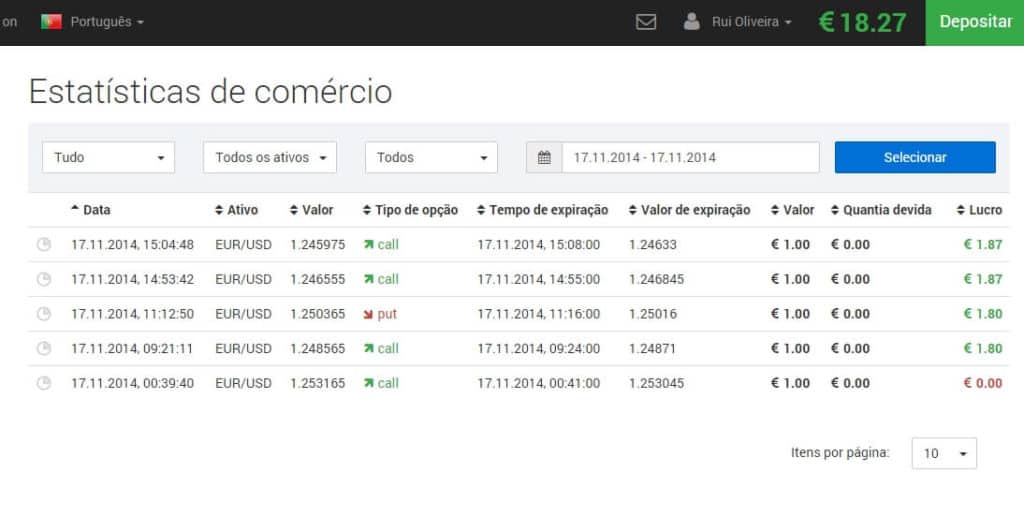 Conclusion:
You can trade in 60 seconds, using familiar strategies and not with a 60-second strategy as other Binary Options sites say. The important thing is to know how to adapt the best strategies to the short expiration times so that trading in 60 seconds can offer consistent gains. It's not easy, but with training and experience, it's possible, as demonstrated.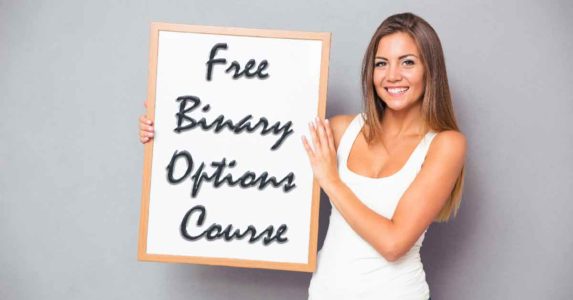 Binary Options Training
No one can get Good results without Learning!
Be sure to read other important articles on the Blog and if you are interested in learning this and other strategies contact me. In the button above you have a link for our Course that will teach you some strategies and will be an excellent guide in rules, discipline and emotional Control necessary to any trader.
This strategy was used in an account where I won a Binary Options Tournament.
If you enjoyed the article Trade in 60 seconds, please share.
Other Posts related with Trade in 60 Seconds: