Most brokers look the same at first sight, but there's always more than meets the eye. In this post, I'll save you some search time and share my favourite features of the IQ Option platform. They might not look obvious but make a huge difference in the long run.
IQ Option Platform: 6 Main Features
Without further ado, the 6 hidden features of the IQ Option trading platform:
Industry-unique offers for high-risk instruments: up to 95% for binary and 900% for digital options.
A custom platform with improved UX where you can do all your trading right from the chart.
Deposits and withdrawals via several payment systems.
Mobile solutions tailored for trading multiple instruments on the go — including binary options!
Demo account without an expiration date and with a never-ending $10,000 on the account.
Trader tournaments where you can win extra cash while competing with other traders from the IQ community.
Let me explain how the IQ Option platform main features can help you along the way.
The Returns
At IQ Option, you can trade financial instruments like forex pairs, binary and digital options, cryptocurrencies, commodities, ETFs, indices, and stocks.
If you are into high-risk instruments like binary and digital options, IQ Option's offer is one of the best in the market.

Trading conditions for other instruments are:
Forex — several dozens of currency pairs with the leverage up to 1:1000.
CFDs on stocks, such as Apple, Tesla, Amazon, Netflix, and Boeing with the leverage of 1:20.
Commodities like oil, gold, silver, and platinum with the leverage of up to 1:150.
Cryptocurrencies, including Bitcoin, Ethereum, Litecoin, Ripple, Dash, Zcash, TRON, IOTA, and more. The leverage is up to 1:100.
ETFs (Exchange-Traded Funds) with the 1:20 leverage.
The Platform
When you trade — especially when you trade more than one instrument — you want to navigate fast, make decisions fast, and take action fast. IQ Option platform's interface allows you to do all your presets within the same window — on Windows, macOS, web, and mobile.
Let's take a quick tour to the Traderoom: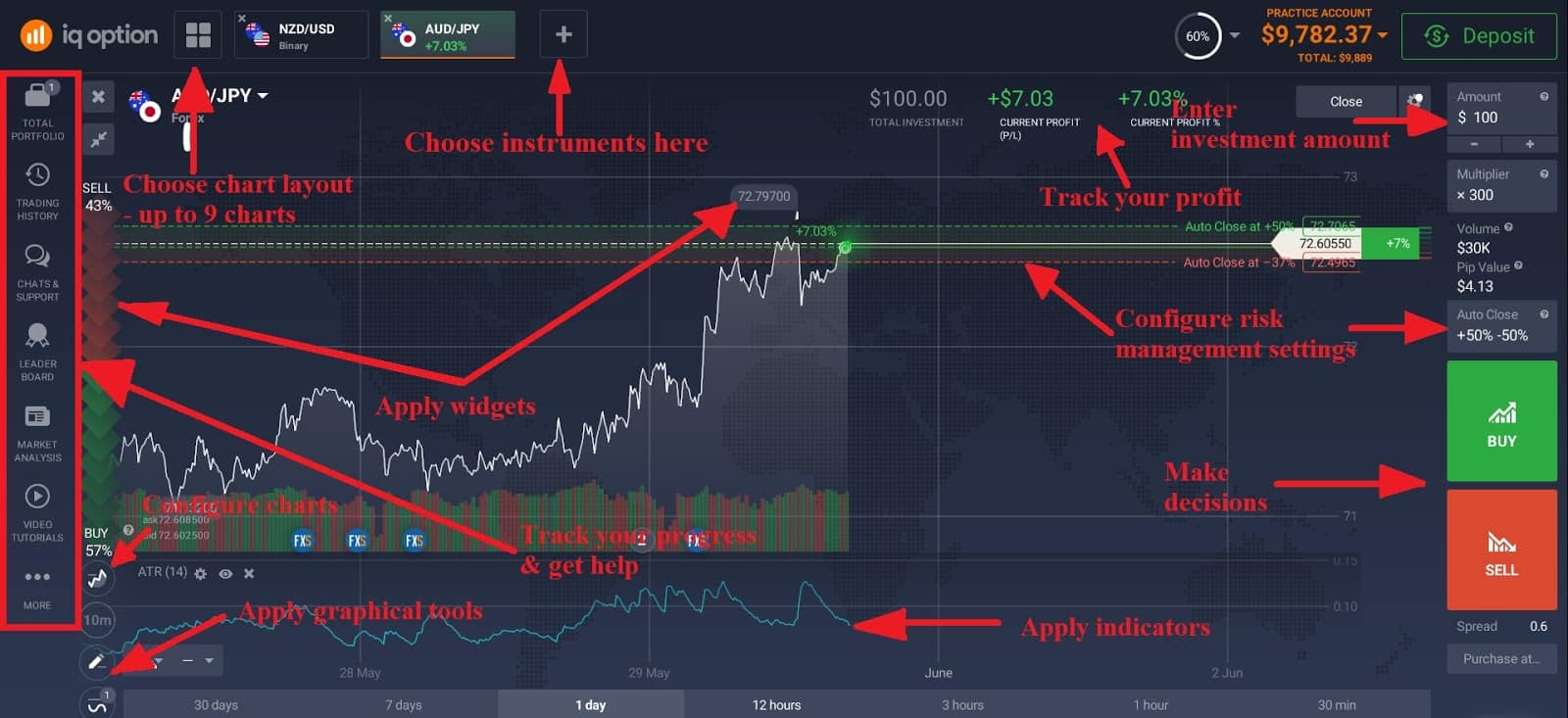 As you can see, everything happens right on the chart. You don't need to switch between windows and can keep your eyes on the price action all the time.
Particularly, you can:
specify order details in the box on the right-side panel;
run up to 9 charts and configure their types: line, candles, bars, or Heikin-ashi;
apply indicators (momentum, trend, volatility, moving averages, volume, etc.);
apply widgets: traders' sentiment, high and low values, trades of other people, news, and volume;
use graphical tools like the trend, horizontal, graphical, or Fibonacci lines;
follow up on the news in the Market Analysis section;
Check your portfolio and trading history;
See your rating on the Leaderboard;
Contact support via online chat or join a themed public discussion;
IQ Option developers decided that trading doesn't have to be so complex and significantly improved UX as compared to popular alternatives.
The interface is very compact and responsive, so the entire process is just less stressful and more chill.
Trading is stressful enough, right?
Deposits and withdrawals
Poor choice of payment options is a widespread problem with brokers. At IQ Option, you can deposit and withdraw via Visa/Mastercard, Neteller, Skrill, WebMoney, AdvCash, etc. Check out the full list of available deposit and withdrawal options for your region.


The broker doesn't charge commissions for deposits and executes the requests instantly. You can make deposits without verifying your account, but withdrawals are only available for the verified account owners.
For traders, fast and painless money transfers are crucial. IQ Option works with Boleto and popular e-wallets so you could deposit and withdraw via your habitual payment systems.
Risk Warning
Trading is inevitably associated with risks, and you have to be ready for that. Never put your money at risk if you don't understand what you're doing.
Although the IQ Option platform is a friendly place to start, you should do your homework and learn how the markets work and master risk management.
Don't forget that you can get here a complete Free Binary Options Course.
Mobile Trading
IQ Option has a custom trading app that duplicates the functionality of the platform. On top of that, they offer a few alternative mobile solutions for specific needs, such as APK (Android Package Kit) mobile app and PWA (Progressive Web App).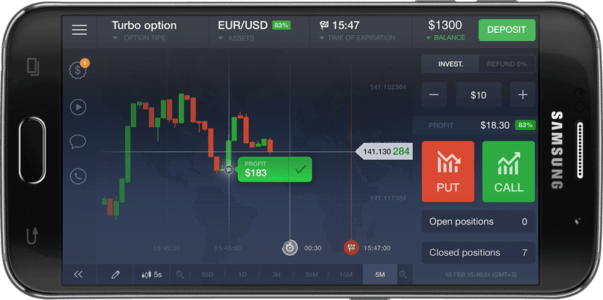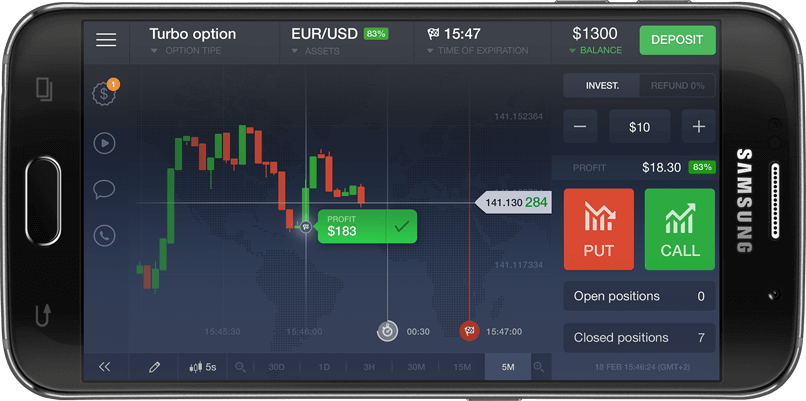 If you are interested in trading Forex, stocks, commodities, indices, digital options, and cryptos, feel free to download the trading app in App Store and Google Play.
However, if you want to trade binary options, the regular app won't suit you because of the app stores' restrictions considering binary options.
To crack this door open, you can use the APK app on Android and PWA on Android and iOS. Basically, they offer you to download the app straight to your mobile device and skip the stores and the related restrictions.
If you want to trade binary options from your phone, IQ Option is the broker that can make that possible.
Demo Account
Usually, when you register a demo account with a broker, they would force you to switch to the real account asap. For example, they may set an expiration date or ask you to deposit the real account first in order to practice on the demo one.
At IQ Option platform, the Practice account is fully operational and comes without limitations. You'll be assigned with one automatically upon registration and get $10,000 of play money. You can replenish this amount anytime you want.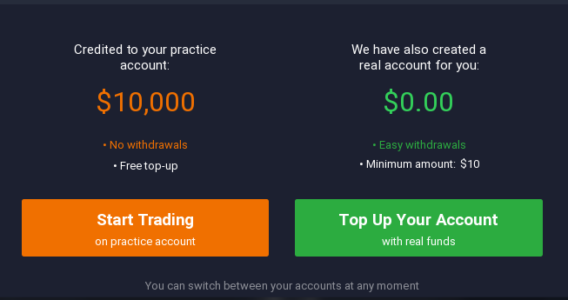 So, if you are a newcomer and want to test-drive the platform first, IQ Option's practice account is zero commitment and the easiest of them all.
To help you, this blog offers:
Free Online Training: FREE COURSE HERE
Binary Option Signals with Telegram: Free Signals Channel
Tournaments
If you're up for some fun and extra cash, you might be in for IQ Option tournaments. These are regular competitions among traders with the prize fund of several thousand dollars split between the top-30 traders.
Some other brokers offer specials like "free" bonuses to motivate their clients, but you know there's no free lunch in this world. IQ Option tournaments are a straightforward and understandable way to win extra money for your trading by competing with the IQ community.
What Else Is There?
You've seen some unique features of the IQ option platform, but what about other important trader metrics?
Here are a few perks you'll appreciate as a trader:
Low barrier to entry. The minimum deposit amount is $10, while the minimum initial investment is just $1.
Round-the-clock multilingual support. You can ask questions in the online chat in your mother tongue, reach them via email, or call a toll-free line.
Regulation and security. IQ Option is operated by IQ Option Ltd. registered at St. Vincent and the Grenadines. They keep clients' money in the segregated bank accounts, which means they can't access and use it.
Public appreciation. IQ Option services are available in Asia, Latin America, Europe, and the Middle East. In 2020, they process 1,300,000 trades per day, generating around $290,000,000 of trading volume per month. Their trading platform and app have won international awards and are highly rated by the community.
Check the video below that explains all about IQ Option Platform, and how to configure it.
In short, the IQ Option platform is one of those products that not only look good in the ads. As you dig deeper, you'll discover more perks that make daily trading more comfortable and easy.
What features are you looking for in IQ Option platform?
If you enjoyed our post about IQ Option Platform and its 6 hidden treasures, please share the post and read other posts we have.
Suggested Posts for You