Is there a BIG difference when trading 60 seconds vs 120 seconds? Well, it is just a 1-minute difference between them… The short answer is: YES there are very big differences in using 60 or 120 seconds expiration times. We explain in this post.
60 seconds vs 120 seconds – The strategy
When I give Binary Options training, one of the questions that always comes up from students is: Why do you use 120 seconds trades and not 60 seconds trades? In this article, I will explain the 60 seconds vs 120 seconds.
As I explained in a previous article the 60 seconds strategy does not exist.
There are strategies that work with different trade time periods, the most famous and with the most followers in binary options trading is the 60 second trade. Click here to read the article.
Similarly, there isn't a 120 seconds strategy. Like for the 60 seconds trades, there are strategies that are adaptable to this trade time period.
Some of the strategies that work for 60 seconds trades also work for 120 seconds trades. The strategy that I use and teach my students works for 60 seconds trades, but it works much better for 120 seconds trades.
60 seconds vs 120 seconds – Why use 60 seconds trades?
The 60 seconds trade is the most known and used currently. For this reason, all brokerage firms use this type of trade. However, not all brokerage firms have trades that expire in 120 seconds.
There are a lot of strategies adapted to the trades that expire in 60 seconds. There are far fewer strategies designed and developed for the 120 seconds trade.
60 seconds vs 120 seconds – Why use 120 seconds trades?
I use 120 seconds trades and not 60 seconds trades because the strategy I use, a countertrend strategy, more precisely a support and resistance strategy, needs more time for the value to reverse after hitting a level. Sometimes in a 1-minute candle, there is not enough time for the value to reverse.
I use the Martingale method with my strategy. If I lose the first trade, I place another trade using the Martingale method. If I lose, I place a third trade again using the Martingale method and if I lose the third trade I stop trading and only come back the next day. Using 120 seconds trades I have a total of 6 minutes to wait for the value to reverse, while with 60 seconds trades I would only have 3 minutes for the 3 trades.
My strategy uses two indicators. One that calculates the supports and resistances automatically and a Stochastic that I altered. I try to enter after the Stochastic shows oversold or overbought at the same time that the value hits a support or resistance. When both things happen, I place a trade.
As you can see in the image below, usually the stochastic takes between 6 and 12 minutes to move from the highest to the lowest or from the lowest to the highest point. In this example taken at 8:00 pm in London (3pm EDT), you can see that of the 9 pairs that I was using to trade the only one did not follow this rule.
Click on the image to enlarge it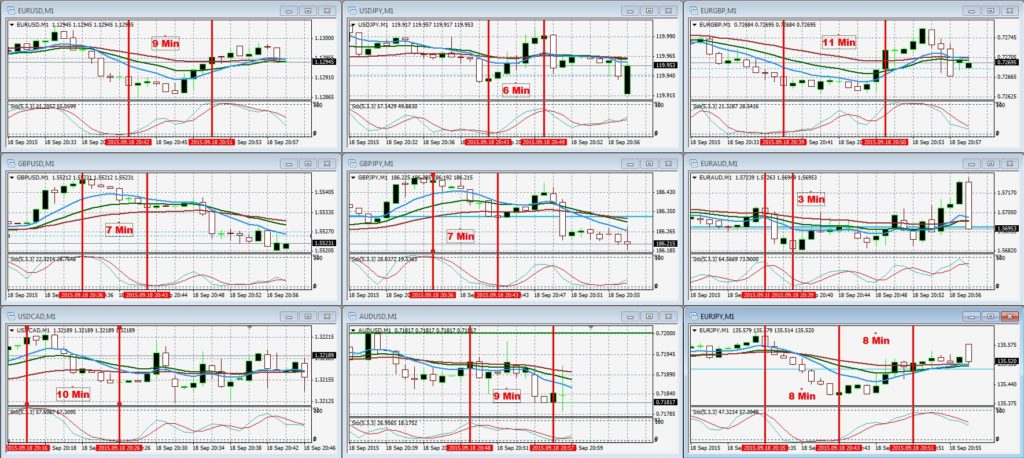 Caption: Each of the red lines of each asset represents a high or low point and between two lines is the time that it took the price to fall or to rise. Each candle is 1 minute. Most took between 7 and 9 minutes.
The stochastic in all the other assets took between 6 to 12 minutes to go from the highest to the lowest point, or vice versa.
This is one of the main reasons that I prefer 120 seconds trades instead of 60 seconds trades.
Because if I place three 2-minute trades (6 minutes total), I will be within the timeframe that the price takes to fall or rise, raising my percentage of successful trades.
If I placed 60 seconds trades, I would only have a total of 3 minutes, and often in the first 3 minutes the price doesn't move enough in the direction that I need it to move in order to win.
Another reason I prefer the 120 seconds trade is that with 2 minutes, I have more time to see what the price is doing and prepare the next Martingale trade calmly in case it is necessary to place a second and third order.
Sometimes when we deal with very fast trades, since we have to act very quickly, we make some mistakes due to our haste.
60 seconds vs 120 seconds – Conclusion
I think the 120 seconds trades allow us to trade more safely because this time gives us more certainty in our analysis. Having twice as much time is an advantage if the first entry is not at the ideal time. I think the 60 seconds trades turn out to have a larger portion of luck.
If you liked the 60 Seconds vs 120 Seconds article, please share it. Leave your comments bellow.
60 seconds strategy on Amazon.
We have other strategies you may like on our site: Binary Options Strategies