IQ Option is an online broker offering financial instruments like forex pairs, binary and digital options, cryptocurrencies, commodities, ETFs, indices, and stocks. It's also one of the best-known names for options trading in the world and the most wanted platform. If you ask a trader where he trades, you will probably listen: I trade Binary Options with IQ Option.
How to Trade Binary Options With IQ Option
But first, a quick story to set the stage.
IQ Option emerged in 2013, and by that time options trading was its primary vector — just as the name suggests. Over time, the company adopted more investment products and became a well-known name in the industry.
Here are the major reasons people like IQ Option for:
Profit up to 95% on ​binary options and up to 900% on digital options — a really good offer for the industry.
The initial investment is just $1. Easy for beginners.
The trading platform is a real catch. It's a custom-built platform with really good architecture and UX, packed with charting and analytical tools. Yet, it's very easy to grasp and use.
Free trading app and alternative mobile solutions like APK Andriod app and PWA (I'll talk about why you might need them later).
Demo account with unlimited play money and no expiration date. You'll start with $10,000 of virtual coins and can replenish it anytime.
Deposits and withdrawals via Boleto, credit/debit cards, wire transfers, Bitcoin, and e-wallets. There's no commission from the broker, and requests are executed instantly.
If that sounds good to you, you're definitely in for more details.
About options
IQ Option works with 2 types of options: binary and digital.

Trading binary options with IQ Option, you can earn up to 95% (or even more in some cases) but you can't lose more than you've invested.
The initial investment at IQ Option can be as little as $1, the time frames are from 1 minute up to 1 month.
You can trade options for multiple assets: currency pairs, stocks, indices, and commodities. Moreover, the broker offers the "over the counter" (OTC) options that you can trade during weekends.
Trading binary options with IQ Option
If you have never traded options before, have no fear — the platform is very intuitive.
Risk warning!

Binary options imply a high level of risk. It looks simple, but it's not a game, so you need to have solid knowledge to trade binary options.
Never invest money if you don't know what you're doing. Learn how to trade, sharpen your skills with the Practice account, and master risk management first.
Once you're sure you are ready, you need to create an account and follow a few steps in the Traderoom:
1) Enter the desired investment amount
2) Set the expiration time
3) Specify your prediction on the price movement by hitting the Higher or the Lower button.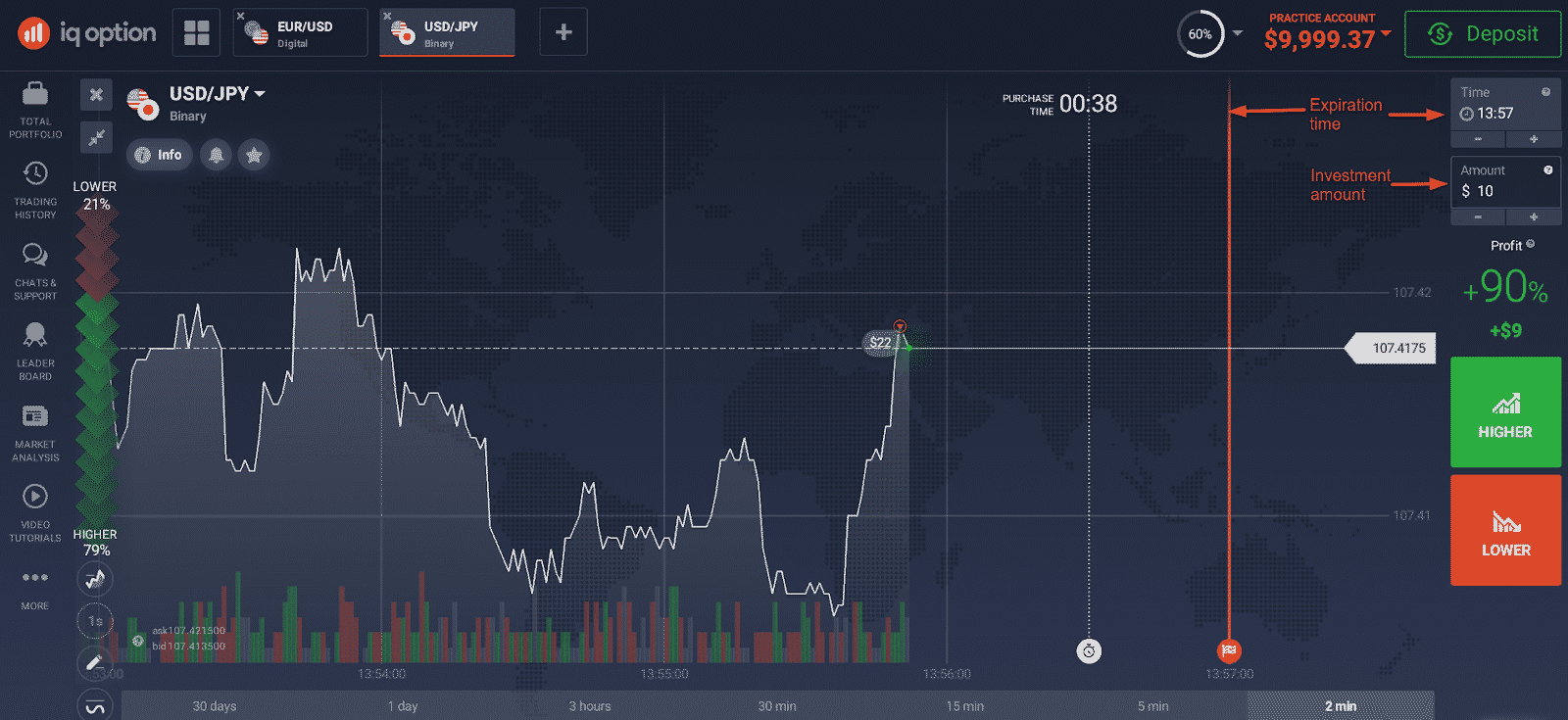 NOTE: Binary options trading is forbidden for the countries of the European Economic Area (EEA) due to the EU regulation. Users from Europe can trade FX options instead.
Inside the IQ Option trading platform
IQ Option is not just a broker — it's an IT company adopting the latest fintech solutions. Their trading platform is custom-built and designed to be easy to navigate, fast, yet not cluttered — in web, desktop, and mobile versions.
It features useful indicators, charts, and widgets to automate the process and give you all the trading information you need, all within the same window.
Let's take a closer look.
Charts
IQ Option trading platform allows you to make all your presets right on the chart. You can specify order details in the box on the right-side panel, apply indicators, and play with settings without losing the sight of the price action.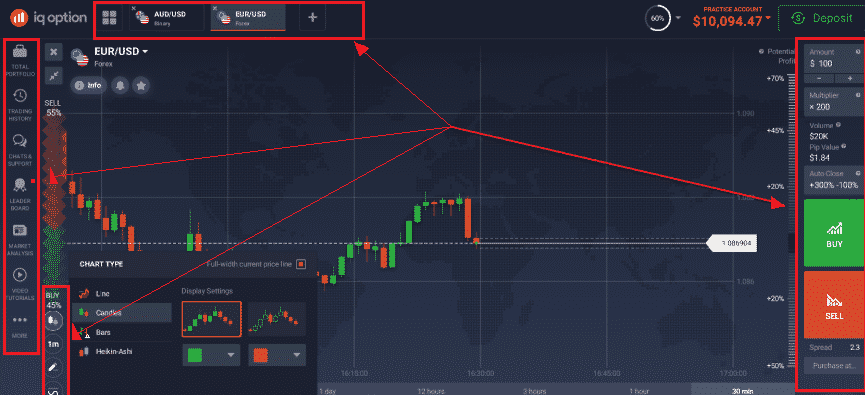 Want to trade multiple options at a time? You can run up to 9 charts and configure their types: line, candles, bars, or Heikin-ashi. For bar and candle charts, you can set up the time frames from 5 seconds up to 1 month from the bottom left corner of the screen.
Indicators
For in-depth chart analysis, use indicators and widgets. Those include momentum, trend, volatility, moving averages, volume, popular, and others. IQ Option has a fine collection of the most-used and essential indicators, from XX to XX, over XX indicators in total.
If you apply multiple indicators, feel free to create and save the templates to use them later.
Widgets
Widgets can help your decision-making big time. On the platform, you can use widgets like traders' sentiment, high and low values, trades of other people, news, and volume. They will help you monitor changes in real-time.
Market analysis
No matter if you trade options, Forex, stocks, metals, or cryptos, knowing what's going on with the world economy is essential. At IQ Option, you can follow up on the news in the Market Analysis section without leaving the Traderoom. Smart news aggregator will tell you what assets are the most volatile right now, and themed calendars will give you an idea of when is the best moment to take action.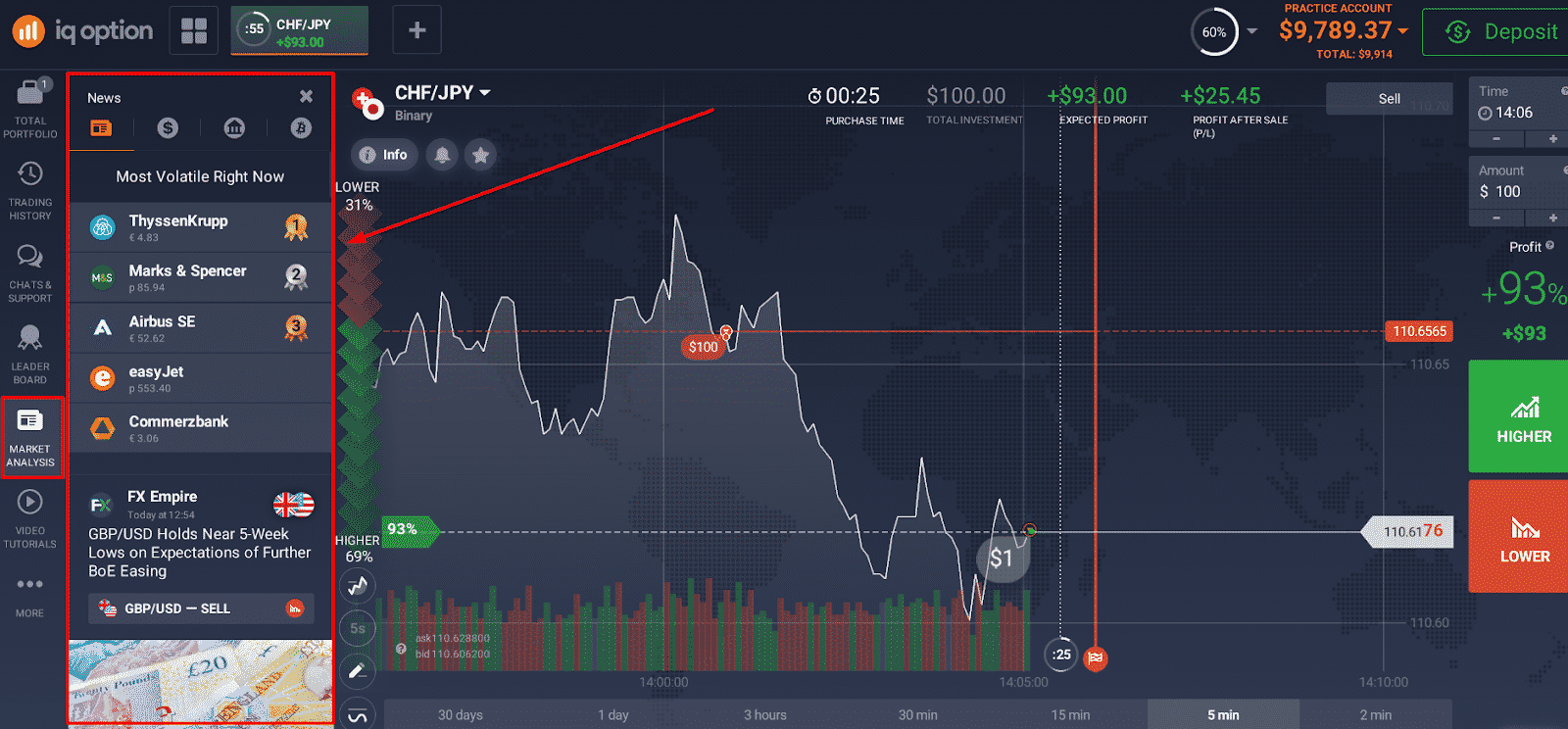 Extras
The platform stores your trading track record in the Total Portfolio and Trading History sections. There, you'll find all your open, closed, and pending positions.
There's also a useful video section where you'll find various video explainers. The Leader Board displays the global rating for all the IQ Option traders.
Customer support
There are several media to address your questions:
Online chat responding in a few seconds in your native language
Email, the response time is approximately 14 minutes
Phone. There are toll-free lines for multiple countries — find the number for your country here (click on About Us).
Traders' themed chats. Here, you can get some tips from the IQ community.
Mobile trading
IQ Option offers an award-winning trading app available for free in App Store and Google Play. With the app, you can: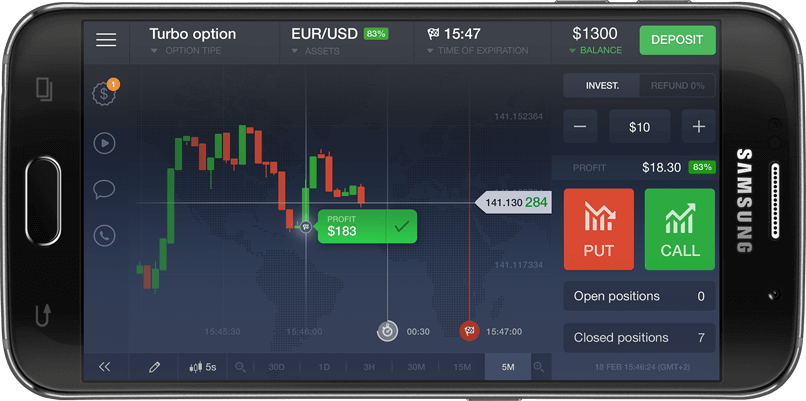 Execute trades
Check account status
Get market updates
Use charting tools
Setup customizable alerts and push notifications
Etc.
However, as many of you know, the app stores ban binary options trading apps. IQ Option found smart solutions for that, offering mobile products to make binary options trading possible from the comfort of your mobile device.
For Android: The APK Android App
APK stands for Android Package Kit, which is the file format used by Android to distribute and install apps.
It means that instead of downloading the app from Google Play, you download the .apk file on your device (just like you download .exe files on your computer).
For iOS & Android: The Progressive Web App (PWA)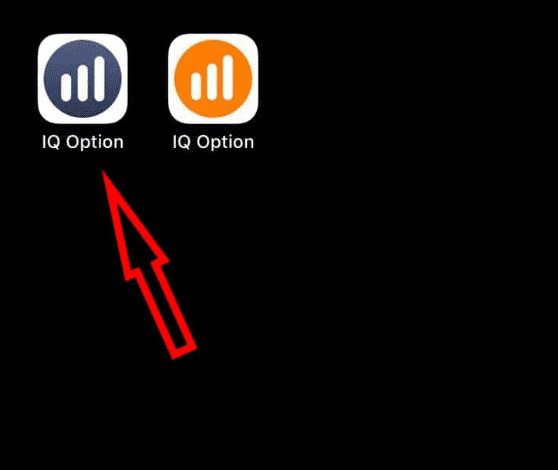 If you want to trade binary options from an iOS device, use PWA. Technically, IQ Option PWA is not a mobile app but a web tool, which means it's also not subject to the App Store regulations regarding binary options.
You can install it by clicking the "Add to home screen" button in any browser on your iOS or Android device.
Accounts
There are two account types: Real and Practice. You'll be assigned with both automatically upon registration.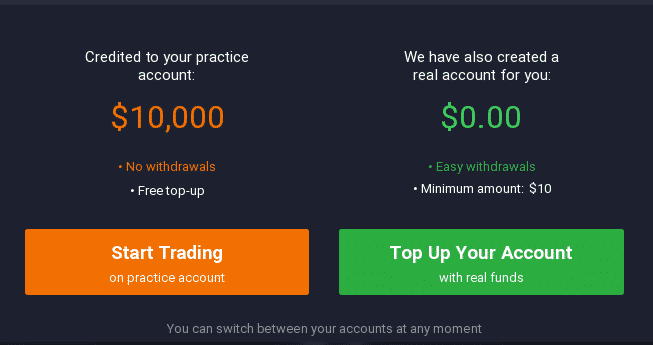 Real account
With the Real account, you can trade binary and digital options as well as Forex pairs, cryptos, stocks, commodities, and indices.
The minimum deposit starts from $10 or an equivalent amount in other available account currencies.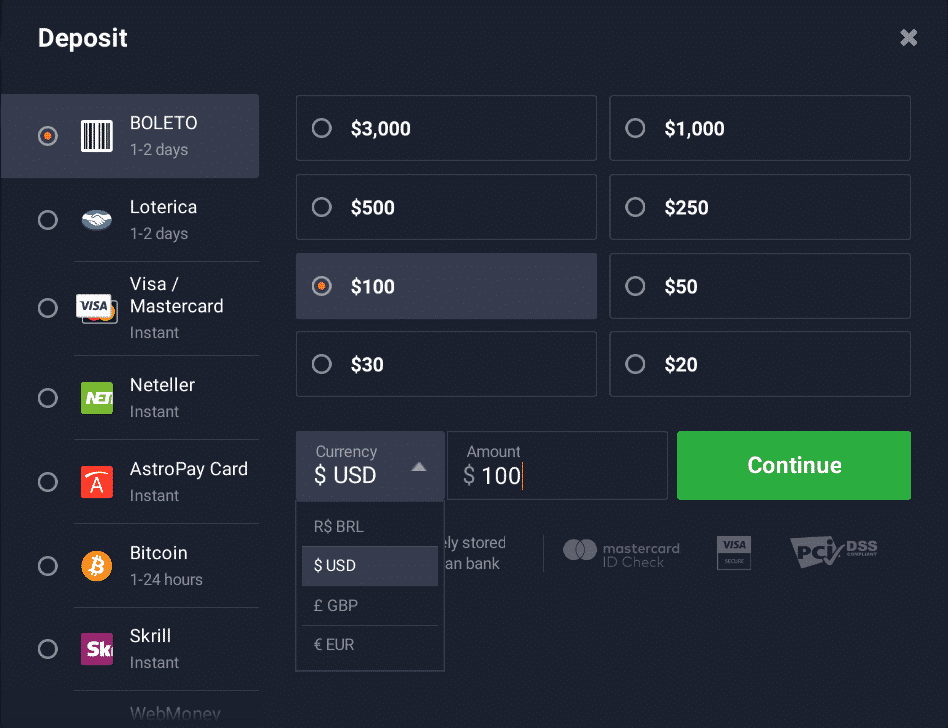 Practice account
It comes with $10,000 of play money, and you don't need to deposit the Real account to use the demo. You can replenish the money anytime you want, and there's no expiration date for the account.
Deposits
You can deposit with a number of payment options: credit and debit cards, wire transfers, Bitcoin, and e-wallets, such as Visa/Mastercard, Neteller, Skrill, WebMoney, AstroPay, AdvCash, and others.


IQ Option works with local payment systems that may vary depending on the country. Check out which options are available for your location in the Deposits section of the website.
The broker doesn't charge commissions for your deposits and executes the requests immediately, but the payment system may charge you with additional fees and take longer to process. Most traders choose e-wallets because they work faster.
Withdrawals
While you can deposit money without account verification, it is required when you want to withdraw your profit. The process is standard and simple: verify your identity, address, and payment method.
The video below teaches how to deposit funds and trade Binary Options with IQ Option.
Once the verification is complete, you are free to select a withdrawal option and make a request.
Note that if you deposited with a credit/debit card, you'll have to withdraw with the same card. Request a withdrawal that equals your initial investment amount, including deposits made within the past 90 days.
Education
IQ Option welcomes new traders with a solid library of educational materials, such as video tutorials, expert commentary, historical quotes, earnings and economic calendar, news, FAQ section, YouTube and Vimeo channels, webinars, and more.
There are also Online Training developed to IQ Option by exclusive partners, like our Blog where you can learn to trade Binary Options with IQ Option for free.
Tournaments
Usually, there are several ongoing tournaments at IQ Option. Some of them are free, some come with a little entrance fee ($2 or higher), and the prize fund of several thousand dollars is distributed between 30 traders from the top of the Leaderboard.
Security
IQ Option is operated by IQ Option Ltd. registered at St. Vincent and the Grenadines and provides fully legit brokerage services.
All important information is encrypted using a special SSL protocol.
Clients' funds are stored in the segregated bank accounts, which means the broker can't use this money.
Binary Options with IQ Option: Conclusion
IQ Option is much more than a Binary Options Platform, it is an IT company with the best built-in plaform that offers a lot of different tools to trade, divided in more than 500 assets available 7/24.
However, it was both Digital and Binary that made IQ Option what is today, one of the best and biggest trading companies on the world.
And even with all those trading tools, the fact is that Digital and Binary Options with IQ Option are still their most traded instruments, by far!
If you enjoyed the post Binary Options with IQ Option don't forget to read other content related with this subject below. Please also share to help us to keep posting new content.
Suggested posts for You: